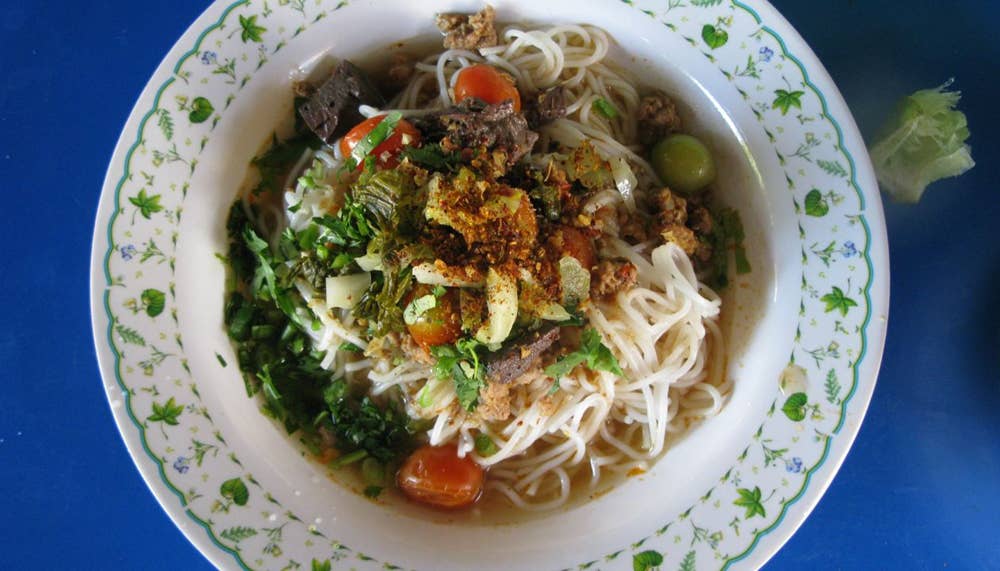 Travel
A Khao Soi Affair
On the trail of a coconut curry noodle soup in Chiang Mai, Thailand, a writer makes an unexpected discovery
Plenty of people fall in love with a dish while traveling, return home raving about it, and launch a quest to find the most authentic version they can get in their own city. Before a recent trip to Thailand, I operated in reverse: I first read about khao soi, a northern Thai coconut curry soup, on one of New York's myriad food blogs. I then set about sampling every version of the dish my city has to offer—which turned out not to be all that many—and was smitten. So when work took me to Thailand earlier this year, I set out to Chiang Mai determined to eat as much khao soi as humanly possible.
While Northern Thai dishes lean toward the intimidatingly spicy, funky, and pork-centric, khao soi is an easy introduction to the region's cuisine. The red curry broth is rich and mild, made velvet-soft with a splash of coconut milk and fortified with tender braised chicken or slices of fried pork. Flat wheat noodles appear twice in one bowl: fresh and chewy in the soup itself, and as a crispy nest of fried strands on top. It's served with a do-it-yourself condiment platter of pickled mustard greens, shallots, and lime, plus a roasted chili sauce called nam phrik pao.
The dish's origins are murky, at best: Bangkok-dwelling author and Thai food authority Austin Bush explained that there's a Shan/Burmese coconut broth noodle dish called ohn no hkhauk hswe that likely inspired the northern Thai version ("khao soi" being the Thai pronunciation of the Burmese general term for noodles "hkauk hswe"). Bush conjectured that Chinese-Muslim traders may have introduced the dish from Myanmar to northern Thailand via their caravan routes. "The fact that khao soi is generally sold with halal chicken or beef seems to lend this theory some weight," he added.
In Chiang Mai, the khao soi path is a well-trodden one. Over the course of a week, I tried a dozen versions of the dish: I compared the two old-guard restaurants, Khao Soi Samerjai and Khao Soi Lamduan back-to-back on Faham Road; I visited the Chinese-Muslim area to try Khao Soi Islam's halal version with homemade egg noodles; I even gave the newfangled, squeaky-clean Just Khao Soi in the trendy Nimanhaemin district a chance. I sampled street-side renditions from unnamed vendors and an excellent bowl at a basement food court in a mall outside of the city. I picked out subtle differences between each broth, took copious notes on the size each establishment cut their pickled vegetables into, and soon felt as if curry paste was seeping from my pores.
Despite the differences from bowl to bowl, one thing was a constant at nearly every khao soi vendor I visited: In the kitchen, alongside the vat of coconut curry soup, there was another liquid simmering away, thinner and redder than the khao soi broth. They also had baskets of the thin rice noodles called khanom jeen, draped elegantly into figure-eight shapes.
What other soup, I wondered, could be sold alongside khao soi and possibly be worth eating? The answer: khanom jeen naam ngiew. The broth is a sort of soupy Thai bolognese made with tomatoes, spices, a dried flower called dok ngeaw and a variety of pig parts including minced pork, spare ribs, and blood cakes. Ladled over the soft noodles and topped with crunchy raw vegetables, sweet-tart khanom jeen naam ngiew is a favorite for breakfast and lunch across Chiang Mai. One vendor told me she makes khao soi for the tourists and naam ngiew for the locals.
I was at once heartbroken and enthralled by this discovery. I started asking for naam ngiew at khao soi vendors. I tried bowls at restaurants and on the street, peering into endless vats of murky red broth. A stooping grandmother across the street from my guesthouse sold it for breakfast from an electric crockpot plugged in to her home kitchen, so I awoke before the sun one day to watch her cook. She didn't speak a word of English, but she happily showed me each ingredient as she reached for it, slipping me halved cherry tomatoes as she chopped.
As the sun rose and Pa Jinoy's first customers arrived, she shooed me out of her kitchen. Unsure of where to go, I lingered near the door for a few minutes, until she reemerged with a steaming bowl of khanom jeen naam ngiew. She set it down on a tiny plastic table on the sidewalk and pointed at me, then disappeared as soon as I sat down to eat, vanishing into a haze of simmered pork and spices.
Where to eat khao soi and naam ngiew in Chiang Mai, Thailand:
_ Just Khao Soi
108/2 Th Charoen Prathet, Chiang Mai
Khanom Sen Men
Kad Suan Kaew Shopping Center (food court), 21 Hauy Kaew Rd
Khao Soi Lamduan
352/22, Charoenrat Road, Wat Ket, Muang, Chiang Mai
Khao Soi Samerjai
391 Charoenrat Road, Faham, Muang, Chiang Mai
Khao Soi Islam
22-24 Soi 1, Charoenprathet Road, Chiang Mai
_
CM Bluehouse
30-1 Moonmuang Rd. Soi 6, Chiang Mai