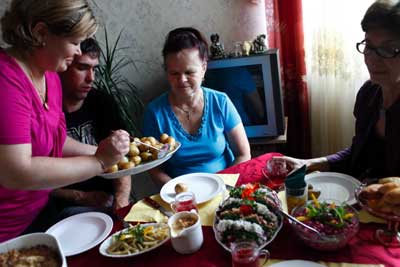 Travel
Local Flavor: Latvia's Culinary Resurgence
In the early 1990s, soon after Latvia regained independence, chefs in Riga suddenly had access to something they'd never experienced before: the outside world. Many of them quickly found their kitchens stocked with exotic ingredients imported across newly opened borders. Yet despite the allure of tiger shrimp, lotus root, and mozzarella cheese, in the last decade, the country's most talented young chefs have turned their attentions to traditional Latvian cuisine.
Chef Ēriks Dreibants pioneered New Latvian Cuisine at Kaļķu Vārti (Kaļķu 11; 371/ 6722-4576), one of Riga's top restaurants, with playful improvisations of classic dishes: a favorite was goat cheese topped with cranberries, black bread, and a rich quince sauce. Dreibants recently left his post there for the restaurant Kannas (Zaubes Pagasts 4113, Annas, Latvia; 371/6418-0700) about an hour outside of Riga, where he has space to grow the produce for his menu and catch his own fish in a pond on the grounds.
Another chef, Mārtiņš Sirmais, transforms seasonal foods into small plates such as jellied tomatoes, kidney bean pate, and turnip puree, at Istaba (Barona 31; 371/6728-1141), a bistro in downtown Riga. Throughout Latvia, he is better known as the author of a best-selling cookbook on Latvian cuisine, Sirmā Latvija ("Sirmais's Latvia"), and the star of a popular cooking show called Sirmā ēdienkaratē ("Sirmais's Food Karate," a play on the word for menu), in which he celebrates Latvia's local bounty.
Chef Kaspars Jansons designs elaborate tasting menus revolving around the foods of his childhood—turnips, parsnip, pumpkins, potatoes, beets—at the Restaurant Bergs (Elizabetes 83-85; 371/6777-0957). These flavors inspire dishes such as zander fillet in a crayfish and beer sauce with cabbage and leek stew. At Neiburgs (Jauniel 25/27; 371/67-115-522), one of the most popular and reasonably priced new restaurants in Riga, executive chef Sandis Bružas also elevates the simplicity of Latvian country fare. Bružas has taken a favorite local ingredient—pilchard—and includes the tiny fish in jellied layers of tomato, celery, and onion, an elegant spin on galerts (pork in aspic), a traditional Latvian dish.