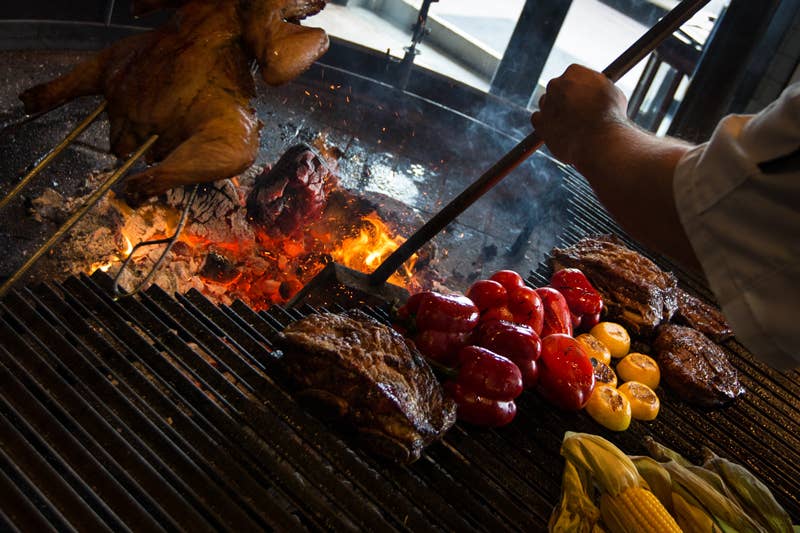 Travel
Finding Argentinian Flavor in Miami
9 restaurants at the forefront of Miami's Argentinian-food revolution
Historically, Argentina has always had a presence in Miami—in fact, it was Argentine immigrants who long ago taught Cuban exiles to smother their steaks with the parsley-and-garlic condiment chimichurri. But it wasn't until the South American nation's economic woes in the early 2000s that the immigrant community exploded. Miami residents have enthusiastically welcomed the resulting proliferation of Argentine restaurants serving parrillada (impressive arrays of masterfully grilled meats and sausage), and their take on empanadas, the ubiquitous Latin American turnover, which in their Argentine iterations are baked with fillings like ham and provolone cheese, chicken, spinach, and, of course, beef. These nine restaurants are leading Miami's Argentinian revolution.
This suburban gem is tucked away inside a nondescript strip mall off of Tamiami Trail. Those who manage to find the place are treated to very reasonably-priced parrillada, accompanied by excellent risotto and a good selection of wines. Lunch can be quiet, but the restaurant really heats up at dinnertime, when the darkness plays down the strip mall location and in-the-know locals line up outside the door for an hour or more to snag seats in the small dining room.
La Porteña
8522 SW 8th Street
Miami, FL
305/263-5808
This pizza-and-empanadas cafeteria is the first American outpost of a mini-empire in Argentine beach town Mar del Plata, where there are three Manolo outposts. The beach vibe carries over perfectly to Miami: it's a perfect spot for strolling over in flip-flops for a post-swim snack of churros or a licuado, a bright fruit smoothie made with or without milk.
Manolo
multiple locations
The cowhide walls at Las Vacas Gordas—literally "the fat cows"—are the first clue that this sleek restaurant takes its name seriously. The second is even less subtle: the massive plates of meat emerging from the open kitchen. On any given weekend night, you'll find a mix of lovebirds occupying the banquettes lining the walls, families tucking into huge steaks together and groups of friends fueling up before a night out. On a budget? Grab a sausage or a (still-enormous) steak sandwich at the bar.
Las Vacas Gordas
933 Normandy Drive
Miami Beach, FL
305/867-1717
Graziano's Market Credit: Rolando Diaz
Graziano's is the gold standard for Argentine steak in the Miami area, with high-quality meats and a selection of side dishes that goes beyond the typical french fries—creamy fresh cheeses, savory polenta, and a wide array of salads for those who like a bit of roughage with their parrillada. Expect an elegant crowd for dinner.
Graziano's Restaurant
multiple locations
Next door to the original Graziano's on Bird Road is Graziano's Market, a walk-in joint with a deli counter selling some of the best empanadas in the city, pastries (like the mini chajas pictured above, cornmeal cakes with fruit, dulce de leche, and cream) and small tables set up for diners to enjoy them immediately. There's also a wide array of Argentine groceries—after staring at bottles of malbec and tubs of dulce de leche while you eat your matambre con rusa (rolled flank steak stuffed with a "Russian salad" of potatoes and vegetables), see if you can't resist picking up some Argentine groceries on the way out.
Graziano's Market
3922 SW 92nd Avenue
Miami, FL
305/221-6818
This opulent restaurant in Miami's financial center isn't just named after Puerto Madero, the revived and trendy port district in Buenos Aires; it also has an interior built to resemble the port's warehouse buildings. Here, Wagyu beef gets the Argentine treatment. A business crowd dominates at lunch, while after work hours the restaurant is filled with the hip young locals who call the Brickell neighborhood home.
PM Fish and Steak House
1453 S Miami Avenue
Miami, FL
309/200-5606
Buenos Aires Bakery & Cafe
Take a number and wait in line at this popular North Beach spot for breakfast and lunch. In addition to excellent empanadas—particularly those featuring beef and ham and cheese—Buenos Aires Bakery offers an array of pastries, almost all of which feature sweet, rich dulce de leche in some way. Try an alfajor, a cookie sandwich filled with dulce de leche and covered in chocolate.
Buenos Aires Bakery & Cafe
7134 Collins Avenue
Miami Beach, FL
305/861-7887
One of the oldest Argentine steakhouses in the city, Rincon Argentino could use some updating in the decor department, but the roasting meat on a spit that greets diners leaves no doubt as to the main focus here: beef, and lots of it. Local families crowd around massive platters piled high with meat—beef, sweetbreads, sausage, and chicken—that the menu modestly claims are sized to feed just two.
Rincon Argentino
multiple locations
The menu at this unassuming little steakhouse just south of the airport offers the usual grilled meat selection at prices that are some of the lowest in town. It's a good stop for anyone with a long layover at Miami International Airport and a hankering for parrillada—or just anyone with a hankering for parrillada.
La Patagonia Argentina
4802 NW 7th Street
Miami, FL
305/443-1668
Graziano's Market Credit: Rolando Diaz
Carolina Bolado Hale is a Miami-based journalist.