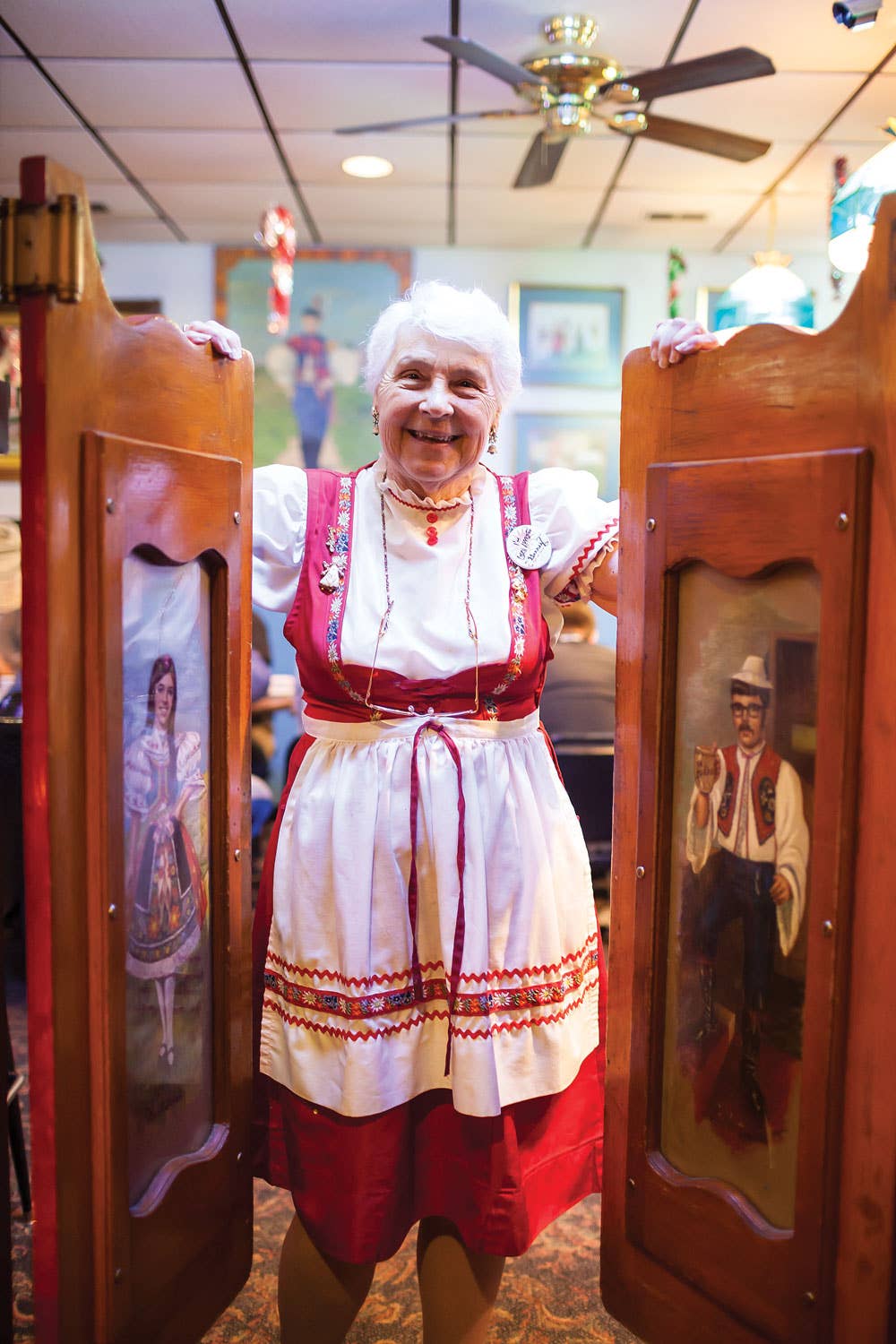 When I came to Nebraska 25 years ago to teach at the university in Lincoln, I visited Omaha, an hour away, and discovered the Bohemian Cafe, founded there in 1924. With its folkloric decor and waitresses in lace-edged kroje, it reminded me of the old country. Its foods—rich duck liver dumpling soup; svickova, sauerbraten enriched with sour cream; sweet and sour cabbage; kolaches, pastries with poppyseed, Bavarian cream, prune, cherry, and other fruit centers—were like the dishes my grandmothers prepared for Sunday family gatherings in Prague, where I grew up. I left there in 1968 when I was 20. But at the Bohemian Cafe, I felt right back at home.
I was fleeing Communism. But thousands of Czechs had already settled in Nebraska, as well as Kansas and Oklahoma, in the late 1800s, lured by offers of free land under the Homestead Act. Their cuisine was based on the seasonal products that farmers could raise in the climate they came from. Barley and rye, cabbage, dairy: These were used in the recipes they brought with them.
Today I buy Czech hard cheeses at the farmers' market in Lincoln to bread and fry, just as I remember from when I was young. I drive 40 miles north to the village of Prague, named after my hometown, for the fried carp, a Friday night Catholic Czech tradition. In Wilber, I can find slivovice, a plum brandy that we Czechs believe has medicinal properties. And I gladly go to 20 or so ethnic festivals in Nebraska, Kansas, or Oklahoma each year, where I share the taste of Czechness with friends and relatives. By eating the food of our mothers, we return, at least in spirit, to the comforting fold of our families. I think this is why cuisine is the part of Czech life that is so well-preserved here. At the beginning of the 20th century, Nebraska's Czech-language newspapers were filled with letters from readers who shared experiences of substituting Nebraska produce—peppers, tomatoes, corn—in old family recipes to approximate the flavors of home.
Those recipes endure at places like the Bohemian Cafe. Waitresses like Jerry Cousal [pictured], who has worked there since 1966, still deliver paprika-laden goulash and bread dumplings blanketed in dill gravy to Nebraskans, including those of us of Czech heritage who understand that, though the knowledge of our language in the U.S. is disappearing, in our traditional cuisine transplanted to the southern Great Plains, the culture of our homeland continues.