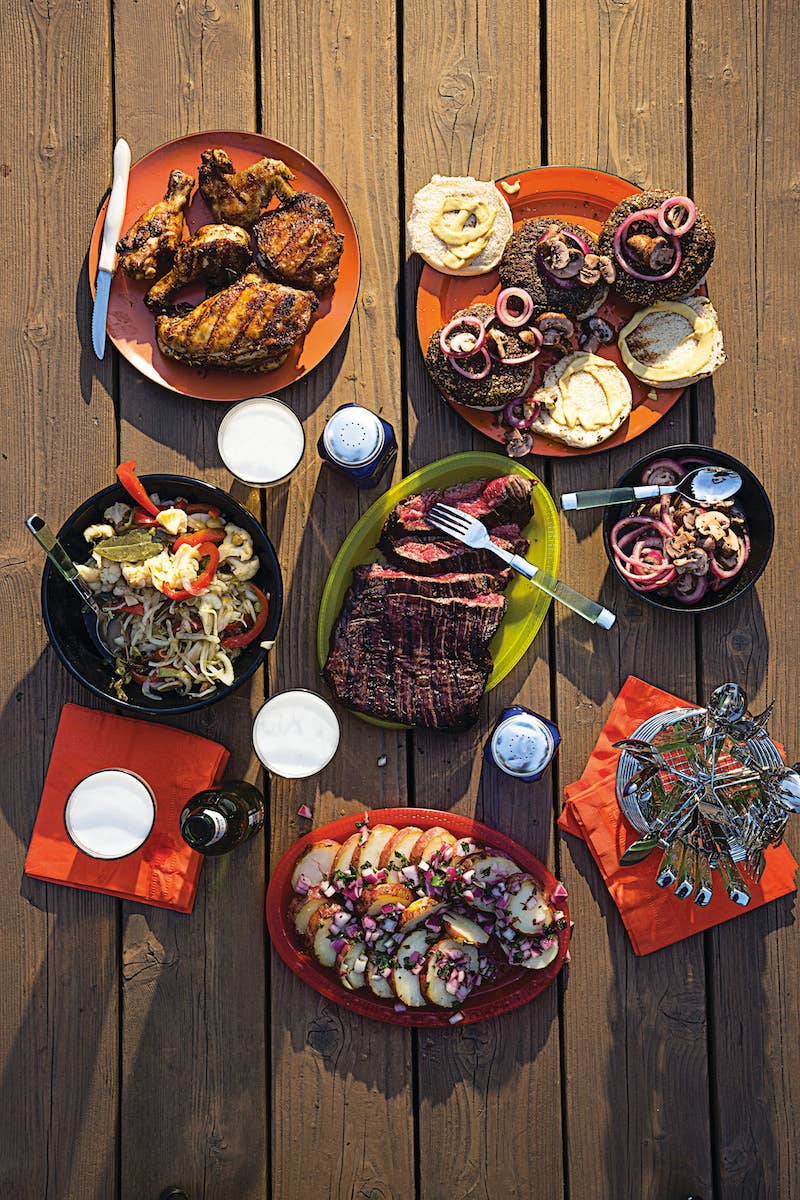 Travel
Party Out Back: East Coast vs. West Coast Grilling
From the fresh flavors of California to old-fashioned East Coast burgers, American backyard grilling is our favorite tradition, coast to coast
I had a sort of feral Northern California childhood, on Richardson Bay north of San Francisco. I would spend my days fishing for crabs until Mom rang the dinner bell. The Greek neighbors slaughtered lambs in their driveway; the Germans kept rabbits to eat. Everybody shared. My father always grilled the Thanksgiving turkey, in a brown paper bag coated in olive oil; staples were his closure of choice.
Nowadays, I make wine for a living, so I'm in the town of Napa. But my lifestyle isn't so different from when I was a kid, at least when it comes to food; there's still meat from animals I've watched being raised and seafood straight out of the Pacific. Of course, there's also lots of wine. My friends and I are fairly young. Most of us don't own wineries. My label, Fama, is tiny; I make my chardonnay and red blend at a communal facility. So it's not like we have tons of money. But winemaking starts with farming, and in this abundant place with its long growing season, we're lucky to eat and drink really well.
I throw tons of parties in my backyard. We set a long table on the patio surrounded by my fruit trees and raised beds and asparagus patch and bee boxes and chicken coop, and we grill on an old Weber kettle and an above-ground firepit that I "liberated" from the yard of an abandoned house nearby. Everyone brings their latest bottlings to show off.
To make the meals affordable, we share and barter. We swap wine with a pig farmer in Petaluma. This year, eight of us split four Berkshire-Duroc crossbreeds. The Berkshire gives good intermuscular fat, and the Duroc has a nice long belly, which I cure for bacon. It's awesome wrapped around grilled tenderloin from the same pig, stuffed with spinach from my garden, a little feta, and garlic. The loin is pretty lean, so the fatty pancetta keeps it moist, and it adds great texture when it crisps up on the grill.
Eventually, every part of those pigs gets used. I have a sausage stuffer, so I make links with the pork shoulder; I throw some roasted pasilla peppers and fresh cilantro into the mix and grill those spicy sausages up fresh. My buddy Christopher makes sticky sweet, spicy spareribs; that marinade of his—a kitchen sink concoction with hoisin sauce and cane vinegar and ginger and jalapeños—drips all over the grill, throwing up smoke and turning all crunchy and caramelly on the pork. It's a delicious mess.
For relief from the meat, we have plenty of vegetables, everything from the asparagus spears I've managed to grow to mushrooms we've foraged from the nearby woods. My friends and I coordinate what's in our gardens, so when we share the harvest, we don't just end up with 8,000 tomatoes. I grow lots of the greens. I'll pull up tight bunches of radicchio and brush them in olive oil and just char them quickly on the grill. Their bitterness balances out the rich pork.
Because I grew up on the water, I always round out the meal with seafood. I toss meaty Dungeness crabs with garlic butter or smashed lemongrass and oil. They take only a few minutes on the grill, and I can serve them right away while other things are cooking. That's my kind of dish: fast, in season, and simply prepared. It's fun being together, hanging out, drinking wine. No one wants to spend the day slaving away in the kitchen. —Heather Munden, Fama Winery vintner
My parents came from Brooklyn; they grew up in apartments and didn't know anything about grilling. They cooked indoors exclusively until they moved to the suburbs. When they did start to grill, they stuck to the basics: plain hamburgers, steak, chicken—all cooked on a hibachi.
Me, I've lived on the south shore of Long Island my entire life. I've always had a yard, but I commute to New York City, work long hours, and with four kids my weekends are usually occupied. I seldom have time to get out back and grill. But when I do, I don't want to struggle with overly complicated recipes. So, like my parents, I stick to basics—but a little more jazzed up. My go-to grilling dishes: blue cheese—stuffed burgers with pickled mushrooms and onions, coffee-soy-marinated flank steak, and spice-rubbed chicken with duck sauce. The very first grilling axiom I learned came from my father-in-law: "Always make chicken," he told me. "It takes a long time to cook and gives you plenty of time to drink beer."
For sides, I grill red potatoes in foil then toss them with olive oil, vinegar, and herbs to serve as a warm salad. I also quick-pickle cauliflower with peppers and raisins; the pickling gives the vegetables a nice tart flavor that's a perfect counterpoint to marinated meats. All the recipes are fail-safe, their simplicity masked by a depth of flavors.
Of course, simple doesn't always mean short on preparation. The night before any cookout, I'm up late marinating steaks and chicken, then out of bed early to pickle the cauliflower and the mushrooms that top my burgers. Once my friends and family start to arrive, all carrying side dishes or beer, I head outside and the cooking becomes more of a collaborative effort—all the guys help me man the grills.
The chicken goes on first. I build the hot coals up like a pyramid in the middle of my faithful Weber kettle grill, then place the parts close around the pyramid. Once they get a good char going, I move them to the outside of the grill, as far away from that blazing direct heat as possible, then cover the kettle and let them cook slowly and evenly, so the skin is crispy and the meat is nice and moist.
Meanwhile, I get my gas grill going for the burgers. Unlike wood or coals, gas burns consistently at the same temperature. By timing how long the patties are on the grill, I can accurately judge their doneness without piercing them, which would release the meat's juices and dry out the burgers.
Finally, when the chicken is cooked and I've moved it to a platter, I carefully lift the grate and knock the coals down a bit to form a pile roughly the same shape as the flank steak, leaving the flame as high as possible. The goal is to sear the outside of the meat yet keep the center rare. I hit that steak with the basting brush so often that somebody—usually my wiseass brother Tom—invariably shouts out: "Whaddaya think, you're painting the Sistine Chapel?" But all that basting really does help keep the meat moist while that tasty crust starts to form.
When the steak is done, I let it rest for about 10 minutes, so the juices have time to distribute evenly within it. Then I slice it thin and at an angle against the grain. Of course, what we call the grain is actually just muscle fiber, which is really tough to chew. So this carving method of mine reduces the amount of fiber in each bite, making my steaks a lot easier to eat. After I slice things up, I serve my family and friends, put down my knife, and pick up a well-deserved beer. Why not? My work is done—at least until the kids break out the Jiffy Pop. —Greg Ferro