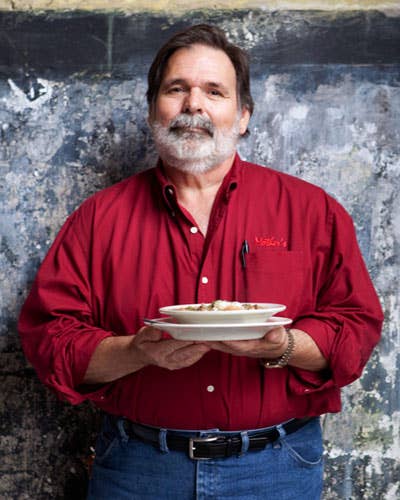 When travel and portrait photographer Nisha Sondhe got the phone call from New Orleans, the disastrous Deepwater Horizon oil spill was nearly two months old. On the other end of the line was her friend Allisyn Swift, a New Yorker recently turned New Orleanian while pursuing her Ph.D. at Tulane University. For years, Swift has happily indulged her foodie appetites across her adopted hometown. But her tone that day was far from celebratory.
Swift had phoned Sondhe after eating a dish of oysters Florentine at Bourbon House, one of her favorite haunts. Oysters were disappearing off restaurant menus across the city, and recipes and dishes that Swift had grown to love seemed to be in peril, with no relief in sight. She felt a sense of loss and mourning, she told Sondhe. A few days earlier, Swift had eaten the last serving of grilled oysters and Brie cream with shiitake "bacon" at the hallowed Matt & Naddie's restaurant, after which she coined the phrase "Requiem for an Oyster."
"I wanted to do something," Sondhe says. "I was talking to Alli and thinking about how I could help." Quickly, an idea came to her. This is what I can do, she thought: I can take pictures and I can talk to people. Sondhe decided to apply her photography skills to document the city's oyster chefs and fishermen, as a way of witnessing the impact behind the headlines.
Sondhe booked a flight that day, and two weeks later she was on a plane, camera and questions in tow.
What follows is a collection of Sondhe's images from that trip, premiered exclusively by Saveur magazine, featuring a number of heavyweight oyster chefs such as Mark DeFelice of Pascal's Manale, Mother's Restaurant's Gerard C. Amato, Matt & Naddie's Steve Schwartz, Bourbon House's Dickie Brennan, and the Upperline Restaurant's Kenneth Smith. The Louisiana Seafood Board referred Sondhe to Chef DeFelice, and he opened to her his network of chefs and oyster fishermen, all of whom were eager to share their stories. Sondhe's photos beautifully capture the personalities of her subjects in the environments where they work.
While she'd expected the sobering tales of uncertainty she heard from many chefs, Sondhe was unprepared for the optimism she found amid one of the worst natural disasters the United States has ever experienced. One such moment occurred on the coast, in a boat captained by E. J. Plaisance, Jr. "It was such a beautiful morning," Sondhe recalls. "We got there close to 5:00 A.M. and saw the sun rise over the marshes. I realized there are so many places here that are not affected by the oil. It changed my mind about reporting on the sad. I wish that more people would report on the happy stuff. New Orleans is such a resilient town."
As Sondhe's photos show us, one must not lose hope that after the requiem comes rebirth.