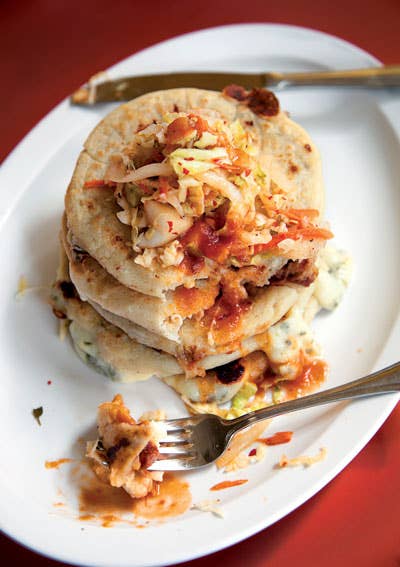 Travel
Soul Food
You don't have to drive far in Los Angeles to find pupusas, El Salvador's favorite comfort food.
You don't have to drive far in Los Angeles to find pupusas, El Salvador's favorite comfort food: disks of corn masa filled with slightly salty quesillo cheese, black beans, shredded pork, the flower buds of loroco (a Central American herb), or any combination thereof. Pupusas are a food of the body. They arrive on your table perfectly griddled, with a pattern of toast marks as unique as the fingerprints from the person who rolled and filled and clapped them together. You could use a fork to eat them (my 95-year-old Salvadoran grandmother, bless her heart and her prim manners, always does). But that would preclude the joy of tearing off a chunk of the hot masa, using it to pinch up some spicy pickled cabbage (called curtido), and popping it in your mouth, savoring the cool snap of cabbage, the slight crunch of grilled masa, the molten ooze of cheese. Do not reach for a napkin. Lick your fingers instead.
Pupuserias are everywhere in Los Angeles because the city is tethered to El Salvador, Central America's most populous nation, by a transnational umbilical cord. The city's Salvadoran community stood in the shadow of the much larger Mexican presence for decades, until El Salvador's civil war of 1980 to 1992. That's when more than half a million refugees started new lives in neighborhoods like MacArthur Park and Hollywood and quickly spun off countless Little San Salvadors across the suburbs of the San Fernando and San Gabriel valleys. For Salvadorans, the comfort of pupusas (see ** Masa Cakes with Spicy Slaw**) comes not only from the sheer pleasures of the food. They are a taste of childhood, of rural El Salvador, of a homeland before it was torn by war. They are the flavor of the countryside that softens the blow of the city. When I eat them, I consume masa and memory, and I feel at home.