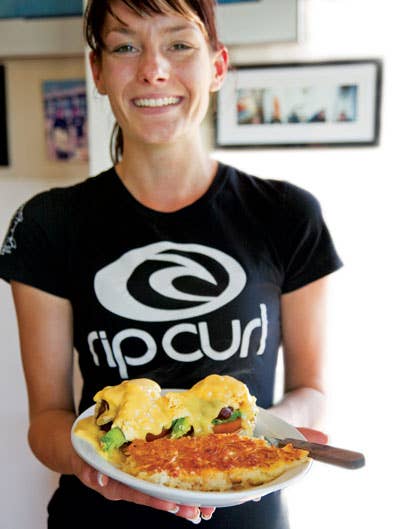 Travel
Sunrise in Surf City
A block from the waves in Huntington Beach, surfers fill up on breakfast burritos and camaraderie.
On Tuesday and Thursday mornings at the Sugar Shack in Huntington Beach, 40 miles down the coast from LA, you're likely to find the Huntington Beach High School surfing team digging into post-practice breakfast burritos and French toast on the house. Since the days when her sons, Timmy and Ryan, were team captains, the restaurant's owner, Michele Turner, has "sponsored" young surfers, replenishing the calories they burn on the waves. The old-fashioned breakfast and lunch spot on the main drag of this self-styled Surf City takes its name from a 1963 song by Jimmy Gilmer and the Fireballs ("There's a crazy little shack beyond the tracks/And everybody calls it the Sugar Shack"). Its walls are covered in memories: pieces of boards, clippings from surfing magazines, competition medals, obituaries of local kids who died in the waves, portraits of others who have worked at the restaurant.
Turner feeds nonsurfers too, many of them regulars. "One guy, Mel, has come in twice a day since we opened, in 1967," she says. "He eats half a bowl of oatmeal with raisins on the side, then a chicken sandwich for lunch." But it's not just the homemade vegetable beef soup, Wednesday's turkey platters, or the popular Keppler's Special—a breakfast dish of scrambled eggs, bacon, tomato, avocado, and hollandaise on an English muffin (see ** Keppler's Special**), named for the surfing photographer John Keppler—that lure folks to the Sugar Shack. It's the camaraderie. "You get filled up on food," says the surfing team coach, Andy Verdone, "and you get filled up on surfing gossip. Every surfer, from the world champion Kelly Slater to the little grom [young surfer] who's just starting out, has had a meal at the Shack."
Eric Ramsey was one of those groms when he started working here at the age of 15. Now, like the owner's sons—both professional surfers who don waiter's aprons at the restaurant when they're not chasing waves in Indonesia or Iceland—Ramsey, 21 and a pro himself, takes part of every year off to travel and surf. When he's home serving omelettes at the Sugar Shack, he always greets customers with the same question: "Any waves this morning?"