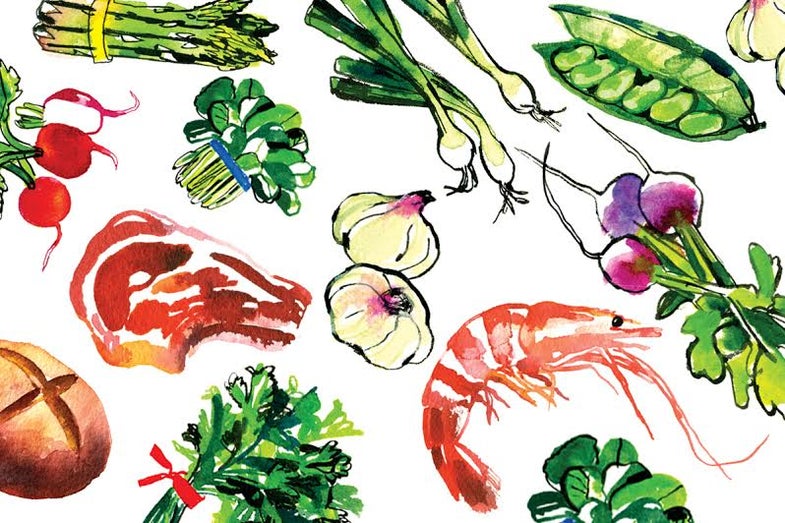 Given its rich rural tradition, favorable growing conditions, and burgeoning artisanal food scene, you'd think that Ireland—the "green" island—would be a hotbed (as it were) of organic agriculture. And you'd think wrong. "Organics in Ireland started with people from other countries," says John O'Neill, manager of the Organic Centre in Rossinver, in County Leitrim, in northwestern Ireland. "It wasn't an Irish idea, and there's still very little official support here for people who want to farm organically."
Certainly such people do exist. Many of the new-generation small farmers and artisanal food producers in County Cork are in compliance with organic standards or nearly so, as are some growers in County Wicklow—known as Dublin's garden—and other parts of the country. But it is in the northwest, on both sides of the border, that the organic movement seems to have taken hold the most firmly. "We're only a couple of miles from Fermanagh [in Northern Ireland]," O'Neill points out. "Until about ten years ago, many of the roads around here were blocked by the British army. It was very bad for the economy." Ironically, though, it was good for organic agriculture. "Fermanagh, Leitrim, and parts of Sligo, Roscommon, and Donegal," says O'Neill, "were so poor that there was no high-tech farming established, so going organic doesn't seem like going backwards."
The 11-year-old nonprofit Centre—funded partially by the European Union Programme for Peace and Reconciliation in Northern Ireland and the Border Counties of Ireland 2000-2004, known informally as "Peace 2″—is an ambitious but bucolic complex sprawled over 19 acres about eight miles north of Manorhamilton. On the grounds are themed specialty gardens (devoted to things like soap plants, Incan crops, edible flowers, heritage oats, and ornamental vegetable borders), a vegetable field growing produce for the Centre's "box scheme" (its community-supported agriculture program), a willow-basket-growing area defined by "fedges" (fence hedges made of crossed willow branches), a display of composting techniques ("compost training" classes are available), and a newly planted native woodland.
The Centre both proselytizes and educates. "We have about 15 students here at any given time," O'Neill says, "doing an intensive eight-month course, teaching them how to become organic farmers." There is also a diverse schedule of one- and two-day courses open to the public, including Organic Gardening for Beginners, Goatkeeping Workshop, Seaweed in Cooking, Dry Stone Wall Building, Wandering Through the Weeds, Winter Remedies, and Yoga for Gardeners, as well as community programs—"like one," says O'Neill, "for lower-income women, teaching them how to grow their own food and cook it".
Hans Wieland, the Centre's training coordinator, likens classes here to Ireland's old "hedge schools"—outdoor classrooms where students were taught Catholic doctrine and the banned Irish language, hiding their purpose from passing British soldiers by pretending to be picking berries from a hedge. And he stresses the practical nature of what is taught. "There needs to be a function, a purpose, in a skill," he says.
The Centre also helped inspire the Green Box—"Ireland's first integrated ecotourism destination". The Green Box is a precisely defined area of northwestern Ireland, shaped roughly like a maple leaf, encompassing all of County Leitrim (except the city of Carrick on Shannon), all of County Fermanagh, in Northern Ireland (except Enniskillen, another urban area), and portions of Counties Sligo, Cavan, Donegal, and Monaghan. Within this area is a network of member farmers, artisan producers, innkeepers and restaurateurs, and the like, devoted to providing visitors with "ecofriendly" experiences. Green Box doesn't pretend to be organic, but it hopes to promote travel "that helps sustain local populations and encourages conservation while broadening the mind and enlivening the soul [of the visitor]."
"There are so many opportunities in this region," says O'Neill. "When people come here, they want the local flavor. They want to know they're in Leitrim or Fermanagh, not in West Cork or America."