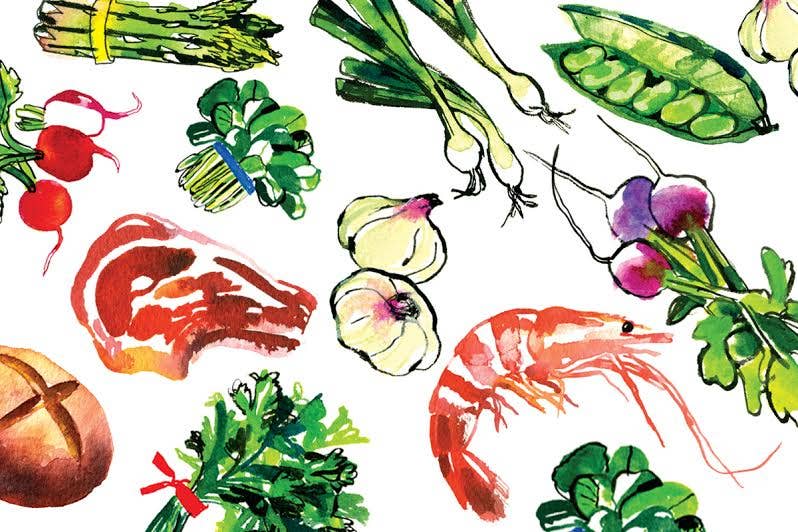 Travel
The Chef and His Materials
One fall day we made our way to the Dublin Writers Museum in Parnell Square to have lunch at the restaurant downstairs, Chapter One, which had been recommended to us as not just good but Irish good. We stopped in the establishment's handsome salon for an aperitif of Jameson 12-Year-Old—an appropriate drink, since the museum building was the home of distillery scion George Jameson in the late 19th century—and then were seated in the elegant, understated dining room, done in shades of gray and cream.
We started with an assortment of meats from the restaurant's "charcuterie trolley": Schull salami and chorizo from Fingal Ferguson at Gubbeen, Derreenatra dry sausage made by Frank Krawczyk, cured venison loin produced by Ed Hick in Dun Laoghaire (pronounced dun-leery) outside Dublin, prosciutto-like smoked lamb from James McGeough in rural County Galway, and Chapter One's own game pate and pig's foot "boudin"—which isn't really blood sausage but looks like it. For main courses, we had smoked haddock glazed with welsh rabbit on a bed of spinach and sauteed plaice filets accompanied by a coarsely pureed potato salad highlighted with dill, some minted "mushy peas," and a dollop of aioli. It was all delicious. This was smart food, refined but not precious, technically perfect but full of soul, locally grounded but with cosmopolitan flair.
The next time we were in Dublin, in the spring, we went straight back to Chapter One, and again we were very happy. This time we started with sauteed Dublin Bay prawns (i.e., scampi) on a bed of organic leeks topped with a truffled potato emulsion, and seared scallops over a risotto of peas, smoked bacon, and mushrooms. Our main courses were a pancetta-wrapped chicken breast with a chestnut and bacon "dumpling" (in fact more of a quenelle, fried in a coating of bread crumbs) and dauphine potatoes on a bed of creamed cabbage in mustard sauce, and a daube of beef with onions and black olives, served with pureed potatoes. Again, the cooking displayed both authority and refinement, both French technique and homey Irish touches. We decided that we had found our favorite Dublin restaurant.
The chef and co-owner (with restaurant manager Martin Corbett) of Chapter One is a boyish-looking Cork native named Ross Lewis, a veteran of the kitchens at Odin's in London and Le Chat-Botte in Geneva. Lewis is not just a good cook but also a passionate champion of Irish food, both cooked and in its native state. (As a commissioner of Euro-Toques Ireland, he is leading a movement to ban genetically modified crops from the country.) Because he is so meticulous in his selection of raw materials, we asked Lewis whether he'd invite, as our guests, a handful of his favorite producers from all over Ireland to come have lunch at Chapter One and talk to us a little about what it means to be in the food business in Ireland today.
Lewis chose five people: Alan Pierce, a director of Gold River Farm, which grows seasonal organic produce in County Wicklow; Terry Butterly, a veteran fisherman turned seafood wholesaler from Annagassan, in County Louth, near the border with Northern Ireland; Ed Hick, the Dun Laoghaire butcher (and venison smoker); Jane Murphy, whose Ardsallagh goat cheeses, from Carrigtwohill in West Cork, are some of Ireland's best; and Maurice Kettyle, who produces dry-aged beef from grass-fed cattle in Lisnaskea, in County Fermanagh, in Northern Ireland.
The original idea was to serve a meal that would showcase the foods provided regularly to Chapter One by all five guests, but in the end Lewis decided that Butterly's lobster would be one course too many. Everyone else was represented by the bill of fare: a rich cauliflower soup with a potato emulsion, Crozier Blue cheese, and a few capers; a foresty-tasting salad of smoked venison, foie gras, baby watercress, sultanas, and apples in hazelnut dressing; ravioli filled with Ardsallagh cheese on a puree of asparagus; daube of beef with mushrooms, braised celery, and pureed potatoes; and a rhubarb financier with vanilla ice cream.
As the wine flows, so does the talk. The bearded, ponytailed Terry Butterly quickly takes the floor. "I fished for 35 years," he tells us. "I was a prawn fisherman, a herring fisherman, a lobster fisherman, but I sold my fishing business before Christmas 2004 and just process fish now. Fishing is too hard, and none of my five kids wanted to go into it." The fishing off Ireland is so good, he says, because the water is so deep and 90 percent of the water in the inlets changes with every tide. "Norway and Scotland have fjords with shallow shelves," he says, "and only 10 percent of the water changes." Butterly is a splendid storyteller, and he goes on to spin yarns that, it suddenly dawns on me, are the real "fish stories"—not banal tales of huge sea creatures evading the wily angler but well-structured anecdotes that stretch on and on until you realize that, somewhere along the way, you've left dry land. One involves a stowaway cat and a cross-eyed otter called Monkey; another is about a gigantic lobster who turns off his own cooking pot.
As reserved as Butterly is garrulous, Maurice Kettyle, a fugitive from the wholesale meat business—which, he says, upset him terribly—talks quietly about the fine points of aging good beef. Different cuts age for different periods—the rib portion for 21 days, the rump for almost a month—with calibrated changes in temperature and airflow. Most of his meat is from the west of Ireland, and it's nearly all from Aberdeen Angus and Hereford-cross animals ("There's nothing worse than getting Holstein in there; the meat has a whole different texture"), all grass fed. "This beef is tender but has a lot of flavor," Kettyle says. "There's nothing like it."
Jane Murphy became a cheese maker in an unusual way. "In 1979," she tells us, "I was living in County Carlow with an overgrown front yard and two children with fairly bad eczema. A man came by to try to sell me insurance and took one look around and said, 'What you need is a goat'—because goats' milk is good for eczema, and of course a goat would help keep the yard mown. Sure enough, he came back and gave me one. I got interested in goat keeping right away—they're incredible animals—and bought some more, and of course pretty soon I had too much milk. I learned cheese making by trial and error—more error than trial. In 1999, my husband and I decided to do this as a family business. We moved to County Cork, and now he tends the herd and I make cheese. It has brought us incredibly close as a family. It's us against the world."
The hottest topic of conversation, as we suspected it would be, is governmental regulation. The perception among most artisanal food producers in Ireland is that European Union health and safety laws are enforced far more rigorously here than in any other country—and that the Irish government, despite the programs of the Bord Bia and other agencies, is no friend to the gastronomic artisan.
"I've got five governmental departments chasing me at any given time," says Murphy. "Regulations are discouraging new producers. We should be encouraging people to do what I do, but there are more barriers to entry today than there used to be. If you tell them that you want to start making cheese tomorrow, they'll give you a list of requirements that'll cost you half a million euros to satisfy."
"The regulators have lost their way," agrees Ed Hick. "You've got to put this in perspective. Your mother learned food safety from her grandmother. They'd never heard of bacteria, but they didn't get sick and they didn't poison people. In my lifetime, a butcher would be able to go and buy pigs, take them back home, kill them, make the sausages, and then sell them in his shop. Perfect 'traceability.' Nowadays that would be unthinkable. We're not even supposed to use wooden cutting blocks or have sawdust on the floor anymore. I'm worried. They say it only takes two generations to lose a skill …"
"It sounds to me like everybody else has all these romantic challenges," says Alan Pierce, a little sheepishly. "I'm just a farmer. All I have to worry about is the weather. The only regulation I'm really subject to is organic certification, and I just have to pass two inspections a year." Besides supplying wholesale customers, Pierce sells boxes of vegetables, eight different kinds every week, in local shops for 12.5 euros (about $15). "The shop gets two euros of that," he says, "I get the rest, and the customer gets better vegetables. Everybody's happy."
So are we by this time, and we toast Ross Lewis and crew and the excellent Chapter One—and the food producers of Ireland.