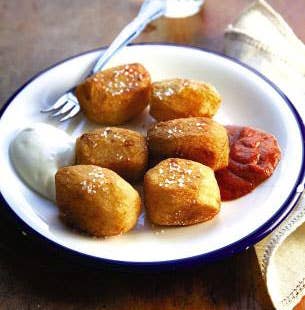 Casa Balbino, on the edge of the always bustling Plaza del Cabildo in the southwestern Spanish seaport town of Sanlucar de Barrameda, is the quintessential tapas bar: Dozens of cured hams hang from the rafters, while the head of a well-armed fighting bull adorns a wall amid framed, faded photographs of the town. Giant blackboards list fifty or so of the small dishes that Spain has developed into an art form—from fried shrimp to sliced chorizo to sauteed mushrooms. Jovial barmen take orders patiently, chalking up tallies on the well-worn wooden bar, as the crowd comes and goes, swirling and circling happily and noisily around the many tables inside and out, in what amounts to a collective feeding frenzy. People wave their friends in off the street, pop over with them to Barbiana—another tapas bar nearby—and come back again. A silver-haired don woos a beautiful young woman, who responds with a bemused smile. In walks the entire board of directors of a major distillery, half a dozen grandees. A couple in the corner seem intent on sharing an olive, while a father and his look-alike son debate who knows what.
A giant soiree and movable feast to which everyone is invited, the tapeo—or tapas-bar spree—invents itself as it goes along: conversations with strangers, spontaneous introductions, the unexpected appearance of an old friend or ex-lover...Anything can happen on a tapeo, and often does.
The tapeo reflects the Spanish approach to life. This itinerant tasting and tippling stems from an unabashed love of play and pleasure. And because home entertaining is uncommon in Spain, tapas bars serve as de facto living rooms: places to eat, relax, meet friends, watch a soccer game, have a quiet drink, chat with the owner. In small villages, the local bar or cafe is even more important. Visits are built into the evening paseo, the ritual stroll with no particular destination, other than a favorite tavern, or two, or three. In the Basque country and other regions of northern Spain, the tapeo tends to be a kind of barhopping; Basques, for instance, typically order only a few tapas at each stop, with shots of wine or shallow _zuritos_of beer. A full meal, usually at home, comes later. By contrast, Andalusians tend to linger in one place, making a meal of their tapas while sitting at table—an uncommon sight in the north.
I cut my teeth, so to speak, on Basque tapas, and had always considered them to be Spain's best. But for years my friend Pablo, from Seville, had been trying to convince me that Andalusian tapas were superior, especially in the region's southwestern corner, in the triangle defined by Sanlucar de Barrameda, Jerez de la Frontera, and Cadiz. Frankly, I was skeptical, but Pablo kept insisting—which is why I'm now about to set off on a weekend-long Andalusian tapeo with him and his wife, Nastassia.
Our first evening starts with a sacred ritual in this part of the world: sunset on Sanlucar's Bajo de Guia beach accompanied by a glass of manzanilla—a local specialty whose champions maintain that it doesn't travel, even as far as Jerez—and a plate of boiled jumbo shrimp. As we watch the sun fall into the Atlantic, fishing boats working the night shift head down the estuary and the waterfront restaurants stir to life. One beachfront gem is Casa Bigote. The Hermoso brothers' place, which opened in 1951, is a virtual museum, its walls documenting Sanlucar's past with photographs, clippings, and fishing artifacts. Paco Hermoso, who is also the chef, is familiar with every creature in this corner of the Atlantic, and his knowledge has earned him the respect of fishermen near and far. Locals quip that when bad weather limits the daily catch to three fish, two will end up at Bigote.
Hermoso, of course, has his own version of tapas history, which he gladly shares as we dig into one of his creations—bacalao en naranja agria, a wonderful, unusual dish of cod moistened with bitter-orange juice. ''There was extra fish around with no market value,'' he explains, ''so taverns gave it away with drinks to sell more wine, on a piece of waxed paper that tapaba—'covered'—the glass.''
That's one theory. Arguing about the evolution of tapas is a favorite Spanish pastime. But this much is beyond dispute: Tapas have a long history. One story is that the 13th-century Castilian king Alfonso X El Sabio (the Learned) was instructed by his doctor to eat several minimeals a day with wine; hence, tapas. Cervantes, in his 17th-century classic Don Quijote, refers to llamativos, or ''lures''—tidbits designed to arouse hunger or thirst. However, the most commonly accepted theory is that tapas as we know them originated in Andalusia in the 19th century as small saucers set over wineglasses in taverns to keep the aroma in and the flies out. Eventually, lore has it, some savvy soul hit upon the idea that complimentary morsels of food placed upon the saucers would increase bar sales. It worked: Today, tapas are rarely free—but there are more than a thousand varieties of them, and every region, city, and bar in Spain has its own specialties, from baked scallops in Galicia to stuffed peppers in San Sebastian to Casa Bigote's cod.
After Bigote, we make our way to Casa Balbino, a tapeo must in Sanlucar. Balbino got its start in 1939 as a grocery store that also served libations and the odd slice of cheese or fish—but it eventually became apparent that customers were more interested in the tapas and the talk than the shop's provisions. Owner Balbino Izquierdo, whose father founded the business, launched the place as a tavern in the early '80s; today it draws people from all over Spain and beyond. Pablo, Nastassia, and I take a seat at an outdoor table and order several of the wonderful especialidades de la casa: tortillas de camarones, lacy crisps of tiny shrimp in batter that are ubiquitous in Andalusia; arroz marinero, rice and seafood stew; and salmorejo, a gazpacho-like cold soup garnished with diced ham and egg.
It's after midnight when we get to the oak-paneled Barbiana nearby, which boasts the world's best papas aliña—potatoes with olive oil, vinegar, onions, tuna, and parsley. Seduced by the cozy atmosphere, we settle in at the bar next to Manuel Rodriguez Valencia, a tooth-scarce Barbiana habitue who is fixated on his plate of potatoes. Until, that is, the bartender, with a wink, begins to complain loudly that the octogenarian eats a ton of the tavern's potatoes every year and never pays a peseta. ''If it weren't for me, you wouldn't even be here,'' is the man's spirited reply, which elicits laughter from everyone within earshot. Conversation turns to (what else?) what makes great papas aliña; Spain's various tapas competitions; and the age-old question, are Basque or Andalusian tapas better? ''For me,'' chimes in one aficionado, ''Basque tapas, while superb, are more sauce-based and they're often served on bread. Andalusian tapas tend to be straight seafood, very fresh, and cooked quickly in very hot oil.'' At the moment, sleep is more important than debate, and that declaration goes unchallenged. When I try to pay, the barman indicates that it's been taken care of. We turn in unison to the elderly señor, who smiles sheepishly and dismisses us with a wave of his hand.
In the morning, after coffee alfresco in front of a lovely baroque cathedral, we drive 14 miles south to El Puerto de Santa Maria, onetime home of Christopher Columbus. This busy town, which lent its name to one of Columbus's ships, is known for its sherry bodegas, its immense bullring, its elegant town houses, and, of course, its tapas. Our first stop, Romerijo, on the Ribera del Rio riverside promenade, is a no-frills seafood market and sidewalk restaurant with an impressive display of crabs, prawns, sea snails, and mussels, all priced by the gram and prepared the classic Andalusian way: deep-fried. We eat beautiful tiger prawns the size of hot dogs and are still talking about them when we get to Casa Flores just upstream. Cruise-line decor aside, this is a pleasant spot to indulge in the renowned Jabugo ham, which comes from free-range, acorn-fed Iberian pigs. The extremely tender and nutty meat, which many find superior to Italian prosciutto, is expensive, about $15 for a generous serving, but well worth it.
After a sweep through the many lively tapas bars lining calle de la Misericordia, one street back from the river, we make a pilgrimage seven miles inland to Jerez de la Frontera's legendary Bar Juanito. Tucked away on the minuscule calle Pescaderia Vieja off Plaza Arenal, Juanito offers over sixty-five dishes daily, many of which are displayed on the bar. But we have come specifically for the sublime alcachofas en su salsa, artichokes in a ''sauce'' of sherry, olive oil, scallions, garlic, parsley, and bread crumbs—winner of Spain's National Gastronomy Prize in 1992.
Arriving just before sunset in Cadiz—a 3,000-year-old city built on a peninsula attached to the mainland by a whisper of land—Pablo, Nastassia, and I prepare for our next tapas encounter with a long walk past giant rubber trees and the lighthouse, and out on the breakwater to San Sebastian Fortress. The Atlantic evening chill eventually sends us in search of El Faro, Cadiz's most famous tapas emporium. Having staked out a corner of the handsome mahogany bar, my friends and I study the glistening display of _mariscos_for which the establishment is justly renowned: chocos (cuttlefish), acedias (small sole), pijotas (small hake), gambas (shrimp), cazon de conil (small dogfish)—all just hours out of the sea. We settle on puntillitas, and within minutes the dapper barman serves us a plate of piping hot, tiny squid cooked in olive oil, with garlic, parsley, and plenty of salt. We quickly devour the juicy morsels, interrupting our conversation only to discuss our next order: albondigas de chocos, fried balls of tender squid in a light saffron sauce. Then it's time to move on—but we can't leave without sampling the berza gitana con su pringa, a rich meat and vegetable stew made with whatever the kitchen has on hand, which might mean veal, pork, blood sausage, kidney beans, chard, celery, cabbage. It's a typical Andalusian dish, and this version is exceptional.
While many tapas bars, including El Faro, are attached to full-scale restaurants, Casa Manteca, just a few steps down the street, is a rough and rustic tasca—a simple tavern—little changed since 1952. The walls are covered with pictures of flamenco dancers, singers, bullfighters—the images of La España Cañi, the Andalusian ''gypsy'' Spain of bulls, guitars, wrought iron, and lace. At Casa Manteca, the tapa of choice is chacina variada, different cuts of cured ham and sausages served on small sheets of waxed paper. Standing at the bar enjoying this treat is a familiar face: Carmen Rivera, sister of the famous matador Paquirri, who was killed in the bullring almost two decades ago. Despite her celebrity, Rivera is left undisturbed.
From Casa Manteca we head for Meson La Cuesta, where Juan Rodriguez cooks us his house specialty, urta a la piedra. Urta, a strain of sea bream found only in and around the nearby Strait of Gibraltar, feeds exclusively on crustaceans. Rodriguez takes advantage of the fish's juicy, firm white flesh by cooking it in a savory stew of green peppers, tomato pulp, onions, and white wine, adding shrimp, crab, and baby clams. Sated, we wander the tiny streets of old Cadiz, passing through leafy Plaza San Antonio, where we stop for a manzanilla nightcap.
Morning comes quickly. After a few strong espressos near the Mercado Central, Pablo, Nastassia, and I begin the great Sunday lunch version of the tapeo, practiced all over Spain but perfected in Cadiz—which, as probably the oldest continuously inhabited city in the Western world, has had a lot of training. At El Nuevo Almacen, eggs scrambled with young garlic and Jabugo ham leads to anchovies with cod and tomato, and a chat with the owner, Daniel Lopez, who sends us off to La Perola for further adventures. Cadiz's most innovative tapas sanctuary, La Perola is run by Francisco Leal, who combines Spanish home cooking with medieval Moorish influences. When we arrive, the mayor of Cadiz, Teofila Martinez Saez, is carefully listening to Leal explain how he prepares his garbancitos con acelgas, a hearty dish of baby garbanzos, chard, red peppers, tomatoes, cumin seed, and vinegar. We can't resist sampling it ourselves. It's good, but we prefer the creamy and delicate pate de cañaillas (sea snail pate) and the flaky, Moroccan-inspired pastela (phyllo filled with chicken, nuts, and raisins)—both a change of pace from traditional tapas-bar fare, but still in the tapas spirit.
From La Perola, it's a short walk to Plaza de Mina and the top of calle Zorrilla. Every Sunday a boisterous street party unfolds in this scenic spot leading out to the seawall, a 35-foot-high breakwater and promenade protecting Cadiz from the Atlantic. By midday, the area is packed with tapeo devotees spilling out of various taverns and tascas, and vendors hawking everything from lottery tickets to boiled shellfish. It seems that everyone, including us, is drinking manzanilla and crunching on baby shrimp, enjoying the warmth of the sun and the fragrant sea air. Talk of food dominates: the sole last night at Romerijo, the berza at El Faro, and where to continue the quest for the perfect morsel. ''How about San Sebastian?'' offers Pablo with a sly grin as the three of us start back along the seawall and head for points north. ''You must be missing those Basque tapas.''
Well, not exactly. In the end, I have to admit that Andalusian tapas, though simple, are also infinitely varied and creative. As much as I love the frenetic Basque bars, Andalusia has won my heart—or at least my palate.
George Semler_, a Barcelona-based journalist who covers life around the Mediterranean, wrote about Corsica for our April 1999 issue._