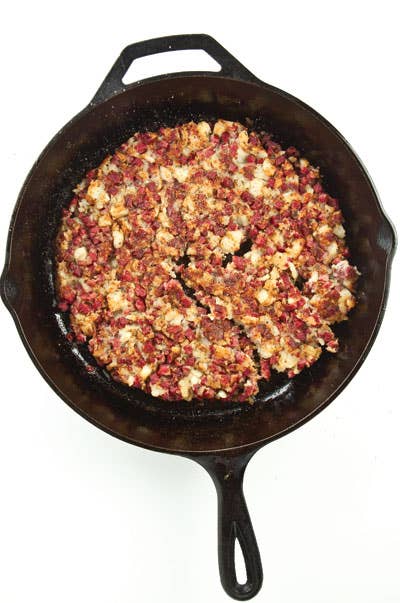 Travel
Heavenly Hash: The Greenbrier's Corned Beef Skillet
A dish of humble origins gets the fancy resort treatment
"This is like a banquet at Hogwarts," my 11-year-old daughter said, invoking Harry Potter's school meals as we stared at the grand breakfast buffet during our visit this past summer to The Greenbrier, an elegant 233-year-old resort in White Sulphur Springs, West Virginia. Her gaze lingered over cinnamon buns and stacks of biscuits for smothering in sausage gravy. But the dish that I hungered for was the resort's a la carte version of that breakfast classic, corned beef hash.
Devised as a palatable way of using leftover meat, hash got its name in the 17th century from the French word hacher, meaning to chop. But though the fried, chopped meat dish lent its moniker to down-market restaurants called "hash houses" in the 1800s, it's been enjoyed by diners across class lines since Samuel Pepys first mentioned eating a rabbit version in his 1663 Diary.
Hash made with corned beef, in particular, was a breakfast staple of affluent colonial households and a feature of menus at grand hotels like The Greenbrier, where its presentation is ever evolving. When we visited last summer, it was served in patties alongside fried potatoes and asparagus tips. Lately, the cooks have topped it with poached eggs and chive-strewn hollandaise, served with elegant toast points. But the recipe for the hash itself remains deliciously consistent, combining diced peppers, onions, and potatoes, chicken stock, and sizzled shreds of corned brisket. Seared on the griddle, the faintly peppery hash is soft beneath its decadent crust. I ate mine with a dab of ketchup, after which the waiter brought me a finger bowl of warm lemon water and a fresh linen napkin. My breakfast of "leftovers" could not have felt more elegant.