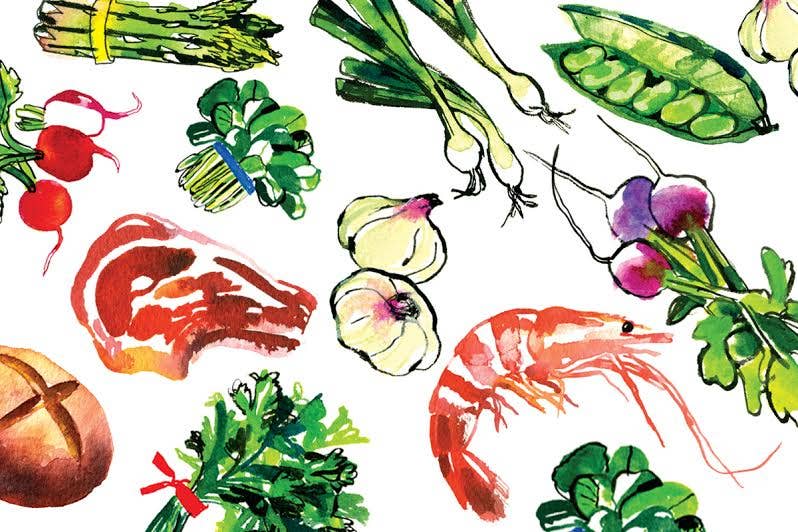 Chicago has long been a city of enterprise and innovation, especially when it comes to food. Here are three local culinary inventions that we think represent the city's deliciously entrepreneurial spirit.
THE JIBARITO Chicago's newest signature dish is a messy treat: seasoned skirt steak, sauteed onions, and cheese spill out from a sandwich composed of two crisp strips of fried plantains instead of bread. Juan Figueroa, who invented the dish in the mid-1990s at his restaurant, Borinquen, in Chicago's Humboldt Park neighborhood, says the jibarito (the name is Spanish for little hillbilly) was inspired by various recipes from his native Puerto Rico. Other versions of the sandwich have sprung up across town in recent years, some stuffed with roast pork or chicken. How does Figueroa feel about others' adapting his recipe? "I'm honored," he says. "It means I've finally made it."
SHRIMP DE JONGHE You won't find it in many cookbooks or in restaurants outside the Chicago area, but this delectable dish of butterflied shrimp stuffed with garlicky bread crumbs and baked to a golden crisp is one of the city's most enduring classics. The recipe was the creation of Belgian immigrant Henri De Jonghe, who opened his eponymous South Side restaurant in the 1890s. After De Jonghe's relocated downtown, it was shuttered because of a Prohibition-era police raid, but the dish lives on at many of Chicago's older Italian restaurants, like The Village, where it has been served since 1927.
THE CHICAGO-STYLE HOT DOG You haven't really tasted a hot dog until you've had Chicago's version: an all-beef wiener nestled into a soft, poppy seed bun and topped with sweet relish, mustard, a pickle spear, hot peppers, celery salt, fresh tomato wedges, and diced onions. The composition of this most beloved of Chicago foods is the result of a long evolution that reflects the city's rich ethnic makeup. The wieners and mustard were a gift of German immigrants, who started selling frankfurters between buns from pushcarts in the mid-19th century; the poppy seed buns, the pickles, and the preference for beef dogs over ones made with pork most likely owe to Jewish influence (in fact, many of the city's hot dog companies, like Vienna Beef, were founded by eastern European Jews); and you can thank the Greeks and Italians for the tomatoes, onions, hot peppers (referred to as "sport peppers", a marketing name for this peperoncino cousin), and relish (inspired by giardiniera pickles). No one seems to know who added the celery salt, but it's a tasty touch.