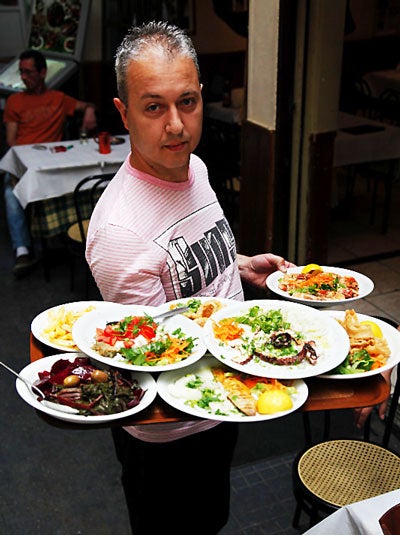 GETTING THERE
Athens and the nearby port city of Piraeus are the air and ferry hubs, respectively, for travel to outlying Greek regions and the country's islands. For more information on traveling in Greece, contact the Greek National Tourism Office: www.greektourism.com. Virtuoso, an online travel service, offers custom itineraries; visit www.saveur.com/virtuoso.
WHERE TO EAT AND STAY
Dinner for two with drinks and tip:
Inexpensive Under $20 Moderate $20-$80 Expensive Over $80
ATHENS
Filema
16 Romvis, Kentro (30/210/325-0222). Moderate.
This taverna in the center of Athens is known for its keftedes (meatballs), lamb and beef kebabs, and pork chops, as well as the traditional laika and rebetiko music that's played here on Saturday nights throughout the winter.
Gefseis me Onomasia Proelefsis
317 Kifissias Avenue, Kifissia (30/210/800-1402; www.gefseis.gr). Expensive.
Chef Nena Ismirnoglou carefully sources produce, cheeses, and meats from small producers all over Greece. Her fresh-tasting creations include grilled calamari served with a puree of smoked eggplant and a lime sauce, and an arugula salad with strawberries, mint, pistachios, and cured ham from Karpenisi, in central Greece.
The Glorious Greek Kitchen
(30/210/689-8877; www.dianekochilas.com)
Cookbook author Diane Kochilas offers Greek cooking classes and food-focused walking tours in Athens as well as cooking programs at her home on the island of Ikaria.
Holiday Inn Athens – Attica
Attica Avenue, between exits 17 and 18 (30/210/668-9000; www.hiathens.com). Rates: $153 double.
This modern business hotel is a convenient and comfortable option near the airport for travelers making short stopovers in the capital.
Hotel Sofitel Athens Airport
19019 Spata (30/210/354-4000; www.sofitel.com). Rates: $190-$360 double.
Offering 345 airy rooms, two locally acclaimed restaurants, and a spa, this luxury airport hotel is situated only 20 minutes by car from downtown.
I Naxos
1 Plateia Christokopidou, Psyrri (30/210/321-8222). Inexpensive.
This family-run restaurant in the Psyrri district is known for its friendly atmosphere and specialties from the island of Naxos—seafood both grilled and fried and dishes like mussels in tomato sauce.
Ioannis
28-34 Athanasiou Diakou Street, inside the Royal Olympic Hotel (30/210/928-8400). Expensive.
Kostas Tsigas, who served as the executive chef for the kitchens feeding the athletes at the 2004 Summer Olympics, whips up delicious Mediterranean fare at this rooftop restaurant with striking views of the nearby ruins of the Temple of Zeus.
Papadakis
15 Fokilidou and Voukourestiou streets (30/210/360-8621). Expensive.
Argyro Barbarigou, a pastry chef who hails from the island of Paros, hosts a popular TV cooking show. Her focus is on seafood—the octopus with honey and sun-dried tomatoes and the risotto with shellfish and sea urchin are not to be missed.
Varoulko, Deligeorgi
80 Piraeus Street, Keramikou (30/210/522-8400). Expensive.
Michelin-starred chef Lefteris Lazarou is famed for his creative seafood dishes. Try the octopus simmered in sweet Greek red wine, or the monkfish liver topped with soy sauce, honey, and balsamic vinegar.
CRETE
Alexander
Paralia, Tobrouk, Iraklion (30/281/038-0165). Moderate.
This psarotaverna (fish tavern) on Tobrouk beach, east of Iraklion, is one of the best places in town to try seafood. In season, try delicate sea urchin roe, served with crusty bread, olive oil, and lemon juice, and an unusual version of kakavia (the traditional Greek seafood soup); it's some of the best anywhere around.
Enagron
Axos Mylopotamou (30/283/406-1611; www.enagron.gr). Rates: $83-$128 double.
This guesthouse on Mount Psiloritis is surrounded by miles of natural beauty. The hotel offers apartments with verandas facing the mountains, as well as cooking and cheese-making classes.
Faros Restaurant
Kitroplatia Beach, Agios Nikolaos (30/284/108-3168)
Here, you'll find gorgeously fresh seafood simply grilled over wood embers—don't miss the grilled octopus, which is especially fine.
Galaxy Hotel
75 Dimokratias Avenue, Iraklion (30/281/023-8812; www.galaxy-hotel.com). Rates: $149-$255 double.
Recently renovated, this sleek hotel in Iraklion, Crete's capital city, has been owned by the Economou family for 32 years. Vetri, its restaurant, serves new takes on Cretan specialties like sauteed grouper with fava beans, eggplant salad, and tomato marmalade; and lamb with artichokes in a creamy lemon sauce.
Iordanis
24 Apokronou, Chania (30/282/108-8855; www.iordanis.gr). Inexpensive.
Located in a popular harbor town, this bakery is known throughout the island for its one and only offering: the sweet custard-filled phyllo pie called bougatsa.
Kuzina E.P.E.
25 Daskalogianni Street, Chania (30/282/104-2391). Inexpensive.
Genial cook-owner Despina Polaki oversees this casual restaurant serving traditional Cretan cuisine to a crowd of mostly locals. In season, try the stuffed sorrel leaves (lapatho) and boubouristi, wild mountain snails braised with potatoes, zucchini, and tomato sauce.
Milia Mountain Retreat
73012 Vlatos, Kissamos, Chania (30/282/104-6774; www.milia.gr). Rates: $80-$103 double.
This restored medieval settlement in the western highlands is the closest travelers can get to experiencing traditional Cretan life. Rustic guesthouses, built from the foundations of old village homes, reflect the area's architectural heritage. The owners offer Cretan cooking classes.
Nikterida Restaurant
Korakies Akrotiri, Chania (30/282/106-4215; www.nykterida.gr). Moderate.
Perched on a hillside on the Akrotiri peninsula a few kilometers outside Chania, and offering a spectacular view of Souda Bay, this historic restaurant (said to be where Anthony Quinn learned traditional Cretan dancing for Zorba) specializes in traditional foods such as salad of wild greens with crushed almonds, filet of baby goat with eggplant, and grilled pork filet with staka, the Cretan version of clotted cream.
Parasies Restaurant
Platia Istorikou Mouseio, Iraklion (30/281/022-5009)
Renowned for its grilled meat dishes, this open-air restaurant in the heart of Iraklion is a great place to try specialties like apaki (smoked pork), marinated sausages, rare xygalo cheese, and an amazingly profuse salad of wild and garden greens.
Taverna Marazakis
Skalani, Iraklion; the taverna sits on the left side of the main road into Skalani, just inside the entrance to the town (30/281/073-1435). Inexpensive.
At this ideal pit stop on the road between Iraklion, Crete's capital, and the Minoan ruins at Knossos, the chef offers superb renditions of beloved Cretan dishes like boubouristi
(rosemary-scented snails), kouneli stifado (rabbit stew), and dakos (crisp rusks with crushed tomatoes and grated cheese).
EPIRUS
Epirus Palace
7km Nat. Road, Ioannina (30/265/109-3555; www.epiruspalace.gr). Rates: $119-$144 double.
This luxurious hotel offers 200 well-appointed rooms and is situated a short drive from the city's downtown.
Es Aei
50 Koundouriotou Street, Ioannina (30/265/103-4571). Moderate.
The menu at this creative eatery lists more than 60 mezedes, including keftedes and savory pies made from local ingredients.
Glinavos Winery
Monastery, 45500 Zitsa (30/265/802-2212; www.glinavos.gr).
In the grape-growing region of Zitsa, this winery offers tours and tastings of its delicious wines, made from local varietals that include debina and beraki.
Gormos
Parakalamos, Ioannina (30/265/303-1256). Inexpensive.
This taverna serves mayirefta (comfort food) during the day and grilled food at night; specialties include koftos (chicken cooked with cracked wheat) and alevropita (a buttery feta tart).
Pita Tis Kikitsas
Kentrikou Platia, Monodendri (30/265/307-1340; www.visitzagori.com). Moderate.
Monodendri, a village in the Zagori region of Epirus, is famous for its alevropita, which this restaurant has been making for more than 50 years.
Stoa Louli
78 Anexartisias Street, Ioannina (30/265/107-1322). Inexpensive.
Originally built in 1875 as an inn, this restaurant serves outstanding Epirote specialties. Try the melitzanes rola, rolled-up eggplant stuffed with cheese and bacon, and the gemista kremydia, onions stuffed with cheese and mint.
KEA
Aristos
Vourkari, Kea (30/228/802-1171). Moderate.
The tables spill out onto the marina at this taverna in the town of Vourkari; the specialty here is fresh fish, including fried or grilled red mullet, lobster and spaghetti, and a salad made with rusks and local cheese.
Kea Artisanal
Kea (30/228/802-1917; www.keartisanal.com)
Food writer Aglaia Kremezi welcomes students into her home on Kea for weeklong cooking classes with local home cooks that include tours of the island's markets and cultural sites.
Porto Kea Suites
Korissia 84002, Kea (30/228/802-2870; www.portokea-suites.com). Rates: $126-$187 double.
These 35 comfortable suites overlooking the port in Korissia, Kea's largest town, are near some of the island's best tavernas and beaches.
Rolando's Ouzeri
Ioulis, Hora, Kea (30/228/802-2224). Inexpensive.
Fried whitebait is the house specialty at this tiny taverna on the central square in Ioulis, a picturesque mountain village on the island of Kea.
THE PELOPONNESE
Costa Navarino
Navarino Dunes, Costa Navarino, 24001 Messinia
(30/272/309-6000; www.costanavarino.com). Rates: $395-$630 double.
This new luxury resort is set amid olive and citrus groves along the Bay of Navarino. The chefs at its several restaurants work with locally sourced ingredients, and a culinary institute is in the works.
Diethnes
105 Paleologou, Sparta (30/273/102-8636). Moderate.
For close to half a century, people have eaten loukaniko (pork sausage flavored with orange and leek) and other traditional dishes in the pleasant, shaded garden of this restaurant in the center of Sparta.
O Zavalis
Main beach road, Poulithra (30/275/705-1341). Inexpensive.
This family-owned waterfront taverna in the coastal village of Poulithra offers excellent fresh seafood, mezedes, and many traditional Peloponnese dishes.
To Petrino
Off the main square, Peleta (30/275/703-1025). Inexpensive.
This casual restaurant in the southeastern village of Peleta is renowned for its lamb roasted in an outdoor oven, available on weekends and holidays in the summer only.
THESSALONIKI
Electra Palace
9 Aristotelous Square (30/231/029-4000; www.electrahotels.gr). Rates: $230-$315 double.
This hotel in the heart of the city center has 130 rooms and a rooftop restaurant with a spectacular view of the Thermaic Gulf and Mount Olympus.
Hamodrakas
13 m. Gagili Street, Paralia Aretsou, Kalamaria (30/231/044-7943; www.hamodrakas.gr). Moderate.
This 84-year-old psarotaverna (fish tavern) sits on the water in the Kalamaria district. Along with third-generation owner Panayiotis Gofas's modern-Greek creations, its menu of traditional offerings includes fried mussels and cuttlefish in red wine sauce.
Myrovolos Smyrni
32 Ermou-Komninon, Modiano Market (30/231/027-4170). Inexpensive.
Serving classic mezedes like mydia saganaki (mussels in a sauce of ouzo, tomato, and feta) and sweet Florina peppers stuffed with htipiti (spicy whipped feta) since the 1950s, this beloved ouzeri in the historic Modiano Market provides an excellent introduction to Thessaloniki and its food.
Ouzeri Aristotelous
8 Aristotelous Street (30/231/023-0762). Inexpensive.
Tucked behind a portico in Thessaloniki's central Aristotelous Square, this intimate ouzeri is known for its exceptional mezedes, including cheese-stuffed cuttlefish, fried smelts, and grilled eggplant.
Terkenlis
30 Tsimiski (30/231/027-1148; www.terkenlis.gr). Moderate.
This pastry shop makes some of the city's best tsoureki, a brioche-like Easter bread. The bakery features half a dozen versions, including lemon, orange, chestnut, and chocolate.