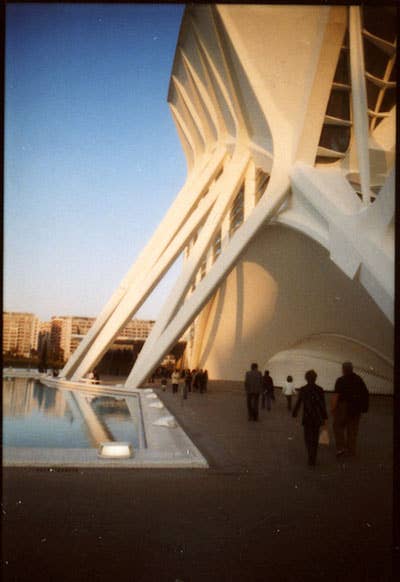 Travel
Valencia Rising
This jewel of a city in Spain's fastest-growing region is blossoming — and turning into an essential gastronomic destination.
We're eating all i pebre, eel and potatoes in a garlicky, red-peppery broth, at a long table in a baracca— a tall, narrow A-frame house with whitewashed walls and a thatched roof surmounted by a cross—called L'Olivero. Our meal started with esgarrat (finely shredded raw salt cod and thinly sliced roasted red peppers drizzled with olive oil); salt-cured anchovies; the minuscule larval sardines called blanquetes, cooked with slivers of toasted garlic; tender chunks of cuttlefish in its own ink, garnished with allioli; and a salad of long radishes, green tomatoes, and onions. The aromas of our next course are dancing through the door, as the baracca's owner, Mariano Jose Marco (who cooks only for friends or friends of friends, he says), stands in front of a wood-fueled grill, looking like some Gypsy pirate, tending a paella—not one of those touristic olios of gummy rice with chicken, sausage, five kinds of seafood, and a scattering of canned pimentos and frozen peas but a real paella, made with duck, rabbit, snails, artichokes, and three varieties of beans grown in local market gardens (paella was originally a dish of the countryside, not the seashore).
Beyond Marco's grill is a marshy lagoon that melts into a vast expanse of silvery rice fields tufted in green; we're in the middle of La Albufera, a fertile marshland (the name derives from the Arabic al-buhaira, meaning the lake or the small sea) roughly halfway down Spain's Mediterranean coastline, famous for producing not only the short- and medium-grain rice—introduced here by the Arabs in the eighth century—that anchors and defines the region's gastronomy but also the eels, crayfish, and wild ducks and other birds that help flavor it. The Albufera is a bucolic place, quiet and a little raw. But not much more than half a dozen miles away from where we're sitting is Valencia, Spain's third-largest city and, at this moment, one of the most exciting places in that whole exciting country.
A day after our trip to the Albufera, we sit in a small restaurant of great refinement called Ca' Sento, in the slightly suspect-looking urban neighborhood of Grao—Valencia's old fishermen's quarter, now being redeveloped in anticipation of the America's Cup yacht races to be held out of the city's port in 2007. Here, surrounded by good contemporary art hung on elegant gray walls, we eat a feast of little culinary jewels, prepared from materials of flawless quality: airy salt cod fritters; a pastry cone filled with crabmeat and shredded yuca; a quail egg with a caramelized crust; eels again but this time babies, angulas, no bigger than snips of twine, in a salad of baby greens; mussel-like sea dates in a seawater gelatin with garlic cream; a cube of seared tuna belly, buttery and flavorful, dressed in soy sauce with a hint of ginger; a scallop and a crayfish luxuriating in shellfish sauce; a wisp of turbot topped with a slice of monkfish liver and moistened with reduced roast chicken juices; a few simply steamed crayfish; a square of caramelized milk-fed pork with orange and clove sauce; and strawberry-Campari ice cream with white chocolate sauce, olive oil, and Maldon salt.
Ca 'Sento, with its confident, locally inflected international food style, represents the best of contemporary cooking in Valencia. Cooks like Mariano Marco, making rustic fare and regional classics, uphold tradition. That these idioms are not at war—that Valencians and their guests can enjoy them both (in the same day, if they've got the appetite)—is one of the things that make this city so magnetically appealing to savvy food lovers today. Among the other things are the variety and quality of the products local chefs have to cook with; the region's ever improving wines, some based on indigenous grape varieties elevated to new heights; and the flair and energy of Valencia itself, both old and new.
Valencia is an ancient city, founded by the Romans in 138 B.C. on the site of an Iberian settlement, owned variously by the Visigoths, the Arabs, and the Catalans, held briefly by the French, loyal to the losing side in the Spanish civil war (and damaged as a result), victim of fickle fortune, alternately thriving and languishing throughout its long history of manufacturing and trade (its major industries have included ceramics, textiles, metalworking, shipbuilding, and agriculture).
When I first visited the city, about 20 years ago, I frankly didn't like it very much. It seemed closed, murky—dreary, even— and while there was a lively, varied bar scene, good restaurants were few, and those that did exist mostly served pan-Spanish food with no particular Valencian accents. "I find it a strange place, hard to get to know," I wrote in my book Catalan Cuisine, first published in 1988—though I did add that it had "an undeniable and not at all unpleasant baroque flamboyance overall". (Valencia is not Catalonia, but I included it in my book because it is part of what natives of the latter region consider, for historical and cultural reasons, Els Paisos Catalans, "The Catalan Lands". There are, in any case, many gastronomic similarities between the two regions—and Valencia, the Valencian language, is a dialect of Catalan, though a visitor to the city would probably be ill-advised to posit that out loud.)
For a number of reasons—among them a thriving economy and the impending America's Cup races, which will focus international attention on the city—Valencia has become a very different place. It feels open and alert and looks great. Its Gothic monuments—like the graceful Lonja de los Mercaderes (Silk Exchange), the massive Moorish-inflected fortified gateway called Las Torres de Serranos, and the cathedral, with its minaret-like Miguelete tower—are clean and glowing. The ceramic domes that top many buildings sparkle, and the modernista-style Mercado Central bustles with activity and overflows with produce from the huertas (hortes in Valencia), the market gardens in and around the city that provide Valencia with its exquisite produce. Through the middle of the city, in the Jardin del Turia, the elongated park that fills the dry channel of the Turia River (itself diverted in 1969 because it was given to flooding), locals stroll among gardens, jog, play at sports, bask. Farther along the riverbed, the new Ciudad de las Artes y las Ciencias (City of the Arts and Sciences) proclaims that Valencia has entered the modern age: this complex of public buildings, designed by Valencia-born superstar architect Santiago Calatrava, among others, includes a science museum, a planetarium, and an aquarium, as well as an entryway that recalls a whale's skeleton. Tourists and locals alike throng the site.
And the streets are alive. It's as if someone had designed a city with the visual variety and elan of a Barcelona and then infused it with the spirit of a Seville—warm-blooded, sensuous, full of color shining in the sun (or in the moonlight). The city has always mounted an unusual number of street parties and fiestas, even by Spanish standards (the most famous being the Fallas, an all-stops-out celebration held in March each year, based around the construction and subsequent immolation of gigantic comic effigies), but even on an average Friday night, there's a feeling of festivity in the air. People are out walking, sitting in cafes, making the circuit of lively bars in the once seedy Barrio del Carmen and other center-city neighborhoods. And they're out eating what is proving to be some of the best food in Spain.
Having a meal in Valencia sometimes means just tapas-style snacking at a local hangout, as we find when we stop for lunch at the historic Casa Montaña, in the Cabanyal neighborhood of Grao. In this old tavern, we gather around a high table in a modern-looking back room lined with wine racks'—the establishment boasts probably the best wine list, of both local and international vintages, in the city—and feast on delicious bits and pieces: fat Cantabrian anchovies glistening in golden olive oil; strips of raw tuna marinated with cardamom and mustard seed; the Valencian specialty ajo arriero, a fine, garlicky puree of potato and salt cod, like a brandade but silkier; big dried favas cooked for hours with ham, pork loin, various sausages, and fresh mint; salt cod croquettes studded with pine nuts...
Or it may mean a short drive into the Albufera for a lunch of paella or all i pebre—both considered by local gastronomes to be too rich for dinner—at a baracca like L'Olivero or at some modest converted farmhouse like La Matandeta. Here, the kitchen turns out innovative dishes—like squid stewed in cinnamon sauce; gray mullet molded with olives, scallions, and tomatoes—while out back, at a long fire pit smoldering with orangewood, dozens of paella pans and round-bottom calderos (used for soupier rice dishes) bubble gently away. (La Matandeta's paella-like dish of smoky-tasting rice with cuttlefish and its ink, artichokes, asparagus, string beans, favas, zucchini, tomato, and spinach is truly memorable.)
Valencia is a seacoast town, with a broad, long beach, especially popular in the summertime with Madrileños because it's the closest piece of coastline to the Spanish capital—and Valencians also come to eat at cavernous beachside restaurants like Casa Ripoll, which serves more-than-acceptable versions of such local specialties as esgarrat (here topped with thin slices of mojama, which is dark, chewy sun-dried tuna) and all i pebre.
They haunt the city center, too, sipping cañas (small glasses of draft beer) and devouring spicy clochinas (which are Mytilus galloprovincialis, the Mediterranean mussel) at the celebrated Bar Pilar—or settling in for something more serious at a place like Ca'n Bermell, part lively tapas bar and part serene little restaurant. The tall, genial, white-bearded proprietor of the place, Emili Bermell, offers what a Valencian friend of mine calls "basic market-fresh food, local and traditional, with some deconstruction or reconstruction". That turns out to mean, one sunny afternoon, one of those meals that, while not purely Spanish, could almost certainly—for their casual mix of high and low, local and international—be found only in Spain. We begin with a salad of ordinary white mushrooms in thick slices, dressed with good mild olive oil and generously peppered with grated black truffle. Rosy tuna carpaccio scattered with capers and pine nuts follows. Next comes sauteed baby squid with small young artichokes two ways—parboiled and sauteed and shredded and deep-fried—then a medallion of impeccable foie gras terrine, followed finally by a caldereta of monkfish, clams, and shrimp simmered in a dense sauce thickened with ground almonds.
Other Valencian restaurants combine contrasting elements in other ways. There has always been some good traditional cooking in the city. What's new, in the past half dozen years or so, is the profusion of sophisticated, confident contemporary restaurants drawing on the local gastronomy but hardly limited by it—exactly the kind of places, in other words, that Catalonia has been enjoying for 20 years or more.
An establishment with the curious name Burdeos in Love—burdeos means Bordeaux but is also the Spanish word for a hue of garnet red; the rest of the name, says owner Hugo Royo, "reflects the idea of people falling in love over wine"—serves food that ranges from silly (ravioli filled with clams and pineapple in a coconut cream sauce) to imaginative (cod braised with squill and topped with concentrated tomato sauce and caviar) to just plain fun (homemade crackers with creamy goat cheese, tomato confit, and anchovies).
For diners seated at the Parsons tables in the hard-edged La Sucursal at the Instituto Valenciano de Arte Moderna (IVAM), the city's modern art museum, the appeal is in an imaginative choice of food that sometimes sounds as if it could go wrong—but that is almost unerringly delicious and surprisingly straightforward in flavor despite its fancy presentation. A mousse of scallops layered with caviar and wild asparagus puree could easily be Parisian (or Girardet-Swiss), but there's something ineffably Valencian about the seared foie gras glazed in licorice syrup, served with a fried wedge of very light fig and almond cake; or the confit salt cod loin in star anise broth with finely diced eggplant and zucchini; or the pigeon with caramelized turnips and a phyllo-dough packet of almonds and pigeon giblets that recalls Moroccan bisteeya. And if there's a better contemporary, emphatically non-paella rice dish in Valencia than the creamy rice with clams, razor clams, and tissue-thin raw octopus, I've never found it.
Valencia's central market, with its high-roofed turn-of-the-last-century vaulted ironwork design, may lack the glamour and profusion of exotic produce found at Barcelona's famed La Boqueria, but it has its share of artisanal sausage makers, good cheese purveyors, and vendors of fine local (and imported) fruits and vegetables. There's even a stand devoted to ostrich meat—with the bird's immense eggs displayed.
Not far away, one of the city's neighborhood markets, El Mercado de Colon, has a different character altogether. In place of the piles of onions and tomatoes and the butcher cases full of pig parts that the market's two adjoining modernista-style pavilions once contained, the sparklingly renovated space, with its Paris Metro-like flourished and Moorish tracery, now holds a series of glass boxes housing boutiques and smart cafes. And upstairs, at one end of the market, like a Moorish palace floating in thin air, is the dazzlingly beautiful restaurant El Alto de Colon. The rectangular room, with its ample wood-frame windows and its ceiling covered with exuberant floral mosaics, contains but ten tables, large ones draped in sumptuous linens and set with Rosenthal china and white orchids. Every decorative detail—door hinges, window hardware, wood paneling, the thin wall of onyx illuminated from behind that separates the entrance from the dining room—is exquisite.
Chef Quique Barella's food is equal to the room. His spiny lobster skewered on a rosemary branch and accompanied by Puy lentils and a caramelized vegetable cream sausage is both rich and light. He offsets a triangle of foie gras mousse with a sweet-tart apple "romesco" sauce to stunning effect. A piece of squid, scored and roasted, rests on the surprising (and perfect) garnish of onions slow-cooked in squid ink. Steamed sea bass bathed in meat juices with a market garden of tiny vegetables—baby favas, mere buds of broccoli and cauliflower, cubes of carrot the size of squared-off peppercorns, wiry haricots verts—is a marvel. And the torrijas—in effect a Castilian peasant's version of french toast—are made cosmopolitan by a batter based on chufa, which are tiger nuts (best known here as flavoring for the Valencian beverage called orxata or harchata), and by the cinnamon ice cream on the top. Food like this is as original and varied and invigorating as Valencia itself.