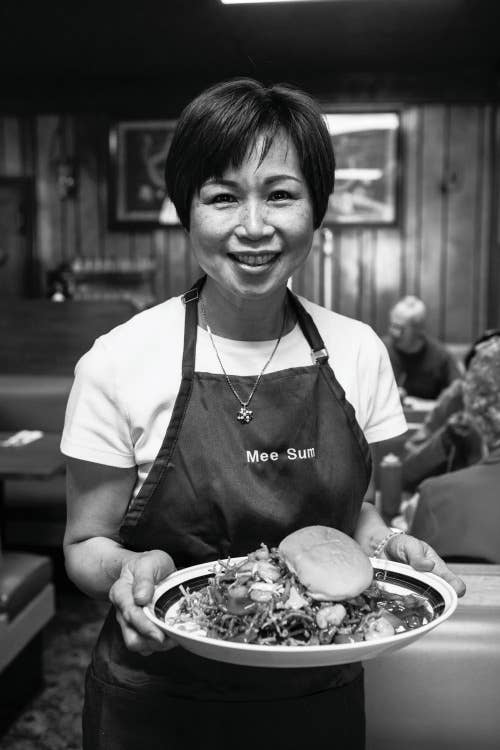 Travel
Mill Town Meals
The Massachusetts city of Fall River boasts uncommon—and uncommonly good—regional foods
We hit the road a lot for food. But we consider ourselves lucky when we are at home, as we live just a morning's drive from Fall River. Though the old mill city is in southeastern Massachusetts along Mount Hope Bay, eating there is like eating in a foreign country. Half the population is Portuguese-American, the descendants of 19th-century mill workers, plus many late-20th-century arrivals, and the Portuguese food is outstanding. But beyond that cuisine's classic kale soup and bacalhau assado (roasted salt cod), the city's tables abound with dishes found nowhere else in America—some of them exist nowhere else in the world. The erstwhile textile center of the nation—and home of Lizzie Borden, notoriously acquitted of the 1892 ax murders of her father and stepmother—is a gold mine for unique regional foods.
On menus, not all the vernacular specialties seem unusual. Hot cheese—ho hum, right? No way. The hot cheese sandwich found at diners here is a pungent gem of grated sharp cheddar typically served not quite melted for a texture resembling soft scrambled eggs. At J.J.'s Coney Island, a polite weenie joint (management forbids swearing), the molten cheese assumes a buttery luxe when topped with the chili meat sauce used on the Coney Island hot dog.
That chili dog variant is found in places from southeastern Massachusetts to the Pacific Coast. In the hot dog shops of Fall River, as in those of neighboring Rhode Island, the meat sauce tends to be more significant than the dog itself. Across the street from J.J.'s, at Nick's Original Coney Island Hot Dogs, the beefy chili makes magic when combined with crisp raw onions and a squirt of yellow mustard atop a frank in a fluffy bun. If you doubt the sway of this transcendent sandwich, observe the large number of customers who take advantage of Nick's "Buy 5, Get 1 Free" offer.
A sign on Nick's window advertises chouriço, pronounced "shore-eese" and served grilled, sliced, and piled in a bun. Although the smoky, garlicky Portuguese sausage doesn't want for cheese or Coney sauce, that's frequently the way people get it at Nick's, and it is common to include french fries in the bun. Called "chips," thanks to late-1800s British Isles immigrants, the fries are a Nick's specialty. Whole spuds cut to order are put into an age-burnished Autofry machine that spits them out sizzling hot.
Another UK contribution can be had at Hartley's Original Pork Pies, a take-out shop whose individual deep-dish pies were designed when the shop opened in 1900 for a handheld midshift lunch at the mill. Hartley's also makes French meat pies (a beef, pork, and mashed potato medley influenced by the tourtiere of the French Canadians who came here about the same time as the Brits), Friday-Saturday salmon pies for the city's large Catholic population, and chouriço pies. Proprietor Allen Johnson, who bought the place from the Hartleys 40 years ago, often arrives at 3 a.m. to roll out dough (made with lard) and press it into English-made tins. The pork pie filling consists of nothing more than ground pork, salt, and pepper; although gravy is available, the one-two punch of moist, savory meat and flaky crust needs no condiment.
As good as these out-of-hand meals are, it's not all quick eats in Fall River; the 97-year-old Liberal Club is no hot dog joint. It is a social club and function hall. Regulars come for shots and beers in its dark taproom, and couples linger on Saturday nights over highballs, prime rib, and fried lobster tails in a dining room outfitted with Red Sox memorabilia. The menu offers chouriço, as well as "chouriço meat": thin slices of marinated pork loin, juicy and fragrant. Other Portuguese-American standouts include conch salad, shrimp Mozambique in a judiciously spiced, garlicky sauce, and grilled beef tenderloin topped with a fried egg and pickled cayenne peppers. When appetizers arrive—crunchy fried smelts and big chouriço-stuffed quahog clams—the waitress asks if you want oil and vinegar to go with them. "You do!" she said the first time we ate here and looked puzzled by the apparently mundane offer. Out came a gravy boat of marinade so crowded with herbs, minced garlic, and chopped green onion that each spoonful was a savory bouquet delicious enough to spread on dinner rolls.
For dessert? While you can find plenty of nice regular donuts in Fall River, why would you want one if you can have a freshly made malassada? To produce this airy Portuguese fritter, the sweet dough is stretched fairly flat, fried until golden brown, then liberally dusted with granulated sugar. With an espresso at Barcelos Bakery, it's heaven. Known as the place Emeril Lagasse started his culinary career washing dishes, Barcelos turns out a full inventory of Portuguese baked goods: sweet breads, custard pies, cod fritters, and pasteis de feijao, aka bean cakes, made here with caramel sauce and pureed red kidney beans. It is not easy to explain a bean cake, but if you can imagine a chewy tart that is just this side of sweet and also protein-rich, there you have it.
The city's most singular dish, however, is of a different origin altogether. "Have you had our Fall River chow mein before?" asks the waitress at Mee Sum Restaurant and Cocktail Lounge, a 60-something Chinese place on the south end of town. It's a question she needs to ask because of the two things that make this chow mein unique: the way it is served, which is on a burger bun, and the goodness of its noodles.
Thin and elegant, fried until wicked crisp, those noodles are an ideal foil for brown gravy laced with celery and onion. The sandwich is a fascinating textural swirl: soft and crunchy, wet and brittle. It became Fall River's favorite 5-cent meal in the late 1920s, shortly after the local Oriental Chow Mein Company began distributing its one-of-a-kind noodles to the city's Chinese restaurants. For those who want to try it at home, the company has sold its Original Hoo Mee Chow Mein Mix for nearly as long as it's been in business.
It makes sense to eat the sandwich with a knife and fork. But some locals get theirs wrapped tight in wax paper; in the heat, the noodles soften, approaching the consistency of lo mein, and the gravy binds the whole thing together. Eaten this way, Fall River chow mein is mischievously delicious, a high-water mark of ersatz Cantonese cuisine that—except as an oddity at the New York hot dog house Nathan's of Coney Island—is little known anywhere else.
Devotees feared the chow mein sandwich might go extinct in 2009 after a fire knocked the local Asian noodle factory out of commission for six months. Regina Mark, who runs Mee Sum with her husband, Kenny, told us that after the blaze, Chinese restaurants around town sought replacement noodles from New York and Boston, but none were close to the Fall River standard. So the Marks started making their own. "People were coming in for ten and twenty pounds," Regina said. "They were calling from Florida and Virginia to have them shipped. We hardly were a restaurant anymore. We were becoming a noodle shop! But we had so many customers who wanted—who needed—chow mein, and there was nowhere else to get it." She added, unnecessarily in this town of idiosyncratic delights, "Not Fall River chow mein, that's for certain."
Hartley's Original Pork Pies
1729 S. Main Street
Tel: 508/676-8605
J.J.'s Coney Island
565 S. Main Street
Tel: 508/679-7944
Mee Sum Restaurant and Cocktail Lounge
1819 S. Main Street
Tel: 508/678-9869