Belgium Does It Better
After a lifetime spent eating American-style french fries, a first taste of Belgian-style frites is a transformative experience.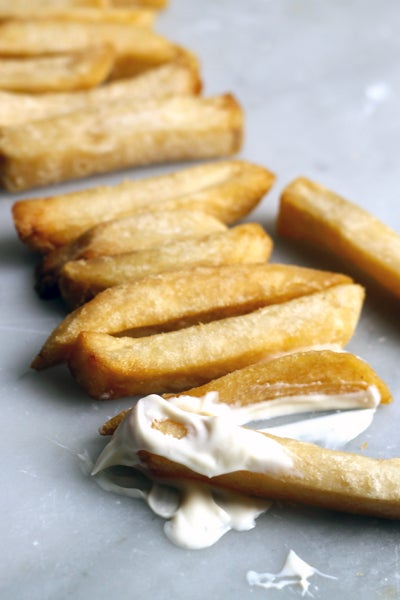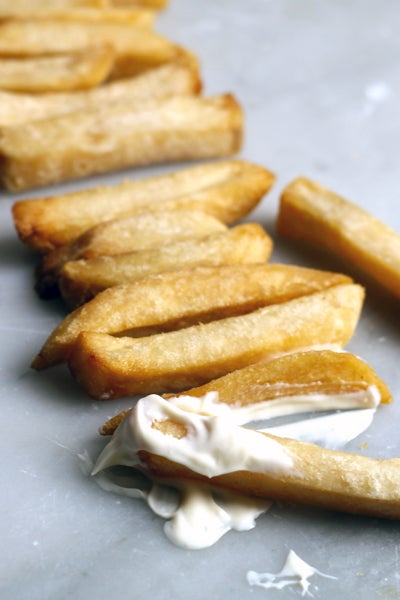 Growing up in suburban Chicago in the 1960s, my father was a fanatically picky eater. Macaroni and cheese, frozen pizza, and McDonald's cheeseburgers with zero accouterments—those were his staples. No vegetables passed his lips, except for one: french fries. ("Dipped in ketchup only, or sometimes a vanilla milkshake," he clarifies.)
In recent years, Dad's palate has expanded a bit: broccoli, white fish, and burgers with fancy toppings all have their place in his gastronomic repertoire. But his biggest step forward is still firmly tied to the picky habits of years past: today, my dad is a Belgian frites freak.
Frites are the supercharged cousin to paltry American-style fries: made from soft Belgian potatoes called bintjes, they're thick-cut and—this is key—double-fried (in the olden days, in molten horse or ox fat, though modern options range from lard to vegetable oil). Served in a paper cone with mayo and ketchup, properly executed frites—the ones that have been fried, dried, then carefully fried again—are an addictive riot of textures: soft and fluffy on the inside, surrounded by a crunchy, greaseless crust, dipped in luxuriously flavorful sauces.
Dad fell in love with frites far from Belgium. In New York City, a trendy, shoebox-sized East Village storefront called Pommes Frites serves nothing but, with 30-odd dipping sauce options running the gamut from sambal olek to creamy, caper-spiked sauce gribiche to a pomegranate teriyaki mayo. On his first visit, Dad was flabbergasted, questioning the reality of an entire restaurant devoted to fries. But upon his first bite from a freshly fried batch, his eyes focused to the middle distance and he theatrically declared that Belgian-style frites "capture the essence of a French fry— but better."
Still, it's not just taste that accounts for dad's love of frites—for him, seeing fried potatoes move into the mainstream as an upscale, urbane side dish is the greatest possible validation for his childhood habits. "I used to be embarrassed that I only liked one vegetable, and it had to be deep-fried," he says. "But now I'm proud to say I eat frites all the time."
See a set of 10 great dipping sauces for frites in the gallery »
See the recipe for Pommes Frites »