Glory Road
Route 66 is America's most iconic thoroughfare—and its most delicious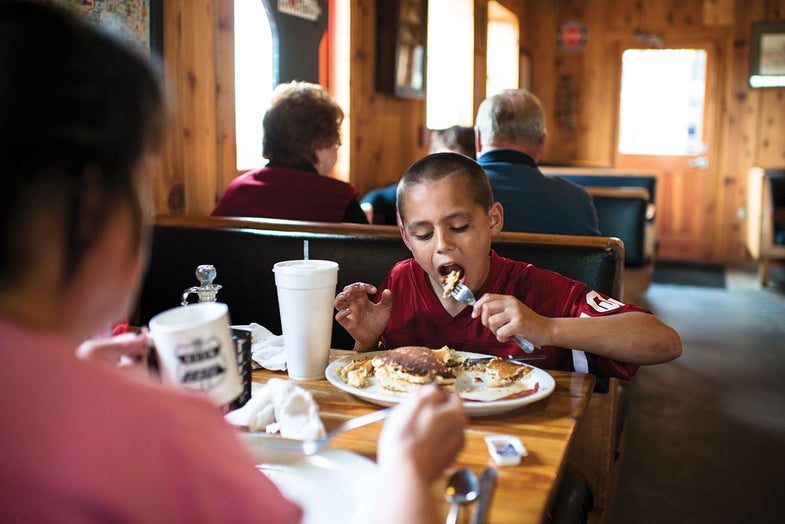 The pop culture personality of Route 66 never had much to do with food. The Joad family in John Steinbeck's The Grapes of Wrath, traveling down the "road of flight," barely could sustain themselves; in the song "(Get Your Kicks on) Route 66," songwriter Bobby Troup moves too fast to stop for a meal; and do you remember what, if anything, anybody ate in the TV show Route 66?
It was a main road west for generations of Americans, and even now, decades after it was decommissioned as a federal highway (replaced by four-lane arteries that barrel across the country where Route 66 meandered), it remains a bonanza of colorful eateries that sprang up over the years to serve hungry wayfarers.
Our Route 66 must-eat itinerary from Chicago to Los Angeles ranges from prototypical corn dogs at Cozy Dog in Springfield, Illinois, to Mitla Café in San Bernardino for "Real Mexican Food," as the sign boasts, since the late 1930s. But with more miles of the original highway than any other state, Oklahoma is especially endowed with memorable meals—wacky or delicious and sometimes both. As we have followed the Sooner State Glory Road from the Kansas border to the Texas panhandle, we've found the sort of dining experiences that make Oklahoma especially roadfood-rich: superlative chicken-fried steak, smokehouse beef jerky, and burger joints with automated carhop service.
Heading southwest on what is now known as the Will Rogers Turnpike, for Oklahoma's favorite son, our first stop is at Clanton's Café in the tiny town of Vinita. Dating back to the highway's dirt road origins (when, it is said, the café's namesake, Sweet Tater Clanton, used to stand outside and bang a pot with a wooden spoon to attract passing motorists), this 86-year-old gathering place is a reminder of just how good a chicken-fried steak can be. Tender, lightly battered, griddle-cooked, and followed by a slice of fragile-crusted banana cream pie made by Sweet Tater's granddaughter, Melissa Patrick, it just doesn't get much better.