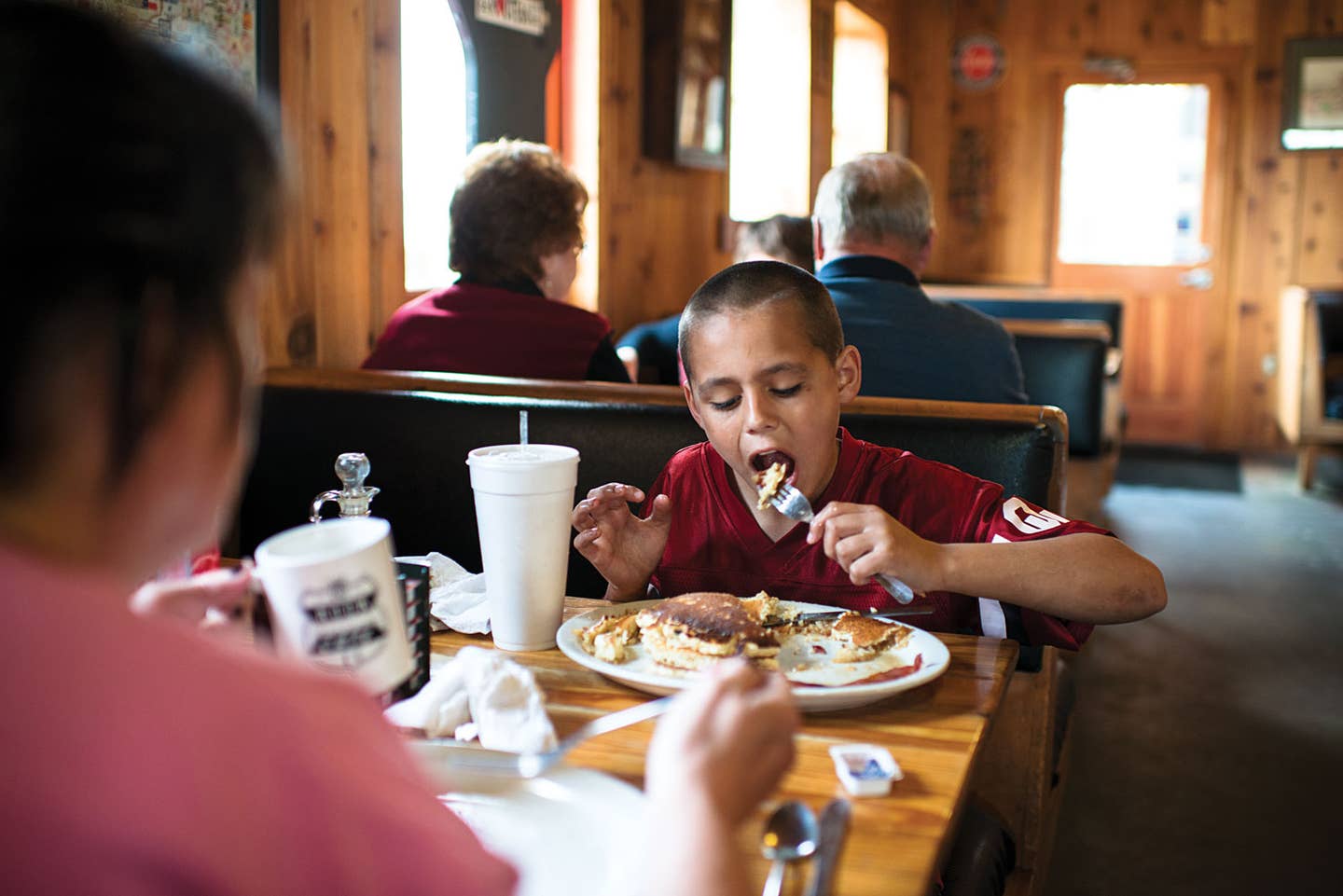 Travel
Glory Road
Route 66 is America's most iconic thoroughfare—and its most delicious
The pop culture personality of Route 66 never had much to do with food. The Joad family in John Steinbeck's The Grapes of Wrath, traveling down the "road of flight," barely could sustain themselves; in the song "(Get Your Kicks on) Route 66," songwriter Bobby Troup moves too fast to stop for a meal; and do you remember what, if anything, anybody ate in the TV show Route 66?
It was a main road west for generations of Americans, and even now, decades after it was decommissioned as a federal highway (replaced by four-lane arteries that barrel across the country where Route 66 meandered), it remains a bonanza of colorful eateries that sprang up over the years to serve hungry wayfarers.
Our Route 66 must-eat itinerary from Chicago to Los Angeles ranges from prototypical corn dogs at Cozy Dog in Springfield, Illinois, to Mitla Café in San Bernardino for "Real Mexican Food," as the sign boasts, since the late 1930s. But with more miles of the original highway than any other state, Oklahoma is especially endowed with memorable meals—wacky or delicious and sometimes both. As we have followed the Sooner State Glory Road from the Kansas border to the Texas panhandle, we've found the sort of dining experiences that make Oklahoma especially roadfood-rich: superlative chicken-fried steak, smokehouse beef jerky, and burger joints with automated carhop service.
Heading southwest on what is now known as the Will Rogers Turnpike, for Oklahoma's favorite son, our first stop is at Clanton's Café in the tiny town of Vinita. Dating back to the highway's dirt road origins (when, it is said, the café's namesake, Sweet Tater Clanton, used to stand outside and bang a pot with a wooden spoon to attract passing motorists), this 86-year-old gathering place is a reminder of just how good a chicken-fried steak can be. Tender, lightly battered, griddle-cooked, and followed by a slice of fragile-crusted banana cream pie made by Sweet Tater's granddaughter, Melissa Patrick, it just doesn't get much better.
About 70 miles on, Tulsa, the hometown of Cyrus Avery, the highways commissioner who championed the creation of Route 66 (and who made sure it went by the place where he lived), is a treasure trove. The riches include White River Fish Market, where you pick fresh catfish, trout, or flounder from a glass case and get it fried or broiled to order; Mahogany, where top-dollar steaks are preceded by an iceberg salad dressed with blue cheese; and Wilson's Bar-B-Que, whose tagline "You Don't Have to Have Teeth to Enjoy Our Meat" applies to the moist, velvety soft brisket. But we love Tulsa most for hamburgers. There's the Big Okie at Hank's Hamburgers, four juice-oozing patties and four slices of cheese; the Westsider at Linda-Mar Drive-In, two seared patties, each topped with cheese, between slabs of buttered and grilled-crisp Texas toast; and the Double Deluxe at Freddie's Hamburgers, two quarter-pounders dripping American cheese and garlanded with a bouquet of lettuce, tomatoes, pickles, fresh onions, fried onions, and mustard (plus mayonnaise if you want), all stacked in an oversized bun. When you pick up a Double Deluxe, you instantly note how pliable the bun is. No matter how tender, it can't cling to its ample contents: The glistening patties want to slide out whichever side of the bun fingers aren't gripping, lettuce shreds tumble, pickles slip, onions squiggle, mayo oozes. It is a burger-eating adventure.
No restaurant exudes Route 66 charisma more than the Rock Cafe, built in Stroud, midway between Tulsa and Oklahoma City, in 1937 from boulders excavated to pave the highway. Talk about homestyle cooking! The kitchen's recipes are scribbled on 3" x 5" cards, wrinkled restaurant receipts, backs of envelopes, and yellowing paper scraps.
But boss Dawn Welch says the recipes are no big deal. What matters is her 70-year-old grill, one of the original Wolfs. She explains: "It has a thin groove at the back that somehow holds the flavors right on top. This is a grill that was designed to make food taste amazing." Everything possible spends some time on the old iron flattop. That includes burgers, of course, but also ham for ham and beans, chili, sauerkraut, and even spätzle (a legacy of Dawn's Swiss-German ex-husband), which take the place of hash browns in a stupendous kitchen-sink side that includes peppers, onions, and two kinds of cheese.
The worthy splurge in Oklahoma City is prime beef at Cattlemen's Steakhouse in the stockyards. The rib eye into which we glide a knife is so intensely marbled that fat and muscle are inseparable. In an entirely different class—but equally delicious, and even more fat-rich—is barbecue at Leo's. Located in a dilapidated former gas station, this soulful outpost is so well-seasoned that a sign on the door reads "Due to high humidity, please watch your step." Yes, the floors are slick from air that is humid, but not humid with plain, boring H2O. The moisture comes from unctuous smoke wafting out of a pit that produces unbelievably succulent ribs, hot links, and brisket.
Just west of Oklahoma City, El Reno is home to the onion-fried burger—a sphere of beef slapped onto the grill along with a fistful of thinly sliced onions. Originally created during the Depression, when beef was dear, the two are brutally mashed together as they sizzle, creating a package that is as much about the vegetal goodness of sweet caramelized onion as it is about beef. No need to specify onions when you order one at either of the following spots; they're included unless you expressly delete them. We love Sid's Diner, not only for its hamburger (better yet, double-meat burger), but also for its sociable waitresses, including Trista, who, thankfully, coaxed us to order the banana cherry milk shake. For the full flavor of the highway when it used to be America's Main Street, check out Jobe's Drive-In, which still sports Touch-O-Matic carhop service, a setup that allows you to order from the parking lot. Robert Sanders, who has been at the grill for 43 years, serves mostly locals now but says, "We used to get a lot more tourists back when the road went through."
When we pull into the gravel lot outside of Jigg's Smokehouse in Clinton, we count 12 pickup trucks, one SUV with Oklahoma Highway Patrol markings, and a single sedan—our Mazda rental. Inside, when customers see us taking pictures, they merrily offer to let us photograph their Pig Sickle and Wooly Burger sandwiches—outlandishly large piles of aromatic smoked meats—and want to know if we've yet had a chaw of the intensely flavorful beef jerky the proprietor's wife, Becky Klassen, makes. In dining rooms decorated with thousands of business cards, portraits of John Wayne and Marty Robbins, and a Christmas wreath made of green and red shotgun shells, these people are country-proud.
Farther west, in Elk City, the Country Dove Tea Room is a lunch-only eatery attached to a Christian bookstore and country furnishings emporium. The ladies here are every bit as solicitous as the gents at Jigg's, but in this case they implore us to sample their heart-shaped muffins and little squares of lemon pear Jell-O salad, both of which are part of what the menu calls a Delite Plate, built around a sandwich. We went for the signature sandwich, chicken avocado. It is ladies' lunch supreme: chicken and avocado pulverized into a mild mash, served on your choice of a whole wheat roll or flakey croissant, with a few frilly leaves of lettuce. There is nothing demure, though, about Country Dove's French silk pie, which is lasciviously chocolaty, smooth, and dense, perched on a crust that is little more than ground nuts and butter, and topped with a ribbon of sweet whipped cream. Proprietors Glenna Hollis and Kay Farmer blush when they recall the author who tried the pie and later wrote that he wasn't sure if he should eat it or smear it all over his body. Sensual, salacious dessert in a Christian tearoom: There are all kinds of kicks on Route 66.