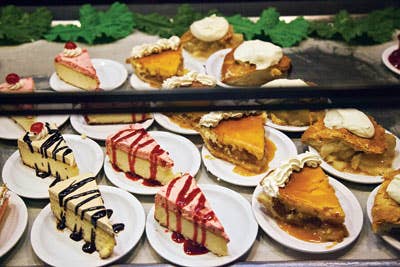 Travel
The Cafeteria
In this year's SAVEUR 100, we take stock of our favorite things: recipes, people, places. We consider every last one a new classic.
We love the thrill and opportunity of cafeteria-style dining. Before taking a tray, you snake along what is known in the trade as the preview line, offering a seductive view of food over the shoulders of those in front of you. When your time comes, you have to make fast decisions: baked ham or meat loaf? Squash casserole or butter beans? The delicious hysteria of having to choose among so much good-looking food is a state of mind known to cognoscenti as cafeteria anxiety.
We're not talking about help-yourself buffets or salad bars, but places where pro cooks prepare square meals from scratch, often in open kitchens. Cafeterias date back to the late 19th century, when restaurant-going was a fairly novel experience for people of modest means; this style of dining was designed to allay concerns over mystery meat and other unknowns. Though in recent years many beacons of the cafeteria's early days have gone under—the Belle Meade of Nashville, Laughner's of Indianapolis, Dubrow's of New York, to name a few—many of the greats survive and thrive. Let us say a prayer for Clifton's Cafeteria (pictured): Opened in downtown Los Angeles in 1931 and now under new ownership, this doyenne of push-tray service closed for renovations in 2011. No doubt the old girl needed spiffing up. We only hope the new regime, which plans to reopen it this spring, honors that which made it a food service benchmark: honest eats in faux-forest kitsch decor and a "Golden Rule" policy of never turning away a hungry customer.
Throughout the South you can count on smothered pork chops and buttermilk chess pie at the Piccadilly chain, but we have a special fondness for such one-of-a-kind Dixie cafeterias as Matthews in Tucker, Georgia, for fried catfish, creamed corn, and strawberry shortcake. The nation's cafeteria nexus, however, has long been Indianapolis, still home to such square-meal shrines as Jonathan Byrd's, where the line boasts a minimum of a dozen entrees (turkey pot pie, please), and Gray Brothers, famous for its chicken and noodles, and shelf after shelf of pie slices, including a definitive version of the official Hoosier dessert, sugar cream pie. Shapiro's, which opened there in 1905, serves corned beef on thick-cut house-baked rye; indeed, great cafeteria fare isn't only mainstream meat and potatoes. Northern Ohio boasts a slew of central European cafeterias, including Sokolowski's University Inn of Cleveland, known for butter-glistening pierogi smothered in onions, and Al's Corner Restaurant of Barberton, a workingman's luncheonette where sausages come from the family butcher shop and a masterful lunch of chicken paprikash with dumplings gets you plenty of change from a $10 bill.
Shapiro's Carmel
918 S Rangeline Rd
Carmel, IN 46032
317-573-3354
Al's Corner Restaurant
545 W Tuscarawas Ave.
Barberton, OH 44203-2519
330-475-7978
_