Plaza Athénée's Tea Time
In this year's SAVEUR 100, we take stock of our favorite things: recipes, people, places. We consider every last one a new classic.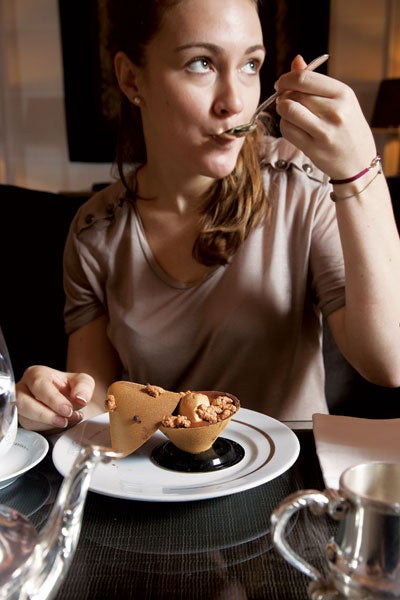 Pure pleasure, in pastry form, awaits each day at the Hotel Plaza Athenee in Paris: At the start of afternoon tea, 3 P.M. sharp, an attendant loads a dessert cart with tantalizing pastries, and rolls it through the hotel's salon. The cakes are some of the best in Paris, and choosing is a welcome challenge. The patissier, Christophe Michalak, is widely considered one of the city's finest pastry chefs, and the sweets bear his smart yet playful signature. Mille-feuille, lush vanilla pastry cream layered with craggy puff pastry, is literally turned on its side, propped up vertically to enable a clean forkful and prevent the cream from oozing out the edges. The toupie, French for spinning top, is a toy for grown-ups, a milk chocolate shell filled with soft caramel, vanilla pastry cream, caramel chantilly, and crunchy Streusel. American-style cheesecake, meanwhile, is served as a verrine, a dessert in a glass, with Philadelphia cream cheese ensuring its authenticity.
plaza-athenee-paris.com
25 Avenue Montaigne
33/1/5367-6665