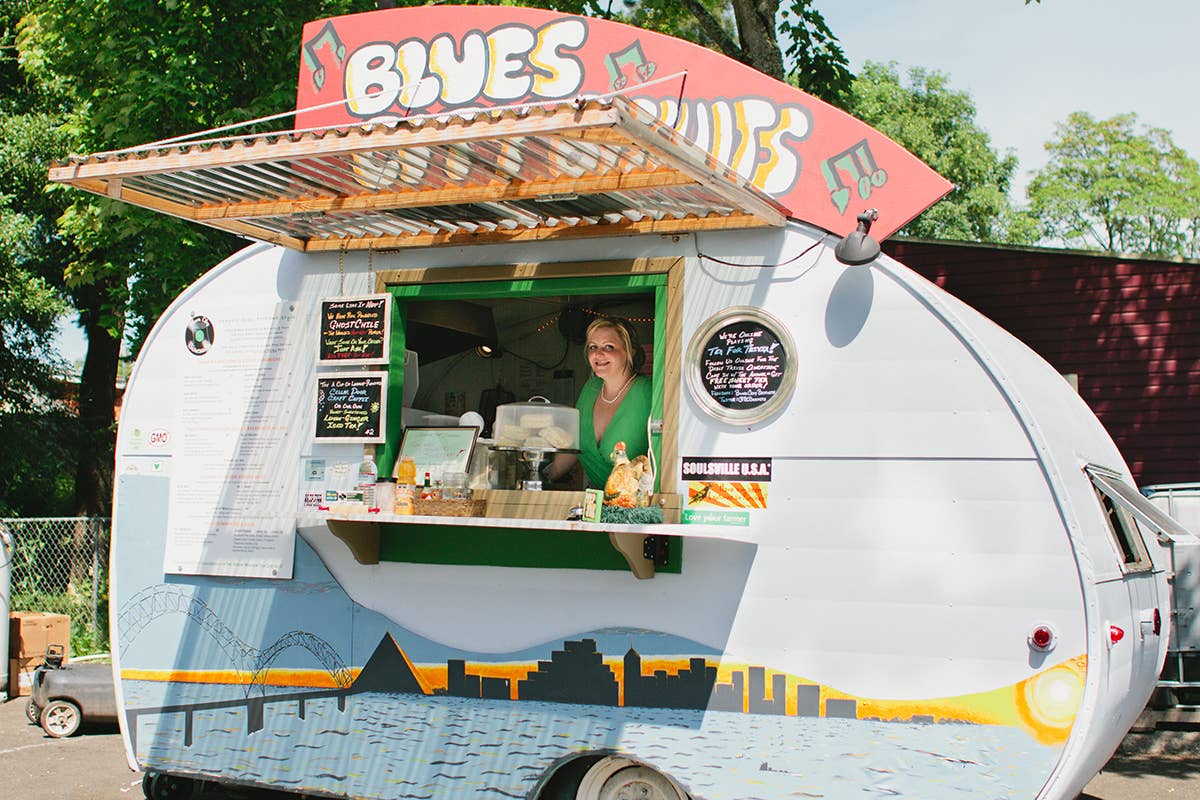 Culture
Meet the 2013 BFBA Winners: Behind the Food Carts
We're blown away by the talent, passion, and intelligence of this year's Best Food Blog Awards winners, and learning the stories behind their blogs—how they became interested in baking, travel, and craft beer; what inspires them to write, photograph, and create delicious original recipes—makes us appreciate their work that much more.
Category Won: Best Culinary Travel Blog
Blog Name: Behind the Food Carts, written and photographed by Kim Pham and Phil Shen, copy edited by Terri Phillips
Geographic Location: San Francisco
When and how did you become interested in (eating at and/or blogging about) food trucks? We're originally from Southern California and moved to Portland, Oregon in the summer of 2009 to start our photography business, KIM+PHIL Photography. We're constantly thinking of different photography projects to stay creative, and the food cart scene is really rocking in Portland. We were trying all these different food carts, and Kim had the brilliant idea to start asking if we could come by and take portraits of the people, the process, and the results. It's been the perfect amalgam of our 2 loves in life: food and photography! We had an ultra-talented writer friend of ours, Terri, join the BTFC team as our copy editor. That definitely added to our blog.
What are a few of your favorite posts on your site? Is there a favorite truck you've covered? It's definitely hard to choose a favorite. I think we're hypercritical of our own photography, and there are posts where we feel we did better, photographically, in telling the story. But the posts featuring food closest to our hearts definitely have the upper hand. "Swamp Shack" was one of our recent favorites. You just can't say no to Cajun-fried chicken, gravy, mashed potatoes, and crawfish etouffee. "Euro Trash" has always been a favorite as well. They have a lively crew and cart (and name). And how often do you get to eat foie gras from a cart?
Credit: Behind the Food Carts
Where do you draw inspiration for your posts? It feels almost contrived to mention this, but we do a lot of research and inspiration boards before we tackle new projects. We've both been heavy readers of SAVEUR, and your magazine was one of our biggest inspirations when we first started out. We've always loved the rawness of the photos and the human element attached to the food stories. That's exactly what we wanted to do with Behind the Food Carts. We didn't want to just be a food porn blog. We really wanted to focus on getting good portraits of the people who run these carts, the behind-the-scenes processes, and just a good overall narrative. Being around these people that are so passionate about food and what they're producing is really inspirational in itself. It's always encouraging to be around people that are passionate about their craft, like we are about photography.
What blogs do you personally read, food or otherwise? We follow a lot of photography blogs to stay current, but a couple food sites on the top of our reading lists right now are First We Feast for overall news and Food Beast as a guilty pleasure for some of the kookier food news out there; like what fast food joint is launching what crazy new item!
Are you excited to go to Las Vegas for the BFBA Awards? We are still in shock and very thankful. We're super, super excited to go to Vegas and meet the other honorees and the SAVEUR team. We're basically trying not think of it at all so we don't go crazy with anticipation!