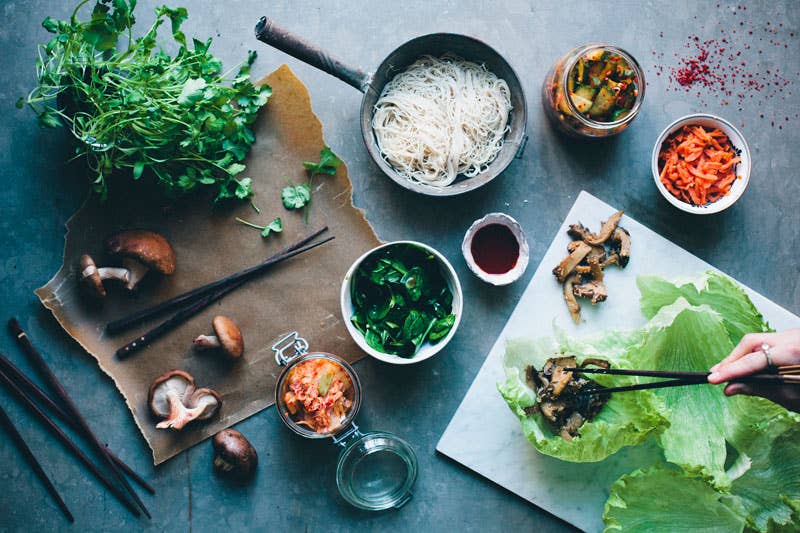 Culture
Meet the 2013 BFBA Winners: Green Kitchen Stories
We're blown away by the talent, passion, and intelligence of this year's Best Food Blog Awards winners, and learning the stories behind their blogs–how they became interested in baking, travel, or craft beer; what inspires them to write, photograph, or create delicious original recipes–makes us appreciate their work that much more. See all the winners »
Category Won: Best Special Diets Blog
Blog: Green Kitchen Stories, written by David Frenkiel and Luise Andersen, and photographed by David Frenkiel
Geographic Location: Stockholm, Sweden
When and how did you become interested in cooking? I [David] have been a vegetarian most of my life. It started when I was 15 years old and found out that vegetarians at school got freshly made lunches (we have free school lunches in Sweden), while regular school lunches were just re-heated. So I got my mom to sign a paper that I was a vegetarian. I quickly got used to it and soon found myself being a full time vegetarian, although most of my meals were vegetarian pasta, pizza or sandwiches. Luise, on the other hand, has always been a health-conscious meat eater, the kind that loves fitness and is afraid of carbs. When we met our two food worlds collided and after a few awkward months I decided to learn about wholegrains, quinoa and natural sweeteners and Luise started to cut down on meat. And instead of focusing on all the things we didn't eat, we did the opposite. About that time we decided to start the blog.
What are a few of your favorite posts on your site? I love when we go out of our comfort zone and experiment with recipes that are new to us—like our Korean Kimchi Wraps, or when we post something that we are afraid might be too extreme for our readers and they prove us wrong—like our Turmeric Lassi or the Raw Buckwheat Porridge. Both of these recipes have been unexpectedly popular with our readers. We have also recently started experimenting with videos, like in this Swedish Lucia Saffron Bun recipe. Videos are lots of fun and we can't wait to learn more.
Where do you draw inspiration for your posts and recipes? Most of the time we get inspired by visiting farmers markets, traveling, reading magazines, other blogs, or going to restaurants. And sometimes we just improvise. You know, late night a-little-bit-of-this and a-little-bit-of-that kind of recipes. The simple trick that we often fall back to is to try create a vegetarian recipe from a classic meat dish, like our Beet Bourguignon or Chili Sin Carne. Or we might try to give classic dessert recipes a healthier twist, like our Lemon & Coconut Bars.
Are you excited to go to Las Vegas for the BFBA Awards? Ehm, yes of course we are! We're flying all the way from Sweden just to be there. We are especially looking forward to meet some of the other bloggers. We have been emailing with some of them for years, so it will be exciting to finally meet them face-to-face.