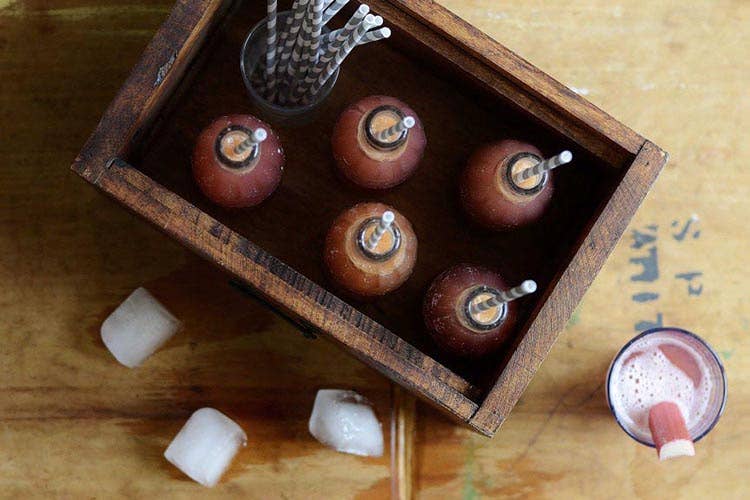 Culture
Meet the 2013 BFBA Winners: The Boys Club
We're blown away by the talent, passion, and intelligence of this year's Best Food Blog Awards winners, and learning the stories behind their blogs–how they became interested in baking, travel, and craft beer; what inspires them to write, photograph, and create delicious original recipes–makes us appreciate their work that much more. See all the winners »
Category Won: Best Cocktail Blog
Blog: The Boys Club, founded by Russel van Kraayenburg and Brian Samuels
Running Since: August 2012
When and how did you become interested in cocktails? I first became interested in cocktails shortly after college, when I had my first classic martini—a departure from the typical, hastily-concocted dirty martinis and vodka tonics I was used to ordering. It was in that moment I realized there is a science and an art to mixing cocktails. I started researching the history behind various drinks, looking for recipes that stayed true to the original vision of a cocktail. I then began experimenting with recipes; I wanted to see what kind of delicious middle ground there was between the new and the old. It wasn't long after that I decided to bring a bunch of my favorite food and drink bloggers together to create The Boys Club as a place to share our favorite cocktails and mixology stories.
Credit: Russell van Kraayenburg
What are a few of your favorite posts on your site? One of my favorite cocktails on our site is Mike Lewicki's Rhubarb Sour. I'm a sucker for a sour and I love that he found a way to get rhubarb in there. I also love Ken Leung's Smokin' Hot, which is a ginger and grapefruit mescal-based drink. Of course, there are quite a few food recipes I love too. Peter Georgakopolous has a tequila- and lime-marinated steak recipe that is to die for. I know it's not a cocktail, but it's a perfect example of how versatile liquor can be in the kitchen and how a cocktail can inspire all sorts of delicious recipes. I also enjoy our educational Mixology 101 posts. I recently shared an article all about the different glassware and why glasses are shaped and sized the way they are.
Where do you draw inspiration for your posts? I think this is what helps make The Boys Club such a fun blog for our readers. Since we've got so many contributors sharing cocktail recipes, mixology lessons, tips, and more, we see a wide range of inspiration behind the posts. Some of our cocktails are inspired from a famous bartender or restaurant, while others come from a contributor's family (and a generations-long passed down recipe), and others yet may come straight out of someone's imagination. It's fun seeing what each guy comes up with next.
What blogs do you personally read, food or otherwise? Two of my favorite blogs would have to be Vanessa Rees' V. K. Rees Photography and Elizabeth Evelyn's Local Milk. Both are phenomenal story tellers who are constantly impressing me with their photography, words, and recipes. I know I probably shouldn't play favorites in the big world of food bloging—oops—but I can't get enough of those two. All The Boys Club contributors have great personal blogs too; that is why I invited them to join The Boys Club after all. There are so, so many other blogs that I read though too. I wouldn't even know where to start.
Are you excited to go to Las Vegas for the BFBA Awards? I'm sending our managing director, Brian Samuels, and I know he is very excited about going! I told him to have a few cocktails in my honor and to take lots of pictures while he's there.