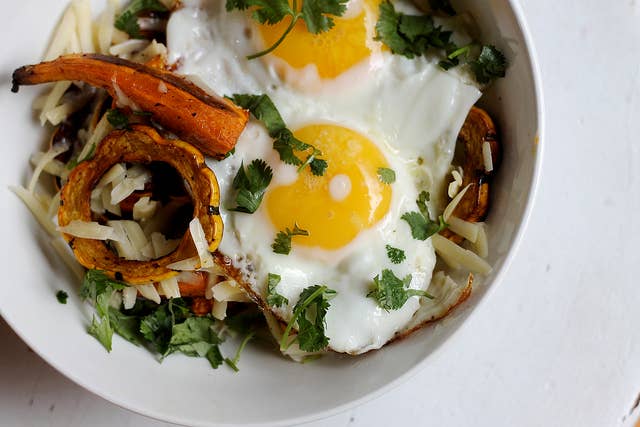 Culture
Meet the 2014 BFBA Winners: In Praise of Leftovers
Each year we've hosted the Best Food Blog Awards, we're astounded at the depth, variety, creativity, and ingenuity of the food blogs nominated, and this year was no exception. Through this series of interviews, the 2014 winners share the stories behind their blogs, deepening our appreciation for their work that much more. Here, Sarah Murphy-Kangas talks about her site In Praise of Leftovers, the editors' choice winner for Best Family Blog.
Category: Family Cooking Blog (Editors' Choice)
Running Since: I started my blog in April 2009.
Geographic Location: At the time, I lived in Seattle, Washington. I've since moved 90 miles north of Seattle to Bellingham, Washington. Bellingham is known for our very high annual rainfall. And it's true—we get a boggling amount of rain. But we all stay for our proximity to Vancouver, B.C., San Juan Islands, Cascade Mountain Range, mountain biking trails, and a general enthusiasm for being outside as much as possible. Bellingham boasts an incredible and strongly supported farmers' market. We live for its opening day in April.
When and how did you become interested in blogging? How did you first start out? I started my blog because I had brought a kale and barley salad to a birthday party and got several requests for the recipe. Of course I hadn't used a recipe, but made it up according to what ingredients I had around and what would hold up for a few hours of transport in the car. I thought it might be easier to put the recipe online than write it out and send it to everyone who asked. When I sat down to write my first post, I discovered I had a lot more to say than how many cups of barley to boil. I discovered that writing about food gave me a way to talk about everything else. And that lots of people in my community were struggling with how to cook for their friends and family in an easy-going, healthful way without spending lots of money.
I also started my blog because I had started reading Orangette, which was my first introduction to food blogs. There must be so many other food bloggers out there who have Molly Wizenberg to thank. I'm one of them. At the time of my first post, my husband had just been accepted into the fire department, and I was alone with the kids for a few months while he went to recruit school and learned all the things firemen and women are supposed to know. My husband and I happen to really like one another, and I missed him. I missed telling him what our two-year old said on the playground or what conundrum I was having with a coaching client. Blogging became a vital outlet for me at that time—a way for me to connect with others and make meaning out of my life and our family's life.
What are your favorite posts? I don't have any favorite posts, mostly because I never go back and read them once they are published! I guess I don't want to catch a typo or hate a photo, so I just let it be out there, however imperfectly.
I think one of my readers' favorite posts, though, is Rice and Beans for Lent. People thought it was crazy that someone so food-obsessed (yours truly) would choose to eat the same thing for 40 days. And even crazier that my kids would go for it. And this post typifies my often reflective approach to life and food—values around keeping it simple, inclusive, healthful, and remembering to be grateful. Part of the challenge for Americans these days is the amount of choice we have in food. Eating the same thing every day was a transforming experience because it limited our choice, gave us some creative constraints, and reminded us of the bumper sticker my Dad had on our car growing up: "Live simply so others may simply live."
What is your process for developing a post? My process for developing a post almost always goes something like this: I make something for my family or friends and then decide at the last minute that I'll take a photo of it "just in case." I don't think I have ever once cooked something just so I could put it on my blog. I don't have time for that! I have a consulting and coaching practice helping organizations to be healthier (the other passion in my life besides food), an 11- and 7-year-old, a marriage to nurture, and am blessed with many dear friendships and community volunteering roles. I always say that my blog goes the way my life goes. If work and life are slower, I cook and blog more. If work and life speed up, the posts get more infrequent. I love my loyal readers who patiently stick around even when they don't hear from me for a while.
What do you draw inspiration from? I draw inspiration from my Mom. My mother is an incredible cook. She has always known how to make something from nothing. She was masterful at putting dinner on the table without going to the grocery store. She taught me to buy what's in season, get good at making soup, and that one should never, ever buy salad dressing at the supermarket. I draw inspiration from whatever is fresh and what needs using up in my pantry and fridge. Certainly I have some well-loved cookbooks and some daily reads from other bloggers. And I live for the monthly delivery of SAVEUR, which I've been reading since I was a teenager. But I rarely clip recipes or determine to follow one exactly. I think everything I read and see just marinates and when I'm in front of the stove with some softening squash, wilted herbs, and some ricotta that's about to turn, it becomes something. I don't think that's very helpful to my readers, so In Praise of Leftovers is my attempt to explain that process.