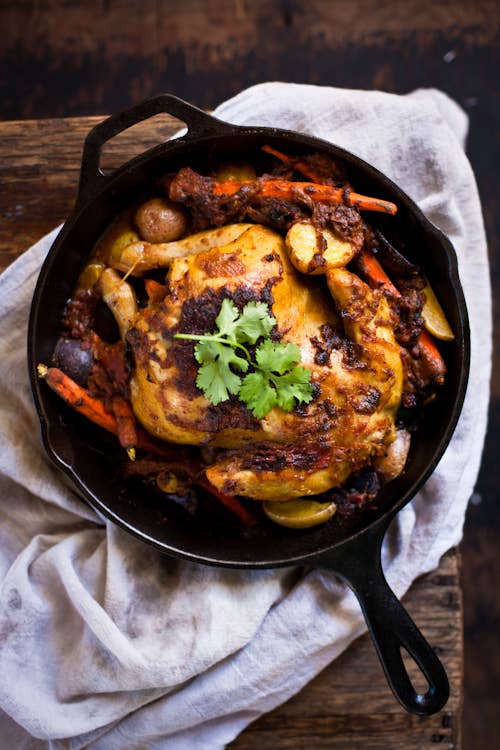 Culture
Meet the 2014 BFBA Winners: Indian Simmer
Each year we've hosted the Best Food Blog Awards, we're astounded at the depth, variety, creativity, and ingenuity of the food blogs nominated, and this year was no exception. Through this series of interviews, the 2014 winners share the stories behind their blogs, deepening our appreciation for their work that much more. Here, Prerna Singh talks about her site Indian Simmer, the editors' choice for Best Regional Blog.
Category: Best Regional Blog, Editors' Choice
Running Since: February 2010
Geographic Location: San Francisco, CA
When and how did you become interested in cooking Indian food? To be honest Indian food is all I know. I still can't claim that I know it well enough to my satisfaction but that's what I grew up eating. That's the only cuisine I have my childhood memories of. We did get treated to an occasional burger or some french fries here and there but Aloo Tikki Chaat and Falooda Kulfi is what really makes me happy. And moving thousands of miles away from all that to a new country brought me even closer to all those memories and the cuisine.
What are your favorite posts? My father is the biggest food snob I know and he is a killer cook too. He loves food and is very particular about his cooking. If onion needs to be fried in pure ghee in any of his particular recipes then you cannot make that dish until you have pure ghee. Do not even think of substituting it with butter or god forbid oil! So mastering any of his recipes is a huge achievement in my book. An agreeing nod from him is all I strive to get. I've always believed that no one can ever cook a chicken curry better than Papa (and its a fact I tell you!). The post where I shared his chicken curry recipe with the rest of the world has to be my favorite post. That post is much more than just a recipe. I can't stop reading it from start to finish every time I go to the post and relive those Sunday mornings with Papa. And funny enough that's the post with which I also shared my last year's Saveur nomination so that makes it extra special.
What is your process for developing a post? It usually starts with an idea for the recipe. So whether it's something new that my family and I love or a childhood food memory that inspired me, it all starts with a successful trial of the recipe. Photographs come next. I have an active four year old at home running around trying to grab props while I am trying to shoot. Sometimes she wants to hold the camera herself and shoot. So the photo shoot takes some planning. Once I am pleased with the pictures I have in hand, I try to tie everything together with either the story behind the recipe or just my experience developing it. Then, in the end, I edit the pictures, put everything in place and hit "publish".
What do you draw inspiration from? Anything and everything! It can come from a trip to the farmer's market and the sight of the California sun bouncing off some of the freshest and most organic produce I could find, or a story I would be telling my daughter bragging about my mum's cooking, or just a taste of a beautifully put together dish. All these things inspire me.