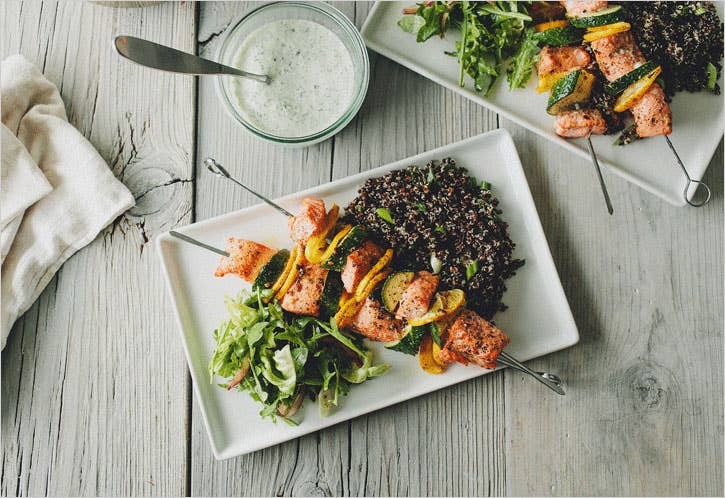 Culture
Meet the 2013 BFBA Winners: Sprouted Kitchen
We're blown away by the talent, passion, and intelligence of this year's Best Food Blog Awards winners, and learning the stories behind their blogs–how they became interested in baking, travel, and craft beer; what inspires them to write, photograph, and create delicious original recipes–makes us appreciate their work that much more. See all the winners »
Category Won: Best Original Recipes
Blog: Sprouted Kitchen, written by Sarah Forte and photographed by Hugh Forte
Geographic Location: Dana Point, Ca
Running Since: May, 2009
Credit: Courtesy of Sprouted Kitchen
When and how did you become interested in cooking? Developing your own recipes? I started cooking for myself in college as I was slowly learning that to feel good, you need to eat real food, which means you have to cook. I worked on a farm for a few years, was paid in vegetables, and taught myself to cook through watching shows, reading books, and trial and error. I learned to cook because I care about wellness. I started writing recipes for silly magazine contests, won a few of them, and then my husband, Hugh, built a site where I could share recipes and he could take photos of the food. We thought it would be a fun casual thing, but it turns out there is an audience for what we're sharing and some super people who engage me in this space—by make my food and hear my stories.
What are a few of your favorite posts on your site? I love the engagement/anniversary posts because I feel while Sprouted Kitchen is about food, it is also my story, our story, of growing up and figuring out. My favorite recipes are the almond butter cups, lentil meatballs, tomato soup and the more recent beet burgers and pistachio falafel. Those are the recipes I make most often.
Where do you draw inspiration for your posts? We end up posting what we feel like eating :) It's often pretty produce heavy, a submission to my sweet tooth or something breakfast-y (my favorite meal). I get a CSA basket, and a lot of my recipes come from needing to use to surplus of things in my veggie loot.
What blogs do you personally read, food or otherwise? There are SO many great ones, each strong for different reasons. I love 101Cookbooks, Smitten Kitchen, Not Without Salt, Happy Yolks, The First Mess, Oh, Ladycakes, Green Kitchen Stories, My New Roots, The Year in Food, Delightful Crumb, Remedial Eating, Seven Spoons, Turntable Kitchen, A Sweet Spoonful...there are more but I'm afraid I've already made my list longer than expected.
Did you have fun in Las Vegas at the BFBA Awards? We had a really great time! I can't say I am a fan of Vegas, but it is so special to see friends and other bloggers you know from the online world. The party had the greatest view and some wonderful nibbles and drinks.