Food Poetry: Dim Sum
The intersection of food and poetry is a natural one: both are subjects that concern themselves with experience, memory, sense, and self. In honor of National Poetry Month, we've asked some of our favorite poets from around the world to share works—each poem in print for the first time overall or in English—that fuse the poetic with the edible.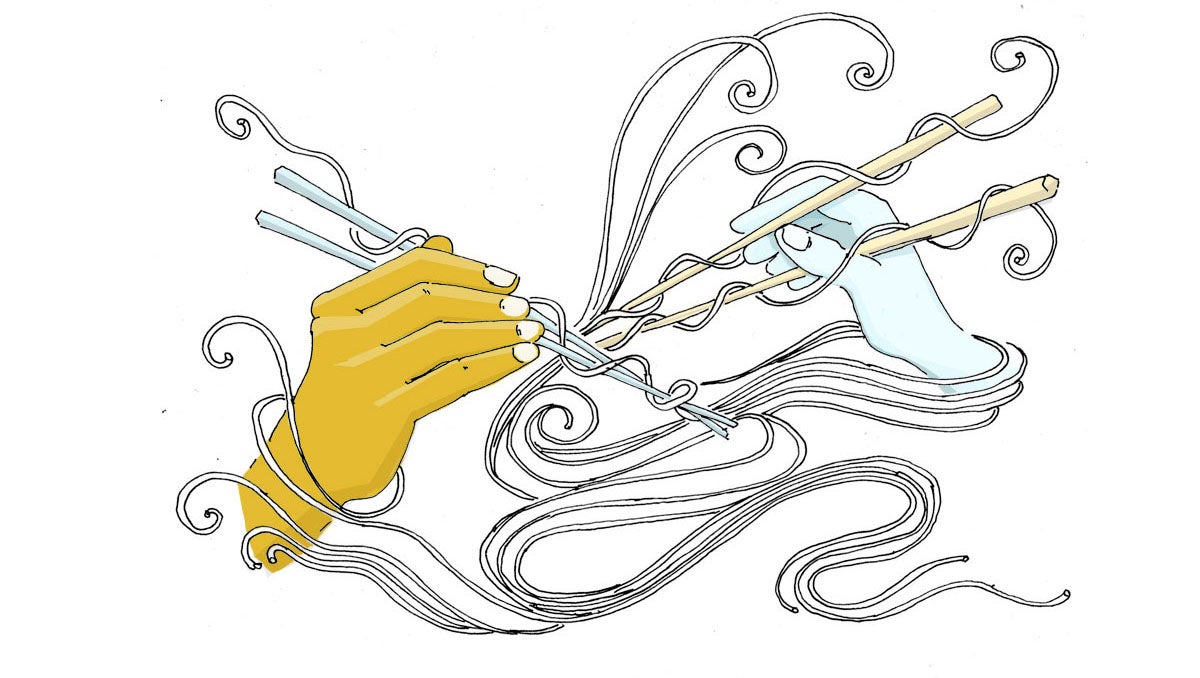 Dim Sum
by Zhang Er
Accidentally tossed together, doing the natural thing,
unexpectedly he becomes an old acquaintance from another life:
the little town at the edge of the rain forest, rivulet rain,
mountain of the imagination soaked in rain—is that China over there?
Shanghai time. Dim Sum at noon, a century of culinary evolution
results in one substantial bowl of noodles filled with indescribable
flavors: poppy seeds harvested in the dry season, yum, military control
and CIA, delicious, aged reality turned into popular history, incredible!
Now the photographer photographs, the producer produces.
Here's a muddy little lane lined with bars you run into
to escape from air strikes, flirt with prostitutes and catch the general
visiting the front lines. A multi-functional joint named Boredom. Now do you
remember it? Transform it into entertainment and forget
how deep this is, let our dreams dream that they have already
been lived and the things we are doing right now
we are doing right now. Is it possible to be together drinking tea and not
pour it over each other's body? We have the calmness
of the Shanghainese and the excuses that allow them to relax.
Try a Brazilian cocktail, cold water and lime? You sit across from me.
Face the stale routine of ice and acid, read in the Times about the ongoing
environmental debate about the lakes in the suburbs, whether they
should be open to the public, whether they should be fully swum. Think about
how the unusual low water level at Gezhou Dam affects the dam
itself and the undulating flow as it generates electricity.
I only want a cup of tea, a hot cup to expand my sweat glands
to the ultimate. The wildest dream only sets up other limitations—
I understand that. Yet at the moment, under the neon lights on the sea shore,
the palm trees are washed shiny by the storm, hair suddenly becomes obedient.
Doesn't it resemble the dream we had that night in the rain?
Was it Miami or Singapore? Maybe we should go and have some ice cream.
That way, sugar and cold will melt into each other, enabling us to go
back to the mood of our youth when everything could restart.
Say, let's take a little walk along the water's edge and go nowhere.
Zhang Er, born in Beijing, is the author of multiple books of poetry in Chinese and in English translations. She loves to travel and is an adventure seeker in her taste of food, and many other things. Her selected poems in two bilingual collections, So Translating Rivers and Cities and Verses on Bird are from Zephyr Press. She co-edited Another Kind of Nation: an Anthology of Contemporary Chinese Poetry (Talisman House Publishers). Her books can be found at spdbooks.org
Translated from Chinese by Bob Holman with the author.