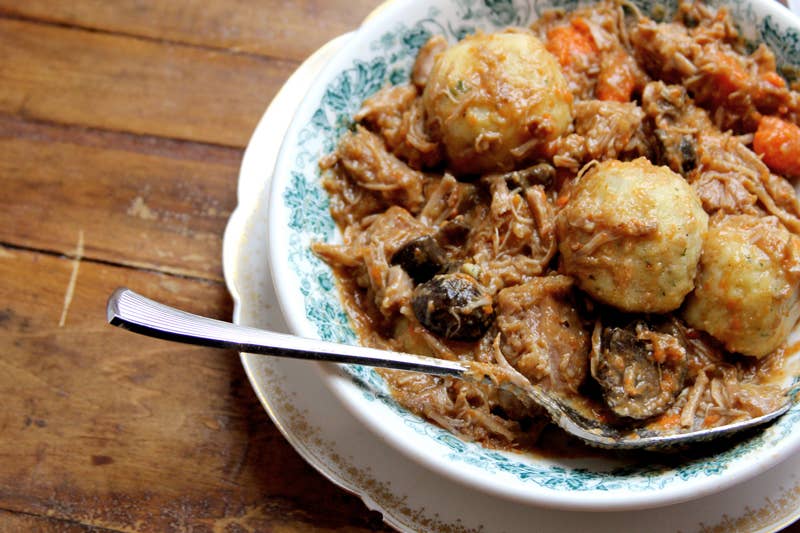 Culture
A Veal Stew That's Worth the Mess
A simple, hearty stew symbolizes both a mother's love and a daughter's culinary independence
I grew up in a household with strict rules and unyielding edicts: Never wear your shoes in the house, always tidy up before Rosie, the cleaning lady, comes over, never chew gum (it's unladylike). And cooking, with its dirty dishes and splattering sauce pots, was also excluded regime of regulation. It's not that my mother can't cook—she's actually quite competent in the kitchen—it's just that she prefers not to. It's too messy, too unpredictable, too chaotic. It doesn't mesh with her German sensibilities, which prize order over everything else.
Still, in spite of my mother's culinary reluctance, I remember eating well. Processed foods, TV dinners and Jell-O molds were as foreign to my mother as Star Wars and The Godfather. Instead, there were daily trips to the bakery for still-warm rolls, which we slathered with butter and jam for breakfast, or layered with liverwurst for lunch. Dinner was often something simple (and relatively mess-free) like tacos, cheese fondue with crusty chunks of bread and apple slices for dipping, or scrambled eggs, a favorite of mine because it felt deliciously out of order to eat breakfast for supper.
But on special occasions, my mother would roll up her sleeves and get her hands (and her gleaming kitchen) dirty. Her peppery chicken, with mushrooms and plenty of cream and butter, was always a crowd pleaser, but when it was my birthday—and I got to choose what we ate—I always picked her veal stew, a hearty, wintry dish served with doughy dumplings the size of tennis balls.
At the age of ten, I started cooking myself. I got the bug from my best friend's mother, who, by all accounts, was the exact opposite of my mother. She had short hair and butterfly glasses, wore Birkenstocks and leopard-print spandex, and she was a chef. Afternoons at her house often involved taking baths with the dog, making papier-mache masks, and baking spice cookies—all extremely unregulated activities, which satisfied my inner mess-maker.
Encouraged, I think, by the tasty treats I brought home with me, my mother soon let me take over the kitchen—albeit with an ever-watchful eye and the caveat that everything must be left afterwards in the pristine condition it was in when I started. At first, I stuck to the basics, whipping up batches of chocolate chip cookie dough (which more often than not didn't even make it to the oven). But later there came homemade gnocchi and baked pears, tiramisu and crusty loaves of bread. Armed with my shiny new chef's knife, there wasn't anything I wouldn't try.
As we've both gotten older, my mother cooks less and less. For her, there's no joy in it. Or if there is, it is mitigated by the clutter—compounded by the fact that she is now a grandmother with three grandchildren under the age of five—that, surely, she will have to clean up. It's been years since she has made her famous veal stew, but now it's a dish that has found a home in my own kitchen. I've spruced it up just a bit, but not so much that it doesn't bring to mind the original version as prepared by my mom, her hair slightly frizzy and her blood pressure slightly elevated, allowing a dreaded mess into her kitchen in service of the warmth of a home-cooked meal.
Geraldine Campbell is a freelance writer, travel enthusiast, and ex-Southerner with a love of grits and all things deep fried. She has written about everything from love and sex to beauty and fashion, but her first loves are food and travel. When she's not writing, she's testing recipes in her itty-bitty kitchen or plotting her next adventure.