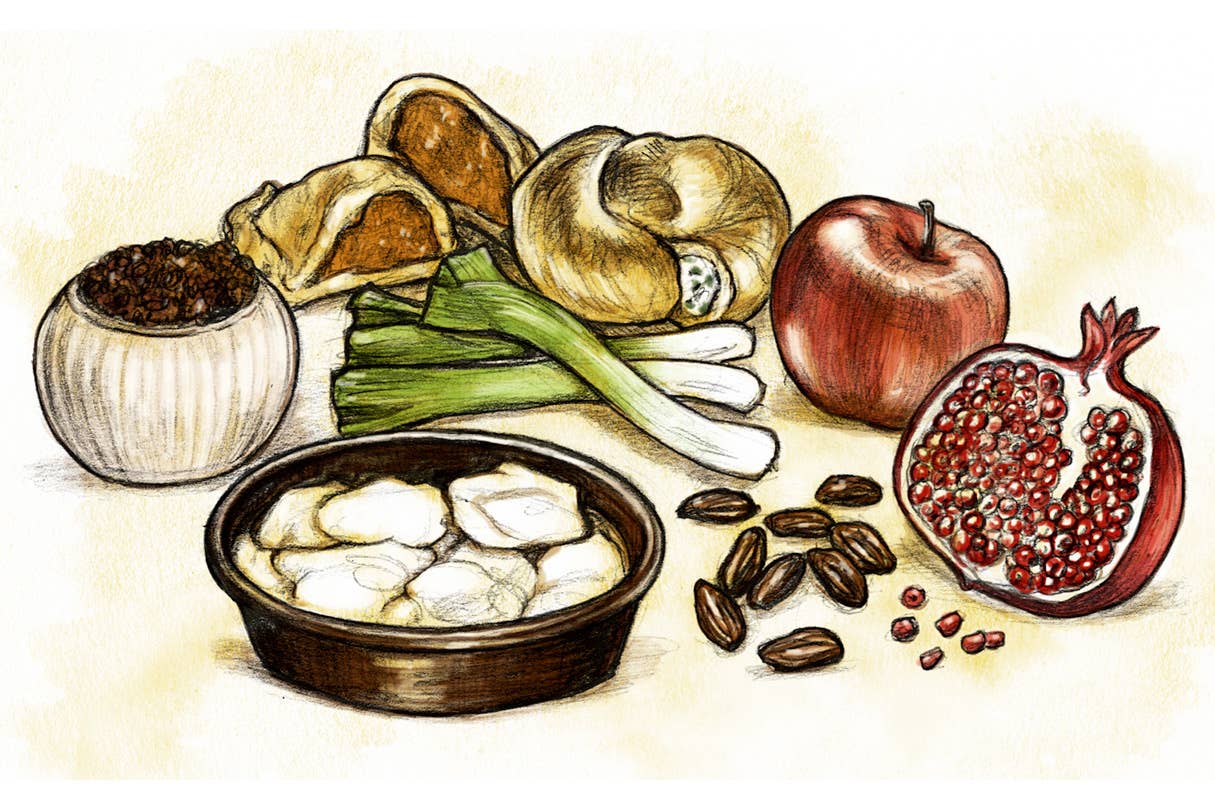 Culture
A Second Seder Holiday
Sephardic kitchens welcome the new year with deeply symbolic and celebratory Rosh Hashanah dishes
Every year, I hold an epic, table-groaning, far-too-many-chairs-stuffed-into-the-house Passover Seder. There's something about sitting down and lighting the candles, about creating a moment that reaches back through time and out to everyone else who is doing, and has done, the same. And, of course, making variations on the same food. But recently I learned that Passover isn't the only Seder holiday. Within the Sephardic tradition—the Jews of the Iberian peninsula, and post-1492 expulsion, the surrounding areas—there's a second Seder holiday: Rosh Hashanah, the Jewish New Year.
Most American Jews are familiar with the practice of eating apples and honey on the holiday, hoping to imbue the coming year with a touch of sweetness. But in Sephardic circles, the food traditions are more formalized and ornate, culminating in a full-on Seder plate. While the Passover Seder commemorates historical events (i.e. quick-baked matzo for the hasty Egyptian exodus), Rosh Hashanah Seder dishes represent biblical verses of hopes for the coming year. And because this tradition comes from the sunny kitchens of North Africa and Western Europe versus the spice-poor land of gefilte fish, these ceremonial dishes are rich and vibrantly flavored—perfect celebration food.
This year Rosh Hashanah begins the evening of September 24, and my friend Renee Ferrera, whose family comes from the Isle of Rhodes in Greece—a place once known as "Little Jerusalem," with a formerly thriving Jewish population, and a unique culinary crossroads of Greek, Turkish, Italian and Jewish cuisine—is kind enough to let me into her kitchen as she prepares the feast, a mix of simple fresh fruits and more ornate, mezze-style turnovers, each with its own ceremonial contribution.
As in the Eastern European Rosh Hashanah tradition, apples are eaten either fresh or made into sauce, along with the region's sticky-sweet dates. And pomegranates, which not only represent a sweet new year, but are rumored to have the same number of seeds as there are Torah commandments (613), ensure the coming year will be equally full of good deeds. Many other dishes feature ingredients that sound like words for the good things one seeks in the year to come: There are leeks, whose Aramaic name sounds like the Hebrew word for "cut off" (exactly what we hope for all ill-wishers in the coming year), and a whole animal head for good luck at the "head" of the new year. Ferrera uses fresh scallions, as well as meat-stuffed whole onions, in place of the leeks, and while a sheep's head used to be traditional, Ferrera goes with the more Northwest-appropriate (and more palatable) smoked salmon cheeks.
But it's the phyllo-wrapped turnovers that I can't get enough of. Some are filled with pumpkin, whose Arabic name is a play on the Hebrew word for "calling out" your good deeds. Others are filled with seasoned ground beef and topped with sesame seeds for an increase in blessings and virtues (a directive, thanks to translation and regional differences, also represented by fenugreek and beans). Spinach, symbolizing the "beating down" of enemies, is mixed with feta and Romano cheese and wound into a curled boyo pastry, from a family recipe that Renee's cousins make together en masse for the holidays, turning the kitchen into a well-oiled production line that would do their grandmothers proud.
Unlike the Passover seder, with its ritualized service and stories that unroll over the course of a few hours, the Rosh Hashanah Seder doesn't feature much narration—the foods themselves tell the story. There are the traditional blessings, with a nod to the symbolism of each dish. Then friends and family sit down together to share in the good food and company—two things we hope to have in abundance in the year to come.