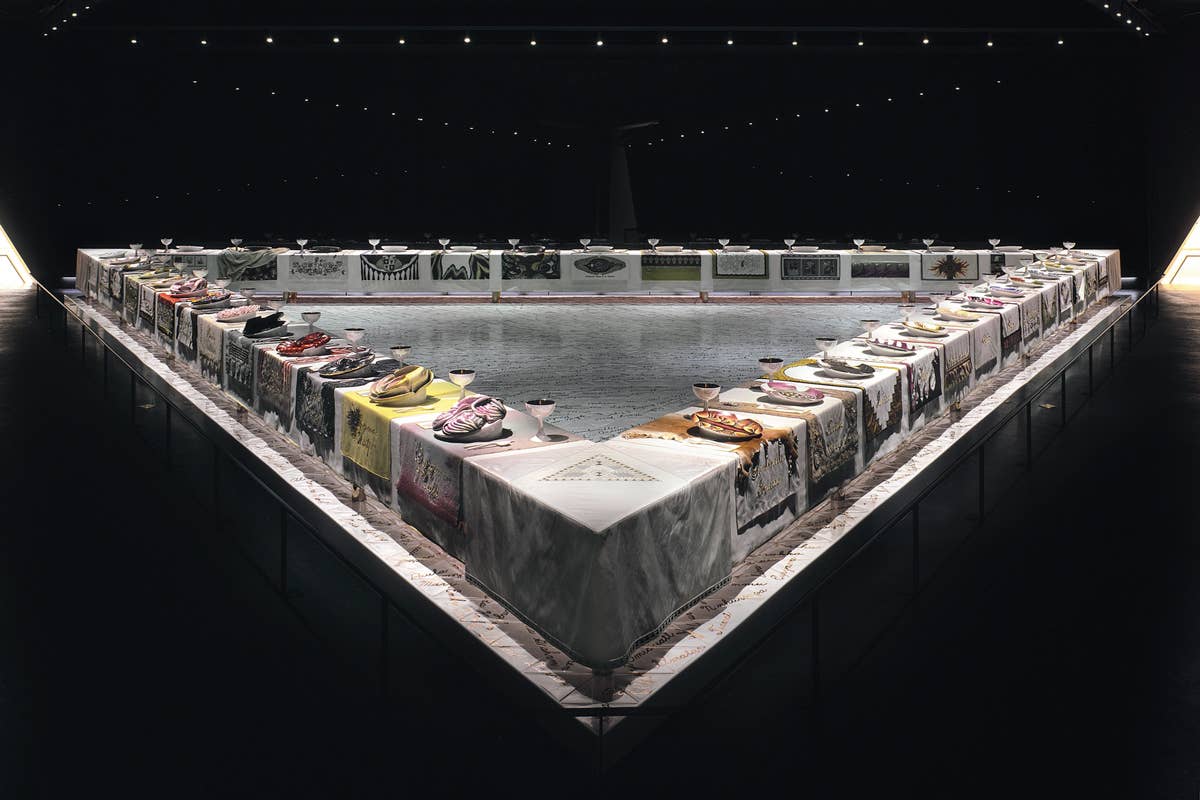 Culture
A Different Kind of Food Tourism
Between-meal diversions in Paris, New York, Hong Kong, and more
Hunting for the best restaurants while traveling is a given, but I also make a point of seeking out little pockets of food-related art and culture when I'm exploring a new place. In fact, some of my favorite food experiences haven't involved me eating at all: One of the most memorable lunches I've had was simply observing young Thai monks eat their midday meal (of which they shared several bites with a monastery cat).
On your next trip, consider searching for food in places other than markets and restaurants—starting with these food-relalted art exhibits and historic destinations.
Pretend You're a Guest at Judy Chicago's Dinner Party
Brooklyn, New York
The ultimate feminist dinner party is on permanent display at the Brooklyn Museum. In the mid-70s, American artist Judy Chicago built an enormous table, 48 feet long on each side, to host a figurative dinner party. Instead of serving any food or inviting guests, she dedicated each of the 39 place settings to a powerful female figure in history, and set the table with beautiful ceramic dishes and embroidered tapestries. Although the plates themselves are unquestionably "feminine" (as in, they allude to female anatomy), the concept as a whole turns the traditionally marginalizing concepts of domesticity and food preparation into an empowering occasion.
Brooklyn Museum
200 Eastern Parkway
Brooklyn, New York 11238
(718) 638-5000
Turn French fries into an Educational Exercise
Bruges, Belgium
Yes, this is a museum dedicated to French fries, Belgium's most famous potato invention. The exhibit begins on the ground floor with Peru, the origin of the domesticated potato plant, and a showcase of potato varieties and cutters. Further floors explain the French fry's origin in Belgium and, happily, house a café for tastings.
Frietmuseum
Vlamingstraat 33
8000 Bruges, Belgium
+32 50 34 01 50
Visit the Quirky Back Room of Poilâne Bakery
Paris, France
Everyone knows the legendary Poilâne bakery—it's arguably the most famous traditional bakery in Paris. But what makes the Saint-Germain-des-Prés location in particular worth a visit is a peek into the back room. Hanging on the wall are paintings of bread from dozens of artists, all allegedly donated in exchange for a Poilâne miche. They also have a black and white photograph of an art installation commissioned by Salvador Dali in 1971: Lionel Poilâne created an entire bedroom furniture set out of Poilâne bread for Dali, who was a long admirer of the baker's bread sculptures. To this day, a chandelier made out of bread hangs from the ceiling as a tribute to Poilâne and Dali's friendship. And yes, they replace it when it starts to fall apart.
Poilâne
8 rue du Cherche-Midi
Paris, France 75006
+33 (0) 1 45-48-42-59
Step into Julia Child's Kitchen at the Smithsonian Museum of American History
Washington, DC
Explore the pots, pans, and adorable plastic-covered Marimekko print tablecloths of Julia Child's Cambridge home kitchen, where she hosted her last three cooking shows. It's not a replica—the Smithsonian actually deconstructed Julia's entire kitchen when she moved to California in 2001 and shipped it to the National Museum of American History. They took everything from potholders to countertops (which the 6-foot-tall chef had custom built at 2 inches higher than most) to preserve her beloved culinary legacy.
Get Inspired by Design at Sunday's Grocery
Hong Kong
For those seeking the best in interior design and environmental typography, take a trip to Sunday's Grocery in Hong Kong's Kennedy Town. Famed for their chicken yakitori joint Yardbird, which is located in Hong Kong's Central district, Canadian duo Matt Abergel and Lindsay Jang opened this venture in the spring of 2014. But here, guests won't be sitting down to chicken skewers and cocktails—or sitting at all. Sunday's Grocery is a "curated convenience store," selling sandwiches, high-end sake, Japanese whiskey, snacks, beer, and specialty packaged foods. The design—from the storefront to the sandwich-and-beer bento-box-style takeout—is beautifully modern and quirky.
Eat an Imaginary Meal with the Dutch Masters at the Louvre
Paris, France
If you're into food history (that is, if you're like me and you find entire books on the global evolution of black pepper fascinating), make sure not to miss the 17th and 18th century Dutch still life paintings the next time you're at the Louvre. From dead geese and game hens to oranges newly imported from the New World to half-bodies of fleshy tuna, the edible evidence found in these still lifes is fascinating. The paintings are both beautiful and a bit haunting, and serve to document how Europeans ate during the 17th and 18th century.
Ogle the Silver Dinnerware of Famous Augsburg Master Silversmiths at Maximillian Museum
Augsburg, Germany
Augsburg, a town northwest of Munich, was an important gold-and silver-smith hub of Central Europe up until the 1800s. This museum has a beautiful collection of dining sets, plates, drinking vessels, and servingware—all crafted out of pure silver by the Augsburg silversmith masters. My favorite pieces include gilded drinking cups, specially made for consuming German beer.
See an Enormous Ice Cream Cone Sculpture
**** Cologne, Germany
When asked to create a sculpture for the Neumarkt Galerie building in Cologne's Neumarkt Square, artists Claes Oldenburg and Coosje van Bruggen found themselves inspired by the city's landmarks that peek above the glass-paned shopping mall. Cologne boasts 12 Romanesque churches, each with impressive spires that dominate the skyline; in a playful gesture, the artists mimicked these spires with the conical shape of an enormous, inverted plastic ice cream cone.