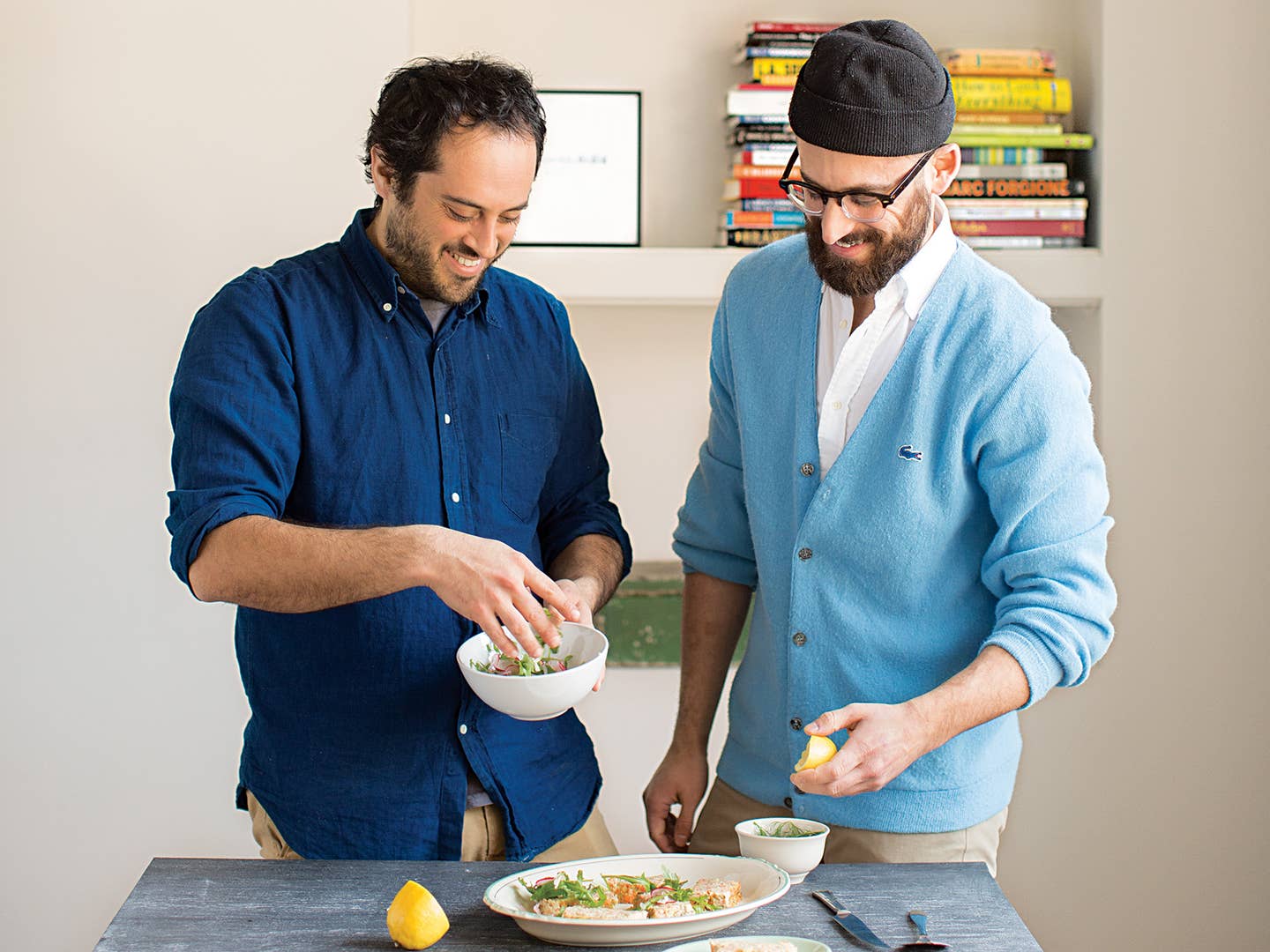 Culture
A Gefilte Fishing Expedition
Cookbook authors, chefs, and brothers Eli and Max Sussman transform their family's age-old recipe into the ideal Passover starter
Updating our family's gefilte fish recipe meant navigating delicate terrain. Our Aunt Beth first learned it from her Grandma Mary back in 1986. Although by all accounts Mary Avadenka was a terrible cook and no one in the family even liked gefilte fish, as with everything related to Judaism, the neurotic fear of lost tradition compelled action, so Aunt Beth found herself in her grandmother's kitchen overwhelmed by the potent smell of boiling fish stock. Ever since, Aunt Beth and her sisters Eve and Lynne (our mother) have gotten together in Huntington Woods, Michigan—wearing clothes they don't mind burning after the activity—for the annual argument of "more matzo meal, less salt, more pike, less perch" that lovingly never ends. As kids, we became accustomed to a "no friends entering the house" window during Passover, for fear of being deemed the guys with the house that smells like Tsukiji fish market. A fish stock-scented home makes it difficult to get girls.
Why no one in the family ever wrote down the gefilte fish-making process is a mystery to us, two guys who make a living writing recipes, so we figured we'd tackle it ourselves. We didn't want to offend the sanctity of the original, but we felt we could do classic gefilte better. As chefs, we believe there is merit to chasing modernity and new technique, but it's also cool to look back and gain inspiration from generations of family tradition.
We reimagined the classic recipe as a gefilte fish terrine because it allows for clean, beautiful slices that are more refined than a boiled fish ball (sorry, Mom!). And we chose to use salmon because it's a rich, delicious fish that is more appealing than the traditional pike-perch combination (sorry, Grandma Mary!). The biggest improvement this gefilte fish makes to our family's original, however, is that it is organized with the ingredients and instructions clearly written down, so you can avoid the pitfalls, hairpulling, and storm-outs that plague our Huntington Woods gefilte fish factory every Passover.