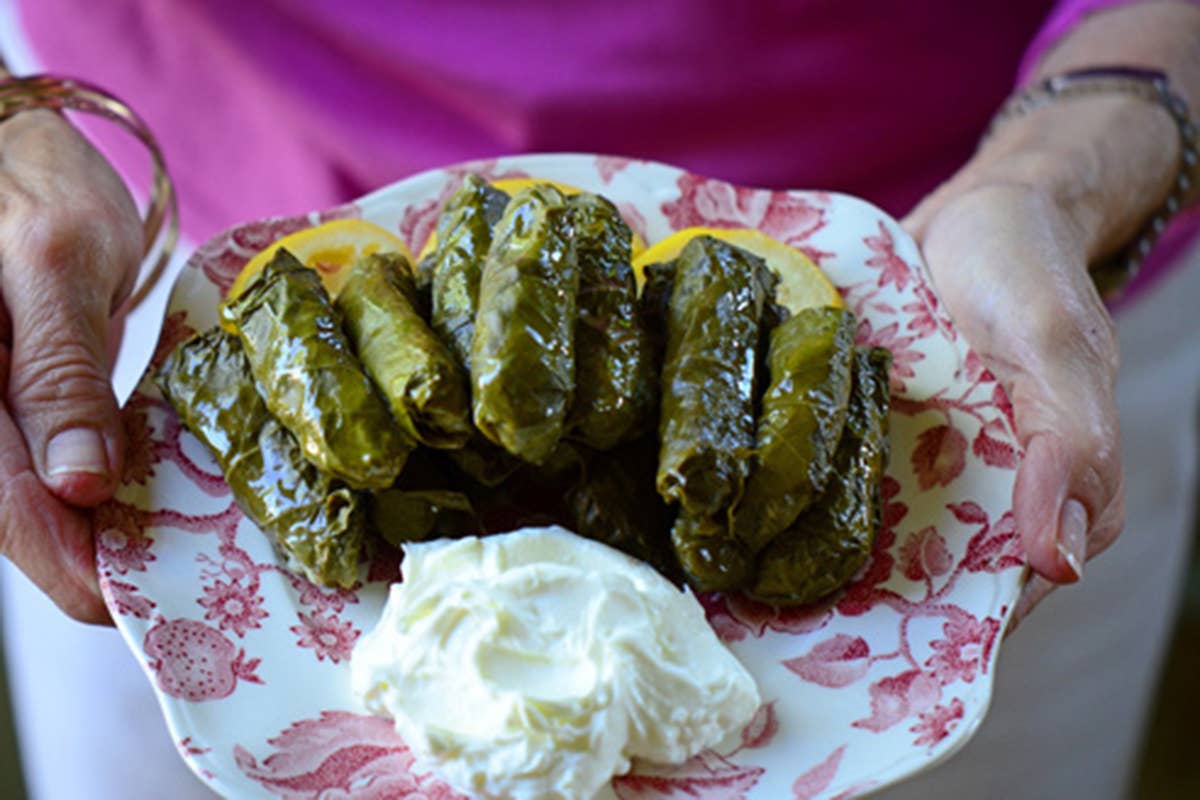 Culture
Meet the 2014 BFBA Winners: Rose Water & Orange Blossoms
Each year we've hosted the Best Food Blog Awards, we're astounded at the depth, variety, creativity, and ingenuity of the food blogs nominated, and this year was no exception. Through this series of interviews, the 2014 winners share the stories behind their blogs, deepening our appreciation for their work that much more. Here, Maureen Abood talks about her site Rose Water & Orange Blossoms, the readers' choice for Best Regional Cuisine Blog. **[See the rest of th
Category: Best Regional Cuisine Blog, Readers' Choice
Running Since: I launched Rose Water & Orange Blossoms in July 2011, right after I completed the culinary school program I left my corporate job to attend in 2010. Never looked back.
Geographic Location: I live, write, cook, and take photos in Harbor Springs, a small town perched on Little Traverse Bay in Northern Michigan. It's been especially inspiring to be back here, where I spent all of my childhood summers, after living in Chicago for many years. Everything about this place is pure, from the fresh air to the pure, ice-cold freshwater springs that bubble up all over town. They're capped off with stone water fountains on nearly every corner; I consider them my fountains of youth. Michigan is such a great place to be involved in Middle Eastern cuisine, Lebanese in particular, because there are so many of us here. I can tap into all kinds of culinary history with extended family and friends at any time, and find most any ingredient and fabulous bakery breads (like the very thin, chewy pita that is a Lebanese staple and just can't be replicated at home).
When and how did you become interested in cooking Lebanese food? Have you ever lived in Lebanon, or do you have any interest in doing so? My grandparents are Lebanese immigrants from the turn of the last century, so my interest was born out of my love for the Lebanese culinary traditions that have always been an integral part of our family life. Years ago, when I was back in Michigan studying literature in grad school at Michigan State, I visited my Sitto (that's Arabic for Grandma) every week. Looking back, I see that the real education I received was in her Lebanese kitchen learning to bake impossibly thin flatbread (what I'd give for another lesson from her today!) and how to turn out fresh, creamy yogurt every week with a starter from the last week. I made my first trip to Lebanon just two years ago, after what can only be described as my lifelong yearning to get there. The strife in the region had kept me, and many in my family, from making the trip at various times over the years. When I finally made it there, it felt so familiar. I met family I'd never known, really rather close relatives, and couldn't get enough of both the classic Lebanese dishes I'd grown up with as well as the very exciting innovations that are such a part of the ancient and cosmopolitan culture there. I'm blogging this week, in fact, about the za'atar croissants we ate everywhere there, be it at a high-end Four Seasons breakfast or a café (including Starbucks in downtown Beirut).
What are your favorite posts? All of the posts that were inspired by my trip to Lebanon have been important to me not just to capture what happened, but also to unpack all of it emotionally and in the kitchen. I'm thinking of my post about the huge dinner my cousin made for us, using the grape leaves harvested from their vines in the family village, and all that evening meant to me. I have a feeling I'll be enjoying the fruits of those experiences for some time. Anything to do with baking, pastry, and sweets always gets me fired up; my nickname growing up wasn't Sugar Shoes for nothin'! So even though the Lebanese are devoted above all to a perfect platter of ripe fresh fruit for dessert, I love exploring Lebanese baking, all sweets, and French pastry too—which is intimately connected to Lebanese cuisine because of the French influence in Lebanon (Lebanon was a protectorate of France for many years). I have an affinity for my posts about baking heritage recipes like orange blossom baklawa, za'atar flatbread, and Lebanese sesame talami bread. I also enjoy innovating Lebanese ingredients in new ways—flower waters, for example, go so many exciting directions, like orange blossom cream caramels or strawberry-rhubarb pie with rose water.
What is your process for developing a post? I have two ways of posting: either I start with a recipe I love or want to know more about and develop my stories from there, or I have a particular story I want to tell and discover the recipe that goes with it as I explore writing the story. Much of this is grounded in memory, nostalgia (in the best sense of the word), and my deep desire to carry on, perfect, and share Lebanese culinary traditions and the goodness of cooking at home. I head into the kitchen usually well before I finish writing, to cook or bake and take photos. I use natural light, so this has to happen at certain times of the day. Once the photos are taken and the recipe developed, I feel a certain freedom and excitement to sit down and write.
I like to develop several posts around each week's recipe, so that I can explore ingredients, techniques, and favorite things that are related to that recipe. Menus are also great fun, especially around holidays, and give us all a chance to see how many Lebanese dishes might be served together.
What do you draw inspiration from? I feel as though I am always in the process of posting, whether I'm awake in the middle of the night, strolling the farmer's market, or out for a run along the lake. This is about being open to the inspiration of the seasons, ingredients and the events of life. I also read as much as possible—books yes, cookbooks and culinary memoirs, but I'm also an avid culinary magazine and blog reader. I find tons of inspiration and creativity in them, and keep my finger on the pulse of what's new and interesting. The very act of being in the kitchen developing a recipe is inspiring too, with my mind moving down all kinds of paths of thought and memory as I explore the ingredients, the methods, the tools—the fragrance of mahleb (ground cherry pit kernels) might take me one direction; molding ma'moul cookies in my Aunt Hilda's wooden mold in another. I think often of my experience in culinary school and the year I spent in San Francisco not long ago, and I like to draw on that in fun ways too.
There is inspiration in the very air we breathe in Northern Michigan (the cherries, the harvest, and the pies aren't so bad either!). This place goes deep for me, and it's so photogenic that I like to share a Postcard from Up North whenever I can, photos of every corner of this lovely place.
I am just super grateful to have the opportunity to do work that is so meaningful, and so much fun that it hardly seems like work at all.