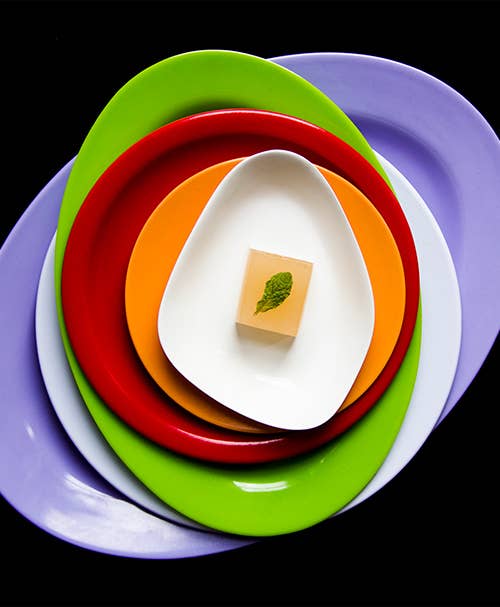 Welcome to Mixstrology, SAVEUR's monthly series where astrologist/bartender Patricia Clark Hippolyte provides a cocktail prescription for each sign of the zodiac. This month: Sagittarius.
Optimistic, clear-thinking, generous, and just, Sagittarius, you are a curious individual who just might find yourself endlessly chasing arrows you've shot into greener grasses. As Gertrude Stein said, "There is no there there." Jupiter, the expansive ruler of Sag, promises but does not necessarily deliver—like lottery tickets or gambling—and you're often let down by your own big dreams. But, that being said, no one's more fun, blunt, or up for adventure than you. And no drink is more recognized for a good time than the margarita, which we're amping up here with a little international flavor for Sagittarius, who rules travel. Plus, we're serving it as Jell-O shots, because what's more fun than that?
As for the rest of the zodiac, try these sign-appropriate variations:
Since this recipe may challenge your short attention span, let's keep it quick and straightforward. Serve this drink on the rocks minus the gelatin: 2 oz. reposado, 1 oz. ginger simple syrup, and 1 oz. fresh lime juice. Packs a punch; saves time.
Do the same as Aries, but add a tablespoon of cream of coconut and shake well. It's like a sweet Thai dessert. Could be your next big thing.
Lighten these shots up a bit so that they don't slow down your competitive edge. Go for vodka, lime juice, and ginger simple syrup.
Swap the tequila for rum to make daiquiri Jell-O shots that conjure up notions of restful days and beach vacations.
How do I make this big and bold for you? Pour three shots of tequila, hand you a lime and a knife, and let you do your thing.
Serve your Jell-O shots nifty, neat, and almost too perfect to eat: Cut them in exacting squares and place them upon white Asian soup spoons.
A margarita is a knuckle-dragging drink, right? Make it light and sweet, like you, with white tequila, agave, and lime.
A La Paloma for you: tequila, fresh grapefruit juice, fresh lime juice, and some club soda to lighten up your serious side.
For earthy, flavorful flair, try tequila, ginger simple syrup, cinnamon, and a light dusting of cardamom.
I believe this twist could just be quirky enough for you to enjoy: Substitute triple sec for ginger syrup and add some pear nectar.
I know your already untidy kitchen will be even more of a disaster after you attempt to make Jell-O shots, so no cocktail for you, and just a little reminder to call your cleaning lady. Your cat will thank you.
Patricia Clark Hippolyte is a New York-based astrologer and bartender.