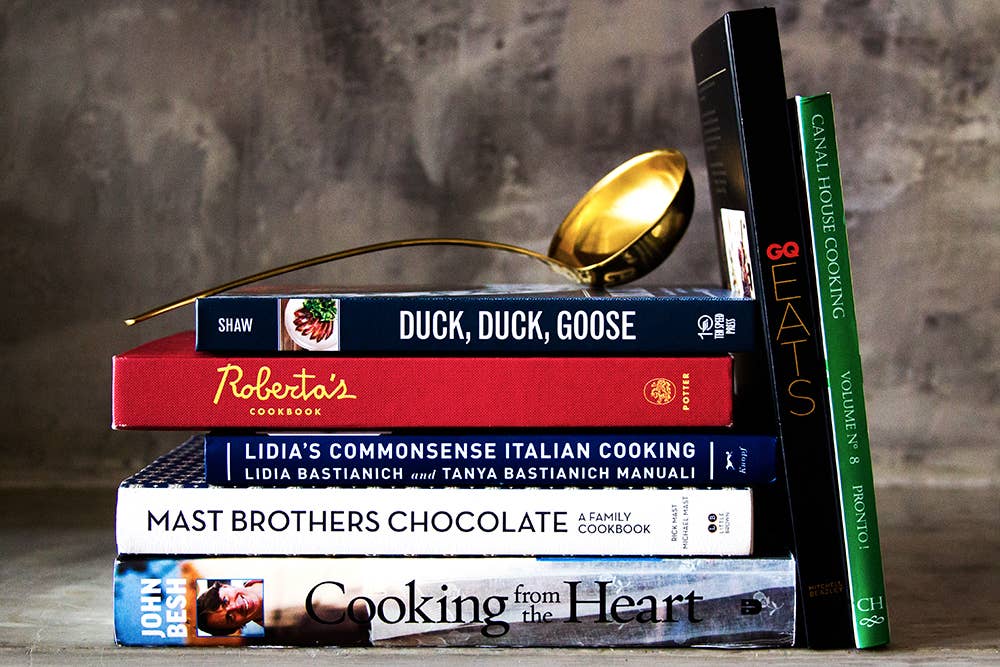 Culture
Books Worth Buying: October's Best Food and Drink Releases
The monthly guide to our favorite new cookbook releases
We get dozens of cookbooks each week at SAVEUR, and every month we share our favorite new releases—books that, through one avenue of greatness or another, have earned a place on our over-stuffed shelves. This month's books encourage us to experiment, inspire us to respect tradition and love innovation, invite us to enjoy ourselves, and show us the craft behind one of our favorite sweets.
by John Besh
Among New Orleans' more established restaurants, John Besh's August has long offered relief from the city's traditional food. It's not that August isn't traditional; Besh, the owner of nine restaurants in New Orleans and elsewhere, is a bayou-born chef with a love for Louisiana foodways, and he cooks as good a trout Pontchartrain as anyone. But the elevated Continental bent of August's menu has, for a dozen years, set it apart. With Besh's new book, Cooking from the Heart, we learn how that sensibility took hold. The cookbook chronicles his European stages, detailing the skills his French and German mentors taught him, and offering the recipes he adopted from them. Reading Besh's glowing portraits of German chef Karl-Josef Fuchs, Provencal chef Alain Assaud, and others, and cooking the dishes he learned from them, you understand him as a chef who has used the happy lessons of his European sojourns to refine his native cooking.
There's a gorgeous rusticity and lustiness to recipes such as slow-cooked rabbit with creamy rosemary turnips or clams and sea snails marinière that speak to his Cajun sensibilities. (Besh likes to get his hands dirty; check out the photos of him making wild boar's head pâté.) But behind each dish there are also well-honed haute techniques, which Besh passes on in carefully photographed step-by-steps for making classics such as potato gnocchi, soupe de poissons with rouille, and clafoutis. Like August, the book is a sophisticated crowd-pleaser. When I prepared the sardines escabeche, the dish turned out beautifully, all strewn with colorful just-pickled peppers and onions and full of a melange of flavors—briny, herbaceous, spicy, acidic, sweet. It felt both accomplished and effortless—and it tasted wonderful. There's not much more you could want from cooking lessons with a great chef besides that. —Betsy Andrews
Available October 29 from Andrews McMeel Publishing; $40.00
Buy Cooking from the Heart: My Favorite Lessons Learned Along the Way
#
by Hank Shaw
Waterfowl isn't something I cook at home; the thought of acquiring and preparing a duck or goose usually seems like a chore I don't want to undertake. In his newest cookbook, Hank Shaw, creator of the James Beard Award-winning food blog Hunter, Angler, Gardener, Cook, sets out to convince people like me otherwise. After perusing his step-by-step guides on breeds, tutorials on plucking and breaking down the birds, and recipes from all over the world, I've found myself much more willing to break free from "the tyranny of the chicken" and explore the realm of the fowl. Shaw regales us with tales from his hunting adventures—mishaps and all—as he shows us how to make recipes such as Laotian duck salad and succulent roasted goose breasts with orange and ouzo. Each recipe feels like a stepping stone to experimentation, inspiring me to cook these birds at home. —Helen Yin
Available October 1 from Ten Speed Press; $14.99.
Buy Duck, Duck, Goose: The Ultimate Guide to Cooking Waterfowl, Both Farmed and Wild
#
By Carlo Mirachi, Brandon Hoy, Chris Parachini, and Katherine Wheelock
When I moved to Bushwick in 2009, the only question anyone asked was "Have you been to Roberta's yet?" Four years later, the sprawling pizza joint in an old auto-body space is still essential: It's not just the place to be for the neighborhood crowd; it's the place to be for anyone in New York, period. And their first cookbook offers an honest representation of the ebullient spirit that keeps things going. The folks at Roberta's are seriously into having a good time—and they want you to join in the fun.
The story of the restaurant's progression from crazy idea to beloved pizza joint to critically-acclaimed restaurant is interspersed with dozens of photos of the staff at work and play, illustrations, and—most importantly—an approachable, intelligent range of recipes. Of these, first up is the pizza, revealing the secrets of house-favorite pies like the Da Kine (pineapple, pickled jalapeno, prosciutto cotto, and ricotta). Smart vegetable recipes, a section on homemade pasta, and a collection of seafood dishes bring dozens of simple yet dinner party-worthy recipes to the table. (How impressed will your friends be when you serve them cuttlefish with pomelo, chile, and hyssop?) Meatier recipes range from the humble and familiar (an American cheese-smothered burger; split pea soup with Benton's bacon and beer) to the more adventurous (tripe with hot peppers, cider vinegar, and lovage). The cocktail recipes are appropriately juxtaposed with snapshots of what look to be some pretty wild tiki gatherings in the restaurant's backyard and garden, reminding me of the feeling I got the first time I stepped from the cement-grey, industrial street into Roberta's warmly-lit, wood-walled dining room: it felt like stumbling upon an unexpectedly awesome party. One that, with this cookbook, is now easy to bring home. —Cory Baldwin
Lidia's Commonsense Italian Cooking
by Lidia Matticchio Bastianich and Tanya Bastianich Manuali
More often than not, I stay away from Italian cookbooks. Not because I don't love Italian food, but rather because their promises of a rustic, convivial, family-style table tend to remain unfulfilled. But when I saw that Lidia Bastianich's most recent cookbook had the word "commonsense" printed across its cover in big uppercase letters, I thought I'd give it a try. Lidia's Commonsense Italian Cooking is a collection of 150 unpretentious recipes that stay true to Bastianich's Italian heritage and make you feel like you're part of her family. Interspersed with cooking tips and anecdotes from her mother and grandmother's kitchens, the easy-to-make recipes got me cooking in no time without requiring an absurd amount of skill—or money. Using nothing but basic ingredients, I whipped up the tastiest skillet eggs I've had in a long time, a tender eggplant and rice Parmigiana that was packed with flavor, a warming bread and basil soup, and a completely unexpected lettuce risotto. It's exactly what I've always wanted from an Italian cookbook. —Dominique Lemoine
Available October 15 from Knopf; $21.
Buy Lidia's Commonsense Italian Cooking: 150 Delicious and Simple Recipes Anyone Can Master
#
Canal House Cooking, Volume 8: Pronto!
By Christopher Hirsheimer and Melissa Hamilton
As summer slides into early fall, the farmers' market is still teeming with invitations to cook: ripe-to-bursting last chance tomatoes, cheap zucchini by the armful, and eggplants piled to the sky. It's also right around this time of year that I usually start to run out of ideas for what to do with it all, which is why I'm so thankful, this October, for the latest edition of Canal House Cooking, the cooking quarterly by Christopher Hirsheimer and Melissa Hamilton. The volume (titled Pronto!) is packed with simple, delicious recipes: tender cubes of eggplant in a bright, garlicky red wine vinegar marinade; tomatoes and basil cooked in olive oil then stirred into pasta with fresh mozzarella; zucchini tossed in an umami-rich anchovy and butter sauce—that are all perfectly tailored to the shifting season. —Karen Shimizu
Available October 29 from Andrews McMeel Publishing; $15.43.
Buy Canal House Cooking Volume No. 8: Pronto
#
Edited by Paul Henderson
It took me quite awhile to get past the cringeworthy subtitle of this cookbook ("The Cookbook for Men of Seriously Good Taste") and actually open it up. But I was pleasantly surprised to find that nothing in the book actually points to the ridiculous notion that our gender defines what we like to eat and cook; rather, it's a collection of exciting recipes from the best British restaurants. In a masterful two-page foreword, Heston Blumenthal points out that while British cuisine missed out on the creative explosion of the 1960s that put the U.K. on the cultural map, it caught up in the late 1980s, giving way to the sexy, fun and fashionable British food we know today. The rest of the 220 pages are an iconoclastic and inventive cookbook respectful of tradition and committed to British ingredients. The concise, creatively-written, and easy to follow recipes include truffled egg toast from Spuntino's, bergamot-cured mackerel from Dinner, Wishbone's fantastic Japanese-inspired fried chicken nuggets, and coq au vin from Bar Boulud—all accompanied by ineffably cool photos from Romas Ford and Tom Schierlitz. With additional sections dedicated to desserts and cocktail hour, GQ EATS covers the essentials and then some. —Zainab Shah
Available October 8 from Mitchell Beazley; $22.
Buy GQ Eats
#
by Rick Mast and Michael Mast
Rick and Michael Mast, the bearded Iowa brothers behind Brooklyn bean-to-bar company Mast Brothers Chocolate, are probably the most famous faces in American artisan chocolate. In their first cookbook, Mast Brothers Chocolate: A Family Cookbook, they interweave personal narratives with recipes to take the reader through a journey about ethics, entrepreneurship, and of course, the cocoa bean. Minimalist photography accompanies simple, easy-to-follow recipes, from straightforward desserts including chocolate sauce and black & white cookies to more unexpected dishes, such as cocoa coq au vin and cacao nib scallops. I'll never look at chocolate the same way again. —Tesalia De Saram
Available October 22 from Little, Brown and Company; $24.
Buy Mast Brothers Chocolate: A Family Cookbook
#
by Jeff Hertzberg and Zoë François
Yes, it's easy to buy a loaf of bread off the grocery shelf. But as any dedicated cook knows, easy isn't always best—and when it comes to bread, sometimes what's best is spending an afternoon elbow-deep in yielding, yeasty dough. The New Artisan Bread in Five Minutes A Day, a revised and updated version of the acclaimed 2007 original book, is a veritable treasure trove of information for those seeking the satisfaction of a home-baked loaf without too much trouble, operating on the basic principle of saving time and energy by mixing and storing large batches of dough, then tearing off a piece to bake as needed. The 2013 edition is filled with new recipes such as broa, a dense, crusty loaf of Portuguese corn bread ideal for sopping up soups and stews, and oatmeal pumpkin bread enriched with pumpkin purée, honey, and aromatic rye. Also included is an entire section dedicated to gluten-free breads, step-by-step instructional photographs, and recipes for accompaniments to fresh-baked loafs and boules such as soups, dips, and speads. It's a must-have for anyone looking to bake bread for the first time, introduce new recipes to their repertoire, or simply to put their fresh-baked bread to good use. —Zoe Schaeffer