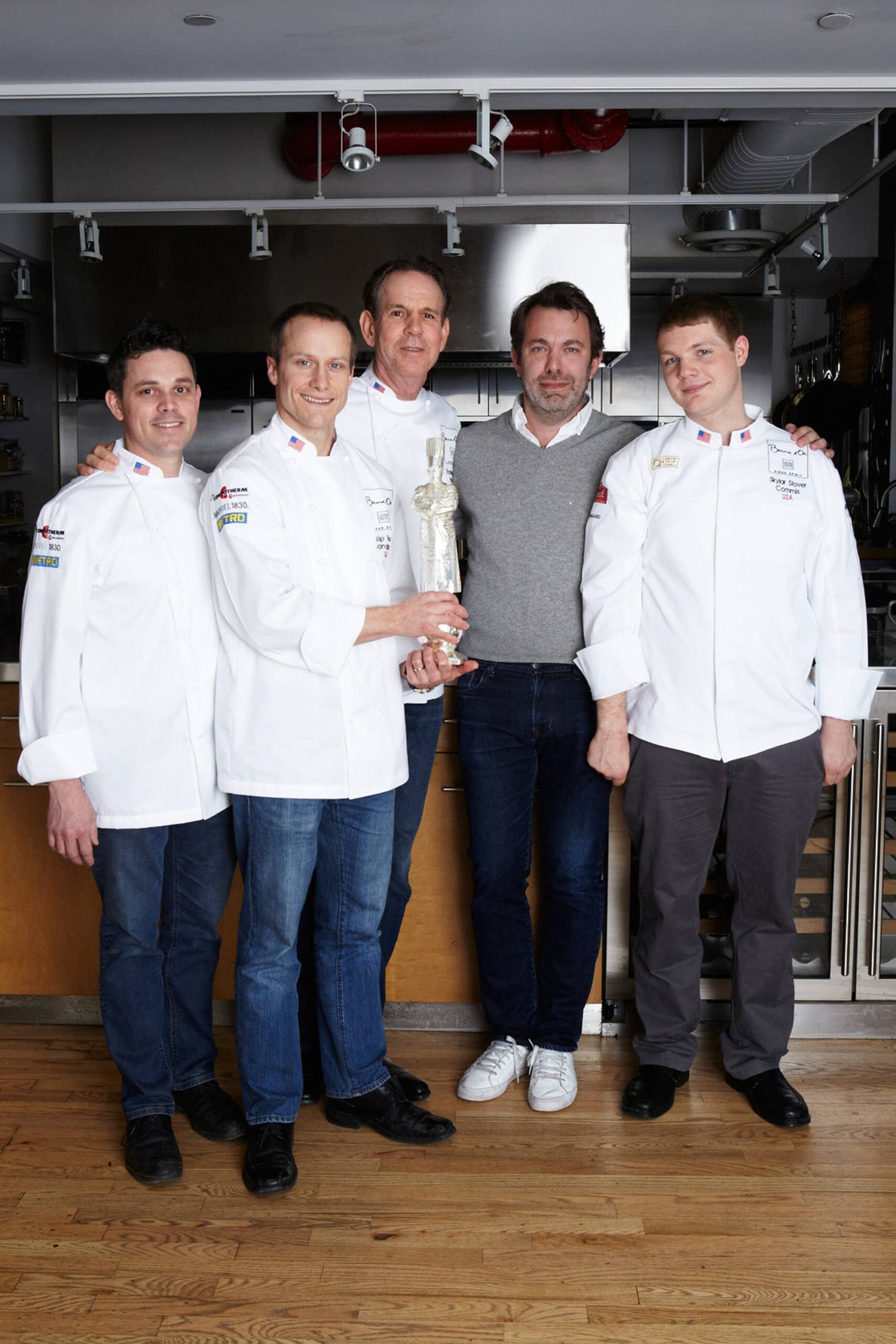 Culture
Saveur Asks: Team USA
The Bocuse d'Or winners talk how they travel, why they cook, and what they're eating at 1 AM.
2015 was the first year that the United States received a medal at the Bocuse d'Or, the "Olympics of Food" that takes place in France every two years. Team USA brought home silver thanks to a meticulously executed lineup of dishes that resembled beautiful, edible dioramas: A deconstructed and reconstructed game hen; a garden of peas; an edible beehive.
Our team was, arguably, stacked this year: The French Laundry's Philip Tessier and Skylar Stover, mentored by Gavin Kaysen, Daniel Boulud, and Thomas Keller.
Chefs Keller, Kaysen, Tessier, and Stover stopped by the SAVEUR test kitchen last week to show off their very heavy, well-deserved trophy, and talk to us about how they pulled off such an involved operation. We're sharing some highlights from the dishes they cooked on Instagram—and convinced Tessier and Kaysen to participate in our newly-minted SAVEUR Asks. It's the next best thing to their faces on a box of Wheaties.
What's the best cooking advice you've ever gotten?
Phil Tessier: If it doesn't taste good, don't do it.
Gavin Kaysen: Don't work or cook for money; that will come. Cook to learn, build a foundation, and success will come.
What's the last thing you ate?
PT: Beef stew with kale and sweet potatoes. Nothing like a home-cooked meal.
GK: Baked eggs for breakfast this morning.
Why do you cook?
PT: I can't see myself doing anything else. I love the pace, the energy, and the food…it's everything I love in one place.
GK: Because I love it. It is my passion and part of my everything in life—I love to take care of people and make them happy, and I can do that with food.
How are you most likely to spend your first day in a new city?
PT: I usually map out the best path between the places I want to eat and the sights along the way. Too many bad places to eat not to have a plan.
GK: Walking around and talking with locals
What's the food we're most likely to catch you eating in your kitchen at 1 AM?
GK: As of late, nachos.
PT: Granola, yogurt, and honey. It's natural, and good source of protein.