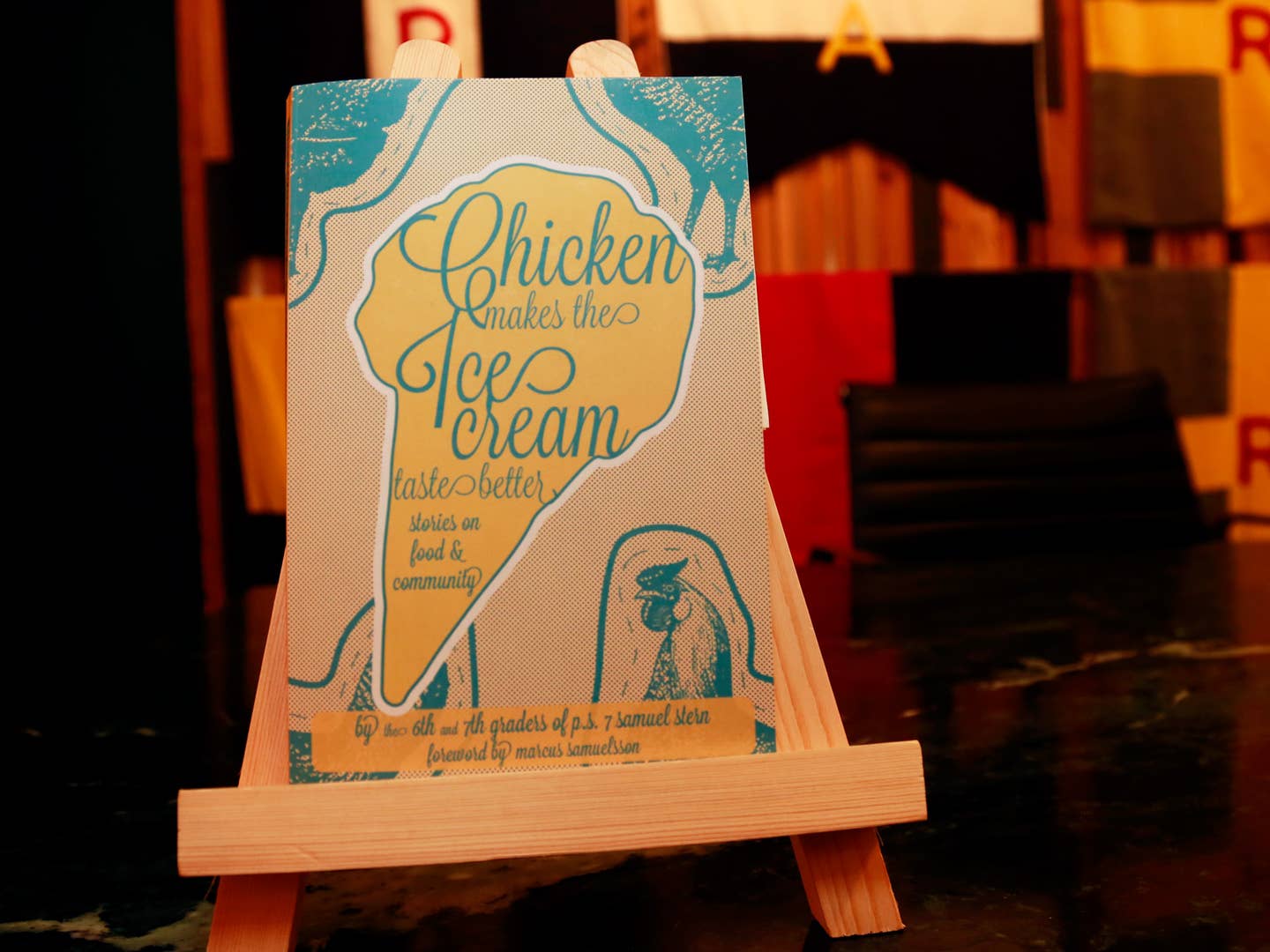 Culture
Stories on Food, from New York Students
A new book celebrates food stories of all kinds, written by students at East Harlem's P.S. 7 Samuel Stern.
Hardcore punk drummer and Del Posto pastry chef Brooks Headley, clad in his signature black watch cap, stood inside a Warby Parker shop in New York's meatpacking district on a rainy night last week, book in hand.
"The theme for my birthday was supposed to be mermaids, but I got king and queen decorations instead," he said. He pulled his cap down a little over his ears. "My party started and it was so fun. We danced, played, and cried for no reason."
Headley, as quickly became obvious to those who'd wandered in a little late, was reading not his own words, but those of Na'Shika Smith, a 12-year-old student at P.S. 7 Samuel Stern in East Harlem. "The Good Cake," Smith's story about a birthday cake gone wrong (a salt-sugar situation) is included in Chicken Makes the Ice Cream Taste Better: Stories on Food and Community. New York City chefs were reading selections aloud that evening for a crowd of food, non-profit, and spectacles enthusiasts.
The book is the result of a collaboration between three entities: the sixth and seventh graders at P.S. 7, a school where about a quarter of the student population lives in temporary housing or is homeless; Edible Schoolyard NYC, a nonprofit that seeks to combat childhood obesity by teaching students about gardening and cooking; and 826NYC, which teaches students expository and creative writing.
All month long, we'll be publishing excerpts from the book—starting today with "I Screamed," by 12-year-old Tommy Garcia.
I Screamed
by Tommy Garcia, age 12
The door closed as my dad left with my brother to the doctor. I looked up from my toys and saw the captain in the theme song of "SpongeBob Squarepants" and thought, I hope my brother's headache gets better. But I went back to reality when the captain from the theme song said, "Are you ready kids?"
I yelled back, "Aye aye, Captain!"
The captain said, "I can't hear you!"
I yelled like I was being stabbed, "Aye aye CAPTAIN!" I felt my brain say, Ice Cream. I smiled. Ice cream tasted like biting a creamy vanilla snowman's toe. I frowned because I didn't think we had any. I felt my brain die. I searched the fridge hoping to see the ice cream cookies and ice cream carton. I gave up and thought, wait, why don't I make the ice cream?
I opened the fridge and saw everything green, like a jungle of lettuce. I searched the fridge. Finally I got the milk, hidden behind the ketchup bottle. I went to the sink next to a cabinet full of plates, bowls, cups, and spoons. I thought, I need Oreos. I went to my room and sat in my racecar bed and picked up my Halloween basket. I searched through a truckload of candy. I selected a bag full of Oreos and filled it with candy. I went back to the kitchn and started to make the ice cream in a bowl. First I poured milk in the bowl, then I put Oreos and candy in it. I thought, it needs more water, right? I poured water then soda. I said, "Master chef Tommy's new dish: the cool ice cream." I also poured a cup of yogurt. I smiled, "it's gonna be so good and no one can have it." I put everything I could think of in the bowl then I put it in the freezer. I said, "the chicken will make the ice cream taste better."
I waited by playing with my toy soldiers.
"Commander Tommy, arm yourself," said a soldier with his arms missing.
"Okay, General," I replied, then said, "FIRE!!"
"Pew, pew!" I said loudly.
When I felt my ice cream was ready I dashed and got it. My stomach was a man lost in the desert with no food or water. I could still hear the SpongeBob marathon but my hungry stomach, thirsty for the ice cream, rumbled. The ice cream smelled like old socks mixed with a trash bag bonded together by tape and full of sweat. But I ignored that. I grabbed a spoon and took a bite and felt my stomach die. I devoured it.
When my parents came home with my brother they said, "You know the milk is expired, that candy is three years old, and everything else is undercooked?"
I paused and said, "I got to go to the bathroom."