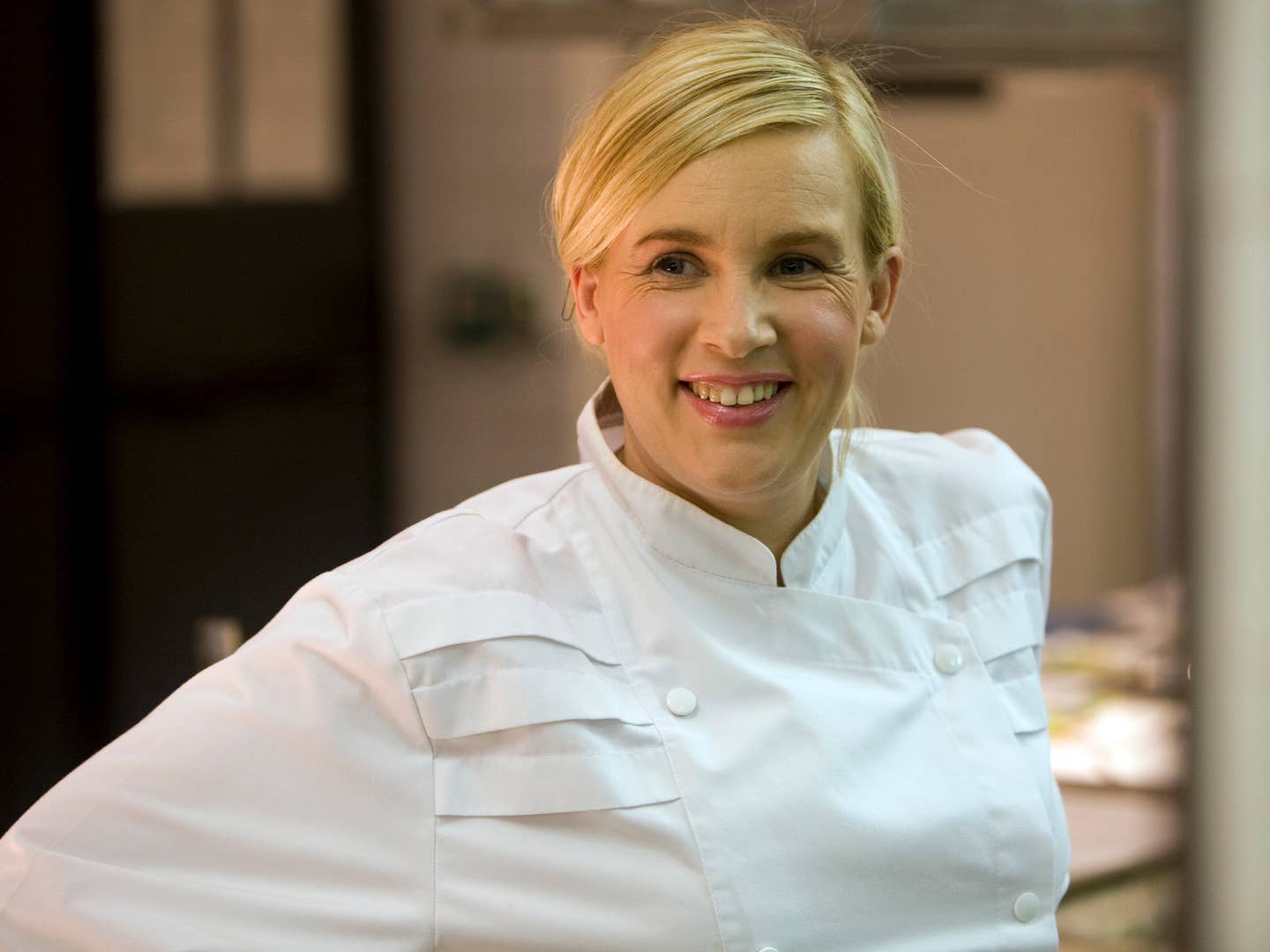 Culture
Tea with Helene Darroze
With a serious pedigree and two Michelin stars, this French chef still keeps her calm.
The first thing Colette Tatou, the lone woman chef at Gusteau's—the fictional high-end Parisian restaurant in Pixar's Ratatouille—barks at her bumbling charge, Linguini, as he fumfers his respects on his first day in the kitchen: "How many women do you see in this kitchen? Only me. Why do you think that is?! Because haute cuisine is an antiquated hierarchy built upon rules written by stupid old men, who've designed it to make it impossible for women to enter this world. But still I'm here! How did this happen? Because I am the toughest cook in this kitchen!"
The cartoon character's real life inspiration, Hélène Darroze, walked into Lafayette Grand Café and Bakery one afternoon last week wearing an oversized brown sweater and a large, open smile that revealed a small gap between her two front teeth. She'd just cooked a four-course meal for guests at the Chefs Club kitchen nearby in SoHo, and had not yet eaten a bite of lunch herself, but somehow projected the kind of Zen calm New Yorkers seek after a deluxe package at the nearby Great Jones day spa.
After ordering a mint tea, she shrugged off any notion that her path to running two Michelin-starred restaurants—one in London at the Connaught Hotel, and an eponymous one in Paris—had required any of Colette's knife-wielding tactics.
"I never had a problem," she said. "The guys were always very kind. Of course, I worked hard. But I always recognized that I was a woman, and when I needed help, I asked for help." She paused, taking a sip of tea. "Perhaps I am just optimistic."
Darroze, 48, grew up in southwest France in Villeneuve-de-Marsan, where the family's Michelin-starred inn was run by her father—and before him, her grandfather. She headed off to school to study business, and after graduation, arrived at Alain Ducasse's restaurant, Louis XV in the Hotel de Paris in Monte Carlo, seeking a managing job. In a fateful switch, there was no room in the office, but there was a spot in the kitchen. Three years later, Ducasse encouraged her to step up to the challenge of running her own restaurant, and she returned home to Villeneuve-de-Marsan. As she writes on her website, "my father very generously gave me the keys to the kitchen." Her brother, the natural heir apparent, had branched off to start a now legendary Armagnac business.
Darroze's highly refined taste was on full display in a few of the signature dishes she'd chosen to cook at that lunch in SoHo—oyster tartar and caviar gelée with a white bean velouté, roasted squab with foie gras, blood oranges, and beet roots—but looking around Lafayette, as the late afternoon sunlight poured in and a few patrons enjoyed a coffee break at the bar, she mused on opening up a different kind of restaurant in New York, should the opportunity present itself.
"There's a real excitement around bistro food now," she said. "It started in Paris ten, fifteen years ago. People want authenticity, well-cooked, generous food, and now it's made its way here. So I'd do, you know this word, bistronomy?"
She's now the proud single mother of two adopted daughters, Charlotte and Quitterie, and the three Darroze women split their time between Paris and London, where the girls are enrolled in school. ("We know the Eurostar very well," Darroze said, referring to the train that shuttles between the two cities.)
As to whether they will become the next generation of Darrozes to helm a kitchen, "they will do whatever they want," their mother said. "It was difficult to go after my father and grandfather, so for them? There will be pressure, for sure."
At this point, at least, the little ones don't seem to have a problem wielding their culinary opinions, even on public television. Darroze brought them, along with her nephew, to help judge one episode on this season of Europe's Top Chef. One round involved two charlotte cakes, one banana-chocolate, and one rhubarb.
"The rhubarb, ah, it was perfect," remembered Darroze, with a sigh. "The other was too sweet. But the children, you know, they like sweets. It was three against one."
The banana-chocolate won out, no knife-wielding required. And just like that, a fifth generation arrived.