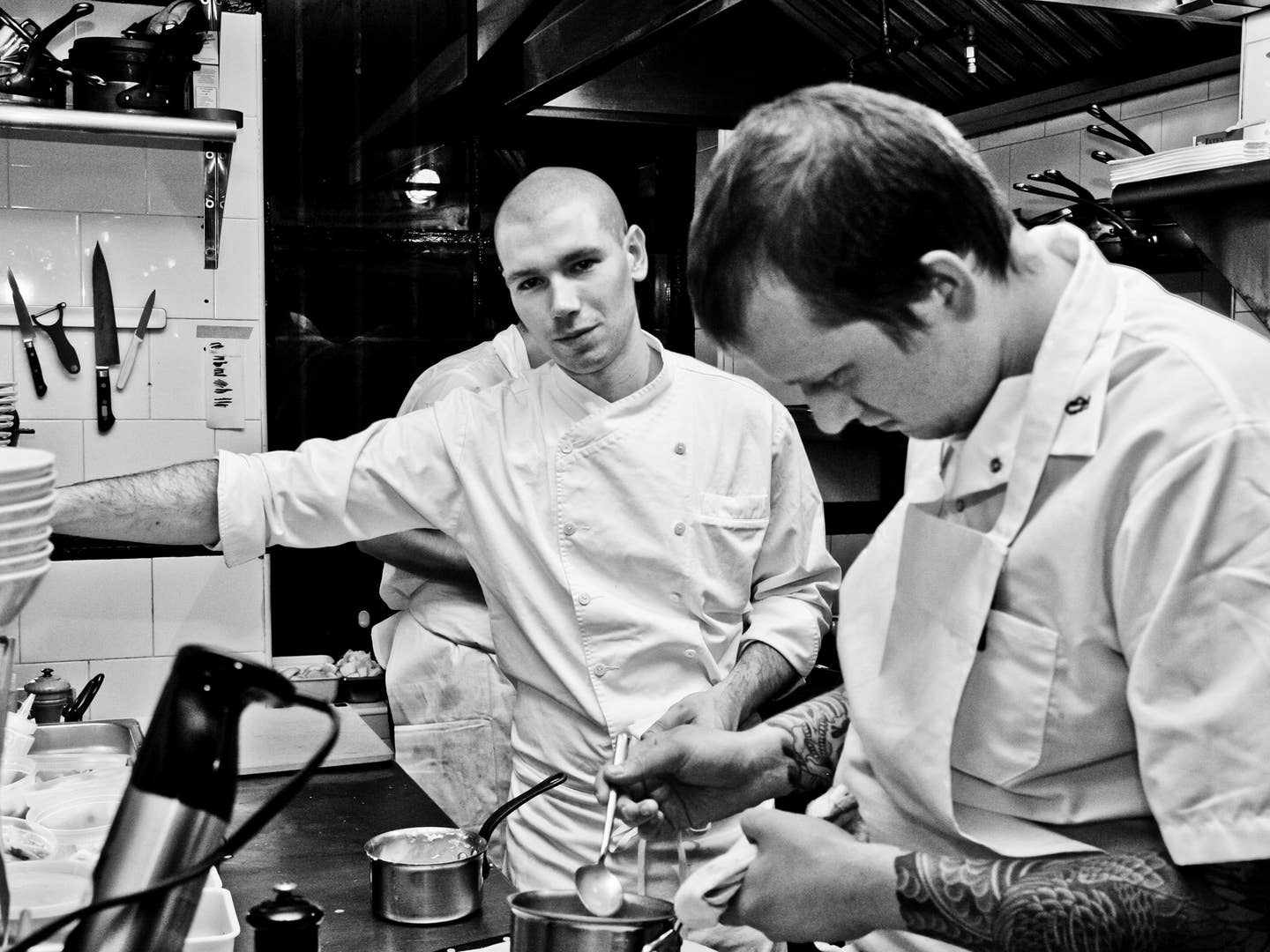 Culture
The Tenth Degree: Joe Ogrodnek
The chef of some of Brooklyn's favorite neighborhood restaurants is the sort of honest man who enjoys ham sandwiches, cooking for his family, and celery.
In 2012, before kale became the punch line of dark leafy greens, Joe Ogrodnek made history with a new type of kale salad—a mix of raw greens and flash-fried leaves tossed in an Asian-inflected vinaigrette—that took New York City by storm, scooping up awards and putting him on the national map. But Ogrodnek and Walker Stern, his partner at Brooklyn's Battersby and Dover, were already veterans of the industry, having cooked at Alain Ducasse and Gramercy Tavern, among other high-profile establishments. Food cognoscenti are hailing the two as the next generation of top chefs, but before he gets too big to answer our ten questions, we hunted Ogrodnek down and gave him the tenth degree.
What is your favorite sandwich?
Smoked ham and comté cheese on a toasted baguette with Dijon and spicy pickles. What really makes this sandwich stand out is a generous amount of softened butter instead of mayonnaise.
Your house is on fire and you can only save one thing. What is it and why?
I have a huge collection of restaurant menus from every restaurant I've worked at since I started cooking in 1998, and some from restaurants I trailed at over the years. Whenever I read through them, the plated dishes come back to memory, their images, how they tasted, how they smelled.
What book(s) is on your bedside table right now?
The Whites, a detective novel by Richard Price; Astrance: a Cook's Book; Lonely Planet's guide to Japan. I'll be traveling there early spring for a short vacation, and I'm very excited!
You're having a dinner party and can invite three people, dead or alive, and serve them one thing. Who are they, what do you serve, and why?
I would invite my immediate family. Sounds boring, maybe, but I have so many memories of great meals with my brother and sister, and I really can't think of anyone else I would rather eat with. For me, that's what cooking is all about: sharing it with the people you love and care about the most. My mother cooked dinner for us every day, and it was the center of our lives. I miss that so much.
What is your greatest fear?
Dying. Not the act of dying, but just the thought of not waking up anymore.
What is the most overrated ingredient? Underrated?
Overrated: Nasturtium. This became a fad for a while and was on everyone's menu, but it's so unappealing. Underrated: Celery. It has such pronounced flavor and great texture. We use it in so many ways at the restaurant: raw, cooked, even juiced.
You can have any superpower. What is it and why?
The power to read minds. I always want to know what people are thinking.
What's the first thing you learned to cook?
Grilled cheese. My mother showed me how when I was very young. I still remember standing on a stool by the stove thinking about the little things, like making sure the flame was low enough so the bread browned and the cheese melted perfectly.
What is the best advice you've ever gotten, and from whom?
From my father: Hard work pays off.