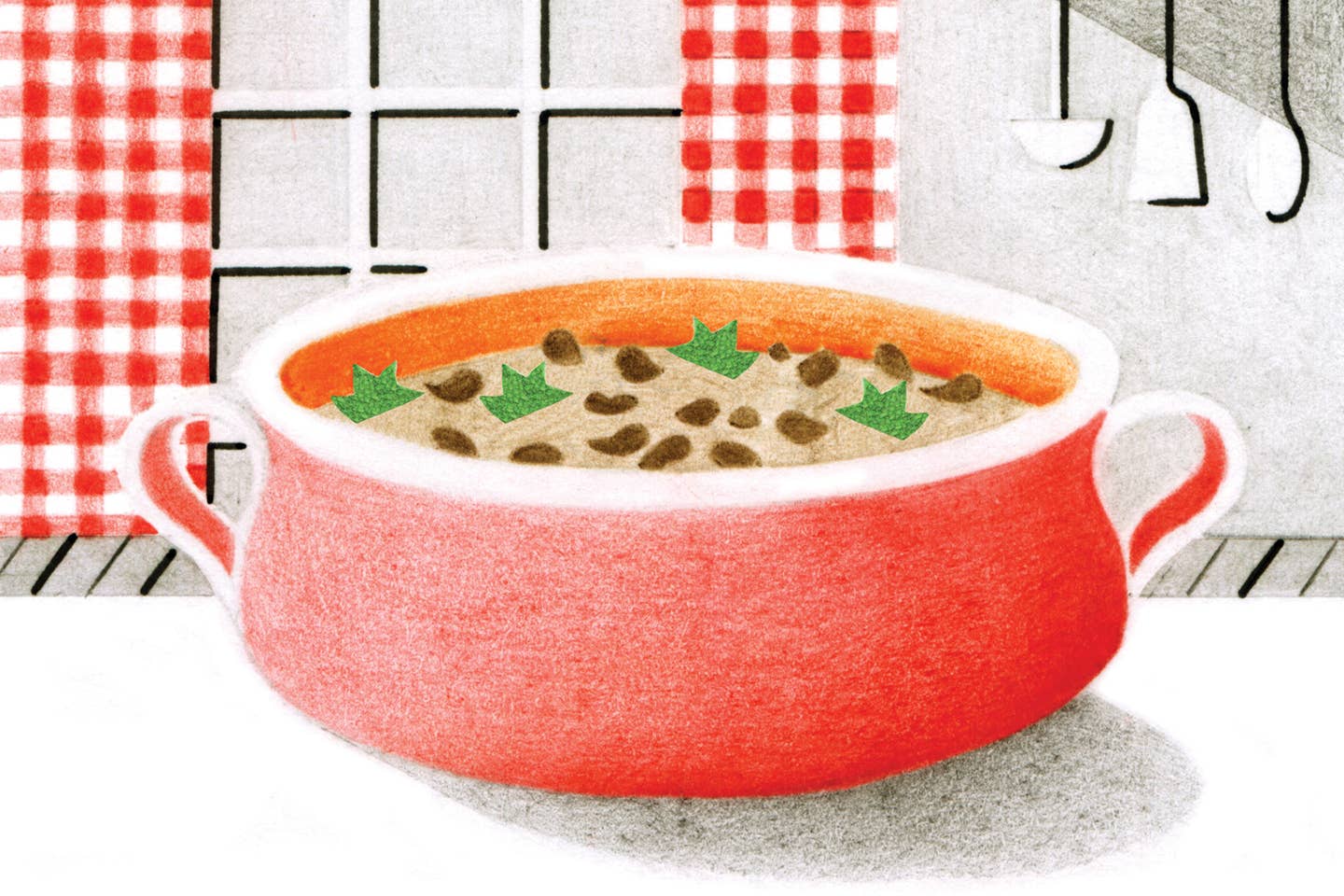 Culture
Granny Gillespie's Soup Beans
Sometimes, the simplest dishes are the ones that tell the best stories
My mother and I were talking a few years back. This was at Woodfire Grill, a white-tablecloth restaurant in Atlanta where I was the chef and co-owner. I was always excited when my parents came in to eat there because, well, they hardly ever did. And that day Mom told me the reason why. While she and my father were proud of my success, they worried that I'd graduated to some different, higher echelon of society—one to which they felt they didn't belong. My parents thought that if they came to my restaurant, they would embarrass me. It nearly brought me to tears when she told me that.
A little background: When I decided I wanted to cook for a living, I worried, truly, about telling my family. My folks worked hourly jobs to make ends meet, and they always thought: "Kevin will break the cycle and go to college." When I was offered a full scholarship to a prestigious university, they saw the light at the end of the tunnel. But rather than take that scholarship, I chose to be a cook. In doing so I took a path they'd tried so hard to take me off of. I have always carried that burden on my back. They did so much for me; I want to do a lot for them.
My mother's words bothered me enough that, not long after, I left Woodfire behind and opened a more casual place called Gunshow, a restaurant where she and my family wouldn't feel like they were on the outside looking in. I also started cooking some of the foods that had inspired me to become a chef in the first place, the dishes I had learned from my family, particularly my paternal grandmother, Geneva Gillespie, or Granny to me.
I grew up with my aunts, uncles, and cousins all living next door to one another in the small town of Locust Grove, Georgia—the Gillespie "compound," we called it. All of our parents worked, so Granny took on the task of cooking for the entire family, about 20 of us in all. There was one dish in particular I loved, a pinto bean soup seasoned with a serious helping of fatback. It was a simple dish, sure, one Granny had learned to make while growing up poor in the South Carolina mountains. And we ate it frequently because it fed a lot of people. But it was more than that: A rule for an agrarian community like the one my family hails from is that hard work must come with the reward of a hearty, satisfying meal. So Granny always made sure every spoonful of her soup was as delicious as could be.
There's a lot of talk these days about chefs elevating Southern cuisine. Many of them are taking the foods their grandparents made and adding their own chef-y flourishes. (Full disclosure: I am one of them.) Food-loving folks are taken by the South, too, though it's often a heavily romanticized version. I come from one of the grittiest parts of it, the part that has few things people admire. But recently I've decided we need to come to terms with those dirty, gritty parts, and appreciate their contributions.
A few months ago, I decided to celebrate those "dirty parts" by serving Granny's soup beans to a group of about 400 food writers and chefs at the Southern Foodways Alliance Symposium in Oxford, Mississippi. I don't think I've ever been so nervous. If anyone ridiculed it, it would make me angry. If they loved it, I wouldn't know how to process my emotions. To me, this wasn't just a soup. It was a means of telling a story of people like Granny, who grew up poor, people who don't really have a voice in today's Southern food revival.
I worked largely from Granny's recipe, with a few (very) modest flourishes. Her soup never would have had diced carrots and celery and onions. It would have had just one of those thrown into the pot whole. If you got a carrot, you were like, "Hey, I got a carrot." I also used chicken stock, which she never would have done. It was too expensive.
The response was incredible. People kept coming up and telling me how much they liked it. I am not someone who lacks confidence, but in some ways it felt like they were validating the culture I grew up in. Throughout my career, I've struggled to figure out which version of the South I'm trying to represent. By serving that soup, I was letting people know that my story is the story of the people and places who came before me, that my food comes from the mountains of South Carolina, a small town in Georgia, and a woman named Geneva who taught me everything I needed to know about what it means to be Southern.
Chef Kevin Gillespie is the owner of Gunshow restaurant in Atlanta.