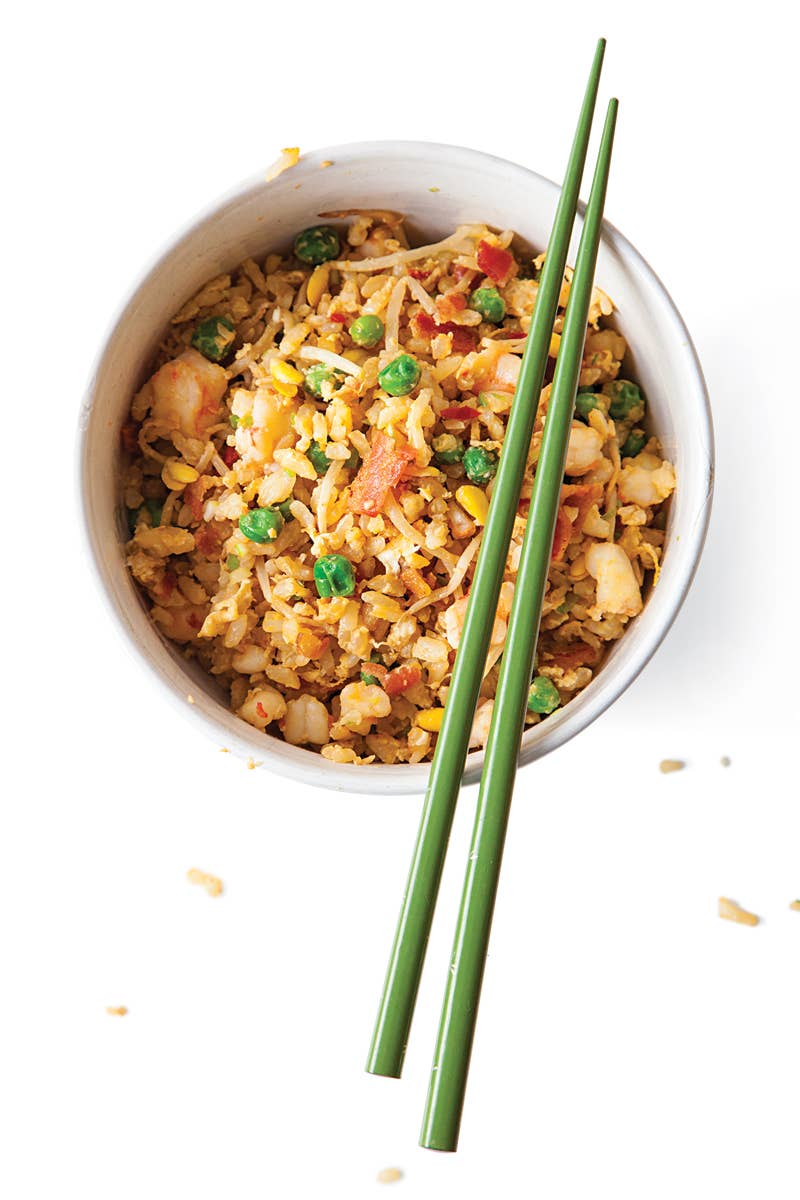 Culture
Last Call: Late-Night Bites
Eight people share their favorite midnight snacks, from musician Kathleen Hanna to chef Tadashi Ono
Chef
I like to have stir-fried rice with leftovers—roasted pork or chicken, egg, seafood, or vegetables—whatever I can find in my fridge or on my pantry shelves. I also really like chazuke late at night. It's a green tea poured over rice with grilled salted salmon, salted cod roe, pickled plums, bonito flakes, nori, natto [fermented soybeans], barbecued eel—all kinds of delicious things.
Novelist
Oven baked French fries slathered in cheddar cheese and Texas Pete, washed down with a mug of pale ale.
Essayist
Dare I admit this? Pieces of delectable Japanese chocolate (Assam chai-flavored, or mango-inflected) from the convenience store, by way of the fridge.
Author/TV Host
For the evening's final snack, I eat a piece of pickled herring out of the jar, a squeeze of braunschweiger [smoked liverwurst], or a can of sardines.
Musician
Cake batter-flavored F'real milkshakes. Sadly, it's a limited-edition flavor, so I need to stock up. They sell them in a vending machine at the Fashion Institute of Technology here in New York, and sneaking in there at midnight is hard but doable. If F'real is not available, I just down a gingerbread martini at Outback Steakhouse.
Food Writer
My favorite evening snack is homemade chocolate chip cookies, prepared from a classic Toll House recipe but with twice the vanilla, overcooked to hardness, frozen to enhance hardness, and eaten directly from the freezer.
Publisher
In the wee hours in Taiwan it's usually xiao long bao, steamed soup dumplings, which are perfect on a liquored stomach. If not that, I go to a night market where I can eat the truly delicious (grilled wild boar), the bizarre (stinky tofu), the interesting (cricket-and-potato skewers), and the comforting and familiar (noodle soups).
Poet/Scientist
When I was a medical student/intern, I worked the night shift in a hospital on the east side of Beijing. My favorite part of the job was the midnight meal for the hospital staff: minced meat wontons in a bowl of boiling-hot egg drop soup seasoned with a pinch of dried baby shrimp, fresh scallions, white pepper, and a drop of sesame oil. It helped the overworked, underfed interns to focus and stay alert for the rest of the night. And it was free.