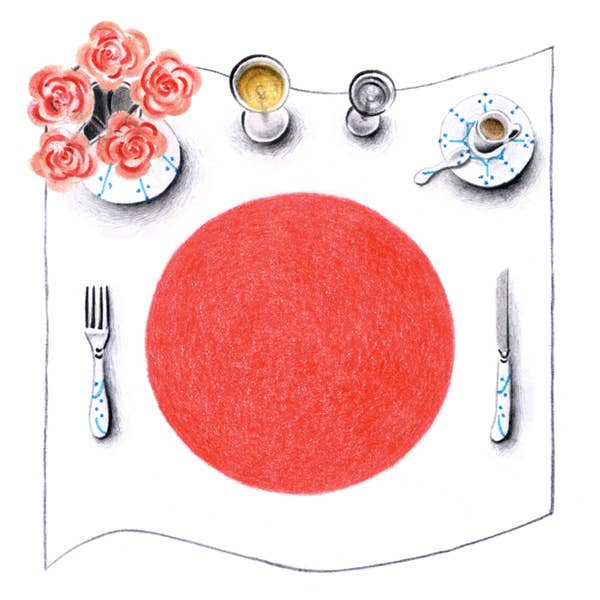 Travel
Why We're in Japan
An acclaimed Copenhagen restaurant—and its entire staff—has moved to Tokyo. The chef explains
We were somewhere in the woods of the Nagano Prefecture, following a mushroom prophet and totally enveloped in fog, when it finally hit me: We're really doing this. We are going to open a restaurant in Japan.
It was the middle of October. We'd gone through nearly two years of planning for this adventure. But there was something about this moment, about digging into the dirt and not having any idea where the hell I was, that made it all suddenly, abundantly clear.
I'd dreamt of something like this for years, since I was a young cook without the money to travel, much less a restaurant of my own. As my career progressed and I managed to get my first taste of those mythical islands, the desire only deepened. I wanted to get as close as possible to the country's mind-boggling culinary variety and the devotion to craft that fellow chefs from the West speak of in hushed and reverential tones. I wanted to go beyond being an occasional visitor and witness. I had to be a part of it and learn as much as possible.
I sat for my first kaiseki meals, multicourse dinners steeped in history and more balanced than the long tasting menus some of us chefs are used to eating and cooking. Dishware and the design of the restaurant are adjusted to reflect the season. Time of year dictates everything. This ritual taught me so much about meticulousness, lightness, and what seasonality really means.
Now think of what we can take from the ingenuity of the Japanese. Think of the humble kernel of rye, the staple food in my part of the world. Generations of Scandinavians have survived on this grain, morphed into the form of breads and porridges. It more or less stops there. You move to the East, and look at what a grain of rice has become here. How much incredible invention has come from this simple ingredient?
To be truly inspired, I knew we had to be more than culinary tourists. Instead of just traveling and eating with my cooks, the plan evolved into a complete (though temporary) relocation of our restaurant. We were shutting down and going across the ocean for three months. Our little scheme had us taking every single member of our staff along for the ride, but we were going to leave our pantry at home. We resolved to apply our sensibilities to an unfamiliar landscape of flavors. Time to test ourselves, to start again from scratch.
Which of course begs the question, why? After eleven years in operation in Denmark, we're fortunate to be able to say that people want to eat at our restaurant. Getting there was nothing short of an ordeal. We try every day to keep ourselves challenged, to work harder than ever before, and face failure after failure in order to constantly discover and better understand what we do. This trip, I think, is a way to shatter any groove that we may have established and truly humble ourselves.
It's a chance for my staff to meet a chef I know who sleeps in his restaurant several times a week so he can properly marinate a mackerel dish throughout the night. To deeply experience a culinary culture that makes our own look like an infant. To greet friends old and new in a setting somewhat surreal to us. To be together as a team and attempt something I don't think many in this trade have ever done. It's a chance to truly live the idea of omotenashi; the closest translation for this is "hospitality," but it goes so far beyond what we are used to. It's a type of altruistic service-style, a spirit of generosity that is a foundation of Japanese culture. It's something you encounter everywhere here, whether in a service environment or a meeting of strangers on the street. And it's one of the things I hope we'll learn to practice at the restaurant in Tokyo and bring home to Copenhagen.
Much has been written about the range and beauty and complexity of Japanese cuisine. But there's still so much for all of us, cooks and eaters, to learn from its examples. That's why we're in Japan now. That, and because being here throws us off balance. Who knows what will happen. Getting out of your comfort zone is an important part of being a cook. Give it a try sometime. Not knowing what will happen next has always led us to good things. And it's that uncertainty and adventure that we're craving right now.
René Redzepi is the chef and co-owner of Noma in Copenhagen.