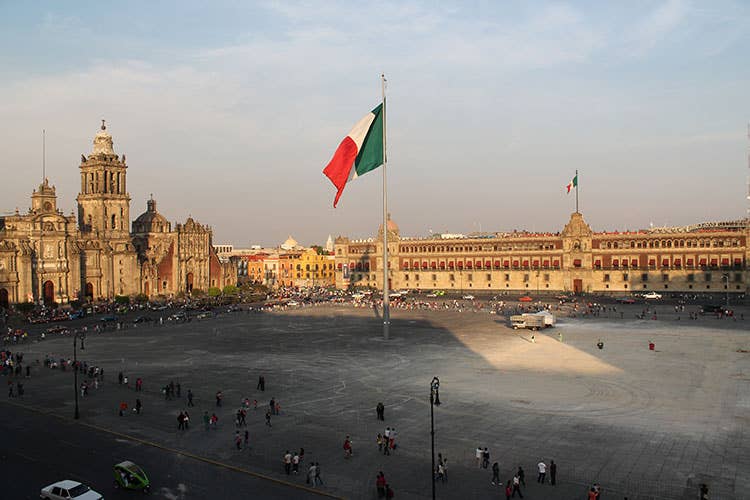 Travel
The Guide: Centro Histórico, Mexico City, Mexico
From hip mezcalerías to inexpensive cantinas, bakeries and taco stands to Mexican diners, there is no shortage of ways to satisfy your hunger in Centro Histórico
Mexico City is the third largest metropolis in the world, so it's hardly surprising that there are many diverse neighborhoods to explore, but where to begin? For me, there is no better place to start than the grand cobblestone avenues, historical sights, delicious food options, and abundant watering holes of Centro Histórico.
Regina Street Beer Bars
Calle Regina on either side of 20 de Noviembre, Centro Histórico._20 De Noviembre divides Calle Regina into the newer, pedestrian-only street to the west and the vehicular road to the east, which is also taken over by café tables at nightfall. Both sides of the hip, art-filled street appeal to the thirsty: To the east, young Mexican revelers lounge on simple plastic chairs amidst competing chalkboard signs, offering cervezas for two pesos, and smoky taco stands crank out late night snacks; to the west, a hip crowd sitting in front of swanky El Hosteria La Bota (Regina 48, no phone) sipping cocktails and micheladas. Just down the street at No. 27, you will find Al Andar (Regina 27, 52/55/5709-1468) on the ground floor of a converted tenement house that wouldn't look out of place in Brooklyn. This mezcalería serves up cocktails and specialty mezcals along with unusual chasers, like orange slices dusted in ground grasshoppers.
Salón Corona
Bolívar No. 24, Centro Histórico (52/55/5512-5725)._Don't be dissuaded by the name of this no-frills cantina—open since 1928, the historic neighborhood favorite offers many Mexican draft beers in addition to their namesake. You can also snack on tortas and tacos while taking in a match on one of the TVs or watching the crowds go by on Bolívar street.
Puro Corazón
For breakfast overlooking the Zócalo, head to the sixth floor of Monte de Piedad no. 11, and take a seat on the balcony of Pure Heart. Sip good cappuccinos and americanos while waiting for a heaping plate of verde or roja chilaquiles or an omelette cooked to perfection with huitlacoche and smothered in a creamy green sauce. The portions are more than adequate to fuel you up for the day.
Monte de Piedad No. 11, 6th Fl.
971/6/554-0444
El Hosteria La Bota
Though they offer more traditional treats, like ceviche and guacamole, an entire page of the menu is devoted to their artisanal pizzas, which have local inflections, like queso, chile, and jamón, in addition to classics like margherita.
Terraza Restaurante - Bar
Overlooking the sparkle of Mexico City, and the Zócalo below, the restaurant at the Gran Hotel Ciudad de Mexico may have the best view in town. The tampiqueña steak is the best dish on their menu, served with guacamole and refried black beans. I requested a side of tortillas with mine, along with a glass of rioja from their formidable wine list.
Av. 16 de Septiembre #82 Col., Centro, 06000 Mexico City
(+52/55/1083-7700)
Cafe El Popular
With its 24-hour-a-day bustle, booth-lined walls and scant décor, Cafe El Popular looks, at first glance, like a standard New York diner. But don't look for pancakes and waffles here: The food is greasy, soulful, comforting, and 100% Mexican with menu items like refried beans mashed with chorizo, red and green chilaquiles, and enchiladas. The slightly brisk, apron-clad waitresses only add to the charm.
Av. 5 de Mayo 50 and 52 (two locations)
Centro, Mexico City
(971/6/554-0444)
Pasteleria Ideal
Two locations: Av. 16 de Septiembre 18 (+52/55/5130-2970) and República de Uruguay 74. Pile your tray high with chocolate stuffed pan, the ubiquitous concha (sweet crusted round bread), and a plethora of other treats at this historic bakery dating back to 1927. The whole of your gluttonous selection should only set you back a handful of pesos.
Jugos Canadá
Offering giant tortas, fruit salads, licuados, and fresh juices, pick from the bright bounty of fresh fruit from their display to make your own combinations.
Av 5 de Mayo 47 (5/518-3717)
Taquería Los Paisas
The line of people gathered around this simple taco stand near the Zócalo will make sense after just one bite of the generously filled steak, chorizo, or al pastor tacos. Incredibly inexpensive, the tacos also gain you access to a lavish spread of garnishes from pico de gallo to cactus paddle and habañero-flecked onions.
Jesús María 131131 (5/542-8139)
Gran Hotel Ciudad de México
While there are many accommodation options in Centro, for location, history, service, and experience, The Gran Hotel Ciudad de Mexico cannot be beat. Built on the southwestern corner of the Zócalo, the building was home to the Centro Mercantil until 1968 when the owner decided to transform it into a hotel. The Hotel Ciudad de México maintains the grandeur of its art nouveau heritage with a Tiffany stained-glass ceiling spanning the entire length of the structure, a pair of the second oldest elevators in Mexico at either end of the opulent lobby, and rooms whose colonial charm extends from the crown molding to the tufted canopy beds.
Leaning over the small balcony in a Zócalo View suite, you can watch the Mexican Colorguard ceremoniously raise the flag each morning and lower it each night as the the sun comes up over the oldest cathedral in the Americas, or simply stare up Calle 5 de Febrero at the steady stream of cars and people. After 9:00 p.m., enjoy a drink while listening to live music at the lounge on the first floor, or shoot off a few emails before hitting the town using the hotel's reliable, complimentary wifi. Be sure and ask the gracious, knowledgeable staff about the hotel and the area, as they all seem to be both hospitality mavens and amateur historians.
Av. 16 de Septiembre #82 Col.
Centro, 06000 Mexico City
(+52/55/1083-7700)