Travel Guide: San Francisco
From fine dining to food trucks to culinary tours, here's how to get the most out of San Francisco's food scene.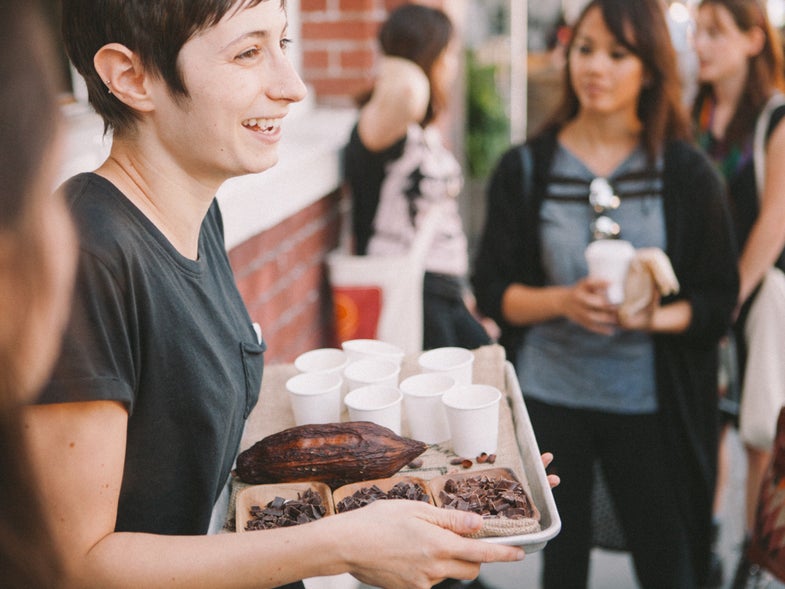 Ask a San Franciscan what her favorite season is, and chances are you won't hear pat answers like spring or fall, but rather "fava bean season" or "tomato season." This city is defined not by weather patterns but by what grows in the fog-dampened soils and swims in the ocean surrounding it. This is a town where 30-year-old men are known to herald the arrival of a pink radish; where midweek at 4:00 p.m., lines lengthen outside doors that won't swing open till 5:30; where sustainable sushi, fine-dining foraging, and farm-fresh cocktails have been defined. While the local music scene is barely a whisper, the kitchens bang out a tune, drawing groupies with a frenzy once reserved exclusively for bands. Food fanaticism has taken hold in these very hills, resulting in the birth of companies like Yelp, Foodspotting, and OpenTable.
As expected, competition is tough for that coveted 7:30 spot for housemade ramen or grass-fed burgers, and diners often jockey for seats on the OpenTable app. Luckily, as websites optimistically proclaim, "Walk-ins are welcome!" But keep in mind that while these restaurants set aside tables for this, you may find yourself standing in a queue with dozens of others also tweeting away the time until a bar stool frees up. Be flexible about timing; or, even better, book your reservations months in advance.
You can keep your dress casual when dining out. It is, as Guy Trebay once wrote, "the land that style forgot." And seriously, eat your vegetables. Or else.
Where to Eat
Coi
From a restaurant in North Beach, chef Daniel Patterson unveiled a new era of Californian cooking in 2006, awakening a dining scene that was slumbering under the spell of a Bay Area cooking style known as "fig on a platter." In Patterson's surreal world, tofu is mousselined, rhubarb becomes marshmallows, and overcooked-then-dehydrated brown rice is fried into puffed crackers. He recently added a tea pairing to the multi-course prix-fixe menu in a dining room enlivened with branches, pinecones, leaves, and tree trunks.
Coi
373 Broadway, San Francisco 94133
(415) 393-9000
Tosca Cafe
If espresso machines could talk, the 1919 model in this nearly 100-year-old cafe in North Beach would have tales. It saw customers through Prohibition with its "house cappuccino," expelling steamed milk spiked with brandy and Kahlua. The machine lives on in Tosca Cafe's new incarnation as a modern Italian restaurant, respectfully revamped by chef April Bloomfield and restaurateur Ken Friedman in 2013. The duo behind New York's Michelin-starred The Spotted Pig swapped out vinyl banquettes for leather, brightened murals, and polished brass. Think San Francisco circa the noir era, and this is it—only now with crispy pig tails, meatballs, and firm bucatini. At the meal's end, out comes the house "cappuccino" with an upgrade: Marie Duffau Bas Armagnac, Buffalo Trace bourbon, Dandelion chocolate, and organic milk.
Tosca Cafe
242 Columbus Ave, San Francisco, 94133
(415) 986-9651
Al's Place
In chef Aaron London's new corner spot on Valencia Street, quince skin is made into kraut, fries are brine-fermented, and limes are dehydrated then ground for sunchoke curry. This inventiveness isn't so surprising when you realize it comes from the former chef of Napa's Ubuntu, who earned a Michelin star for his butchered vegetables. At Al's Place, painted in blues and whites and reminiscent, London's approach is playful. Cocktails are named after characters in Reservoir Dogs, and the menu calls small bites "snackles." One of them, trout head under a brick, is so popular that it sells out nightly. Meats are relegated to side dishes; don't miss hangar steak with crab shell butter.
Al's Place
1499 Valencia St, San Francisco, CA 94110
(415) 416-6136
Marlowe
For years business partners Anna Weinberg and chef Jennifer Puccio ran this modern California tavern from a space the size of a shoebox in SoMa. Now, they've spread out in a cheerful bigger space, with penny tiles, marble-topped tables, and taxidermy on the walls. The race is on for a seat in the heated outdoor patio where practically every table orders the lemony Brussels sprouts chips and deviled eggs with pickled jalapeños.
Marlowe
500 Brannan St, San Francisco, CA 94107
(415) 777-1413
Rich Table
While dishes come and go with the seasons, there are two constants at Sarah and Evan Rich's farm-chic Hayes Valley spot: porcini doughnuts, with a side of raclette béchamel sauce; and sardine chips, accompanied by a horseradish crème fraiche. But that's the mere prelude to a menu of handmade pastas and mains that flaunt the skills of chefs who have done time at Coi and Quince.
Rich Table
199 Gough St, San Francisco, CA 94102
(415) 355-9085
Benu
Expect perfection in chef Corey Lee's sleek restaurant that earned three Michelin stars this year. The approximately 17-course tasting menu showcases Asian ingredients rarely seen in Western kitchens (sea cucumber, thousand-year-old quail eggs), and Asian preparations using Western ingredients (a foie gras xiao long bao). His signature faux shark fin soup interprets the revered Chinese dish without harming a single shark. Culinary pilgrims sit alongside those celebrating special occasions in this brick building tucked down a SoMa side street.
Benu
22 Hawthorne St, San Francisco, 94105
(415) 685-4860
The Progress
Chefs Stuart Brioza and Nicole Krasinski's follow up to the runaway success of State Bird Provisions is right next door, an airy space with concrete walls and an open plan with statement-making plants. The energy of the cocktail hour you'll find next door is swapped out for a more languid, family-style meal at The Progress. Each table in the two-level restaurant is tasked with picking six dishes from a menu of roughly two dozen, like porcini and Mt. Tam dumplings or grilled beef with mustard-miso oyster sauce. The big question: Can you get tickets to this sold-out show? While the bar does take walk-ins (you can order à la carte here), all I can say is: godspeed.
The Progress
1525 Fillmore St, San Francisco, CA 94115
(415) 673-1294
Central Kitchen
In what was once a sausage factory, a miniplex of Mission-style cool has assembled: The always-packed cocktail bar, Trick Dog, along with chef Thomas McNaughton's Salumeria and Central Kitchen commune in their respective niches. During daylight hours, Salumeria assembles hearty sandwiches and sells specialty grocery items. At dusk, Central Kitchen emerges from within the glass-enclosed courtyard, tea lights twinkling, a handsome bunch of people digging into ultra-refined dishes that are a romantic sonnet to California ingredients.
Central Kitchen
3000 20th St, San Francisco, CA 94110
(415) 826-7004
SPQR
Chef Matthew Accarrino is a pasta savant who has most of San Francisco wrapped around his Italian-American finger, eager for his smoked fettuccine, saffron rigatoni, pork-filled millefoglie, and other seasonal pastas. Sommelier-owner Shelley Lindgren always comes along with a lesser known Italian grape pairing that knocks your socks off. This small, sophisticated spot in Lower Pac Heights attracts an older, better-dressed crowd than the usual San Francisco haunts.
SPQR
1911 Fillmore St, San Francisco 94115
(415) 771-7779
Lazy Bear
Chef-owner David Barzelay's prix fixe menu is to pesky whipper-snappers what The French Laundry is to boomers. His following may have something to do with Lazy Bear's roots as a pop-up, Barzelay's charisma, or his nontraditional path to success—he was a lawyer with no formal culinary training. Regardless, this is a meal of delight for everyone: brown-butter brioche with cultured butter, sweet pea custard, squid yakitori, all enjoyed with strangers. After cocktails and small bites are served in an mezzanine lounge that resembles a midcentury lodge, everyone sits down together at two long tables facing the kitchen.
Lazy Bear
3416 19th St, San Francisco, 94110
(415) 874-9921
Trou Normand
From his breathtakingly gorgeous space in SoMa, owner and legendary barman Thad Vogler is reviving trou normand, the tradition of sipping on apple brandy between courses to cleanse the palate. Although Vogler is known for his meticulous sourcing of small-batch booze, he's also now an arbiter of good design (his other restaurant is the sexy Bar Agricole). Trou Normand, in the 1925 Pacific Telephone building, features a larger-than-life painting by Ebecho Muslimova, and a back room enclosed in glass, like a Victorian greenhouse. Chef Salvatore Cracco is a genius with charcuterie and salumi, using Mangalitsa pigs.
Trou Normand
140 New Montgomery St, San Francisco, CA 94105
(415) 975-0876
4505 Burgers & BBQ
If butcher Ryan Farr is barbecuing on a wood-fired pit and smoker, be there or be square. Farr is the sausage maker and chicharrones man behind butcher shop 4505 Meats. This shack next to a parking lot (turned into communal seating picnic benches) kills it. Farr follows no one school of barbecue, only his own, slow-roasting brisket with a smoky charred crust, and grilling the best damn (grass-fed) cheeseburger, as the menu claims. The most popular side, Frankaroni—deep-fried mac and cheese studded with housemade uncured hot dogs—may be evidence that Farr has got a bit of the devil in him.
4505 Burgers & BBQ
705 Divisadero St, San Francisco, CA 94117
(415) 231-6993
State Bird Provisions
Chefs Stuart Brioza and Nicole Krasinski are rock stars of San Francisco. Every gig they play, they sell out. SBP is their first album: carts of Californian-Japanese hors d'oeuvres rolling around, dim sum-style. Tables have been so coveted that the reservation system was famously hacked. Four years later, and this is still the hottest cocktail party in town, where savory sourdough sauerkraut pancakes, guanciale chawanmushi, and green garlic steak tartare are shared among friends.
State Bird Provisions
1529 Fillmore St, San Francisco 94115
(415) 795-1272
Delfina
Craig and Annie Stoll are the venerable godparents of the Mission District's food scene, credited with putting the neighborhood on the culinary map when they threw open their doors in the wild frontier years of 1998. They were one of the first to bring regional Italian to the city, and after all these years, they still do it best. As boring as spaghetti with plum tomatoes may sound, you can't miss this classic Delfina dish. From it, the Stolls launched a pizzeria (next door), more pizzerias around the Bay Area, and Locanda. The small space is nearly always packed with neighborhood regulars.
Delfina
3621 18th St, San Francisco, 94110
(415) 552-4055
Bar Tartine
Many chefs today try their hand at pantry items: mustard, ketchup, pickles, compound butter. But chefs Nick Balla and Cortney Burns are DIY gone wild. Bar Tartine's larder bursts with their output, stored in mason jars lining shelves. Housemade spices, aged and fresh cheeses, cured fish, vinegars and oils, and other fermented goodies are brought to wooden tables with hearty slabs of buckwheat and porridge bread from Tartine. The weekend brunches are a rustic Scandinavian adventure in smørrebrød, lentil croquettes, smoked potatoes, and good-morning cocktails like carrot-orange-blossom-infused rice spirit with vermouth and mead.
Bar Tartine
561 Valencia St, San Francisco, 94103
(415) 487-1600
Where to drink
Maven
When Bartender Kate Bolton makes a drink, chances are you won't duplicate it at home, as it usually has one inventive ingredient that's too labor intensive. The Hometown Vixen, for example, uses a housemade pistachio and black pepper bourbon that involves roasting pistachios, shelling them, and steeping them for weeks in Four Roses. Maven also pairs cocktails dead-on with food. The Corpse Reviver #598's coriander gives a citrus lift to spicy mussels, and both use absinthe. The soaring space is a neighborhood spot for the lower Haight, with weekend crowds slightly changing the spirit of the place.
Maven
598 Haight St, San Francisco, 94117
(415) 829 7982
Trick Dog
While this Mission spot may, at first glance, look like others—retro lighting, bar stools, crowds—it is certainly not. Trick Dog is the work of the Bon Vivants, a group of bartenders who create some incredible cocktail experiences (15 Romolo, Kin Khao, Comal). At their own place, they change the themed menu every six months; the first played off the Pantone color wheel. Currently, their muse is the old-school Chinese restaurant. Remarkably, no matter the noise level and crowds, the bartenders are always attentive and hospitable.
Trick Dog
3010 20th St, San Francisco, CA 94110
(415) 471-2999
Alta
The 20-foot backlit wall of name brands shines like a beacon from the moment you enter chef Daniel Patterson's midmarket casual spot, whose focal point is the enormous Y-shaped bar. Techniques like aging and low-temperature infusion turn fresh fruits, herbs, and produce into bitters, tinctures, and liqueurs for Jason Beaudrow's creations, like the Curious George: smoked egg whites with whiskey, dill, and lemon. Because it's across from Twitter and Uber Headquarters, it skews SWM.
Alta CA
1420 Market St, San Francisco 94102
(415) 590-2585
City Beer
Despite the city's close proximity to several famous wine countries, the appetite for beer is strong. Beer geeks have been journeying to this tucked away SoMa spot since 2006, well before craft beer hit its stride. Half of the below-street-level space is dedicated to retail, and they pack in hundreds of growlers. The other half is a dimly lit beer bar that pulls 15 rotating stouts, IPAs, saisons, you name it, from the taps.
City Beer
1168 Folsom St #101, San Francisco 94103
(415) 503-1033
RxBar
During Prohibition, the only legal way to buy alcohol was with a doctor's note (remind you of another drug battle of late?). From that story, restaurateur and chef Dennis Leary has launched Rx in a back pocket of the Tenderloin. Drinks are broken into categories: stimulants, mood stabilizers, painkillers, and stress relievers. Ah, the relief of an amaro-based drink for ten bucks.
RxBar
701 Geary St, San Francisco, CA 94109
(415) 952-0481
Where to Stay
Phoenix Hotel
From the moment '60s singer Brenda Lee checked in, this motor court hotel has been a waypoint for all the cool kids playing gigs in town. R.E.M, Kurt Cobain, Red Hot Chili Peppers, Linda Ronstadt, David Bowie, Sex Pistols. The rocker roots are evident in the in-room directory, which lists pages of musician resources (where to fix a guitar). The pool is the central gathering spot, with simple bungalow-styled rooms encircling it. This remake of an old motor hotel is not for everyone—only the cool kids who want to be in the burgeoning, yet still gritty, Tenderloin.
Phoenix Hotel
601 Eddy St, San Francisco, CA 94109
(415) 776-1380
Hotel Zetta
This Viceroy hotel may be within a staid neo-classic building downtown, but its interior is nothing but 21st century. That means a game room for grownups (Nintendo, pool, Plinko). It also houses Jennifer Puccio's The Cavalier, which serves British pub food with an SF twist. Puccio, along with partners Anna Weinberg and James Nicholas, directs all food and beverage in the hotel. Room service by James Beard nominees? Yes, please.
Hotel Zetta
55 5th St, San Francisco, CA 94103
(415) 543-8555
Inn at the Presidio
There's city San Francisco, then there's sylvan SF, which features ocean views, the scent of eucalyptus, and the tweets of real birds. The latter is up for grabs within a Georgian Revival that was once the Army's bachelors' quarters within the Presidio. Rooms are spacious with historical 1900s artifacts in each (old postcards and keys). Third-floor rooms command the best views. Within bugle-blowing distance of the dramatically wide front porch are mazes of hiking trails and Traci des Jardins' two latest restaurants, the Spanish-Californian Commissary and Mexican Arguello. Free shuttles go downtown.
Inn at the Presidio
42 Moraga Ave, San Francisco, CA 94129
(415) 800-7356
What to do
Wild Food Walk
If you're looking to gather your provisions in the forest, not at the market, "Feral Kevin" is your guy, ready to point out all that you can eat within the city's green spaces. Not to worry—Kevin has a last name (Feinstein), and is on the grid as a guide for ForageSF. Tours, classes, and a series of pop-up dinners show the curious what's edible right beneath their feet.
Sourdough Starter Workshop
The flavor and aroma most associated with San Francisco may be sourdough—which rises without the help of commercial yeast. The Mission's La Victoria Bakery teaches how to start, care for and maintain wild-yeast, naturally fermented starters in a two-hour class. Participants go home with a starter that will require regular feedings, just like children or pets.
La Victoria Bakery
2937 24th St, San Francisco, CA 94110
(415) 509–1210
Market on Market
Food halls are the new popups, like the new Market on Market, on the bottom floor of Twitter HQ. It's a much smaller version of the Ferry Building (with less architectural interest and tourists), with a food court that sells tacos and pizza and sandwiches. The highlight, though, is Azalina's Malaysian fare like her Penang laksa and nasi lemak. Also available are (pricey) market items to bring home and cook.
Market on Market
1355 Market Street, San Francisco, 94103
(415) 767-5130
Ferry Building Marketplace
Vising San Francisco without stopping here should be a food crime. Yes, it's crowded, and the main hall with soaring ceilings gets bottlenecked by the indecisive. But this is the city's food scene in miniature in an 1898 building. All the choices make a progressive lunch possible, from Charles Phan's Out the Door and Traci des Jardins' Mijita to Sue Conley and Peggy Smith's Cowgirl Creamery. Saturdays and Tuesdays are the farmers markets that draw locals scoping out the arrival of the latest vegetable.
One Ferry Building
San Francisco, California 94111
(415) 983-8030
Craft Chocolate Tour
Many may not realize that the Mission District has become a hub for excellent chocolate. Most notably, Valencia Street is the headquarters of Dandelion Chocolate, a chocolate factory that makes single-origin bars. Charles Chocolates' exhibition kitchen also shows how cashew chocolate bars and fleur de sel caramel are created. Edible Excursions' Craft Chocolate Tour walks you through this neighborhood of caramels, moles, cocoa beans, and chocktails.
Oyster, Mead and Cheese Expedition
The Chianti-red VW van's name is Lillie. She's built to run six passengers around the city and to points north like agricultural Marin. Harvey, the Niagara blue van, follows. Vantigo's two VWs brake for oysters, mead, and cheese on a tour that takes in the natural edible wonders of Tomales Bay, like the sparkling brut dry mead of Heidrun Meadery.
Epicurean Traders
For those looking for artisan goods so small batch that they'd never get picked up outside their local farmers' market, this is a good place to start. This newly opened grocer in Bernal Heights specializes in micro-cheeses, charcuterie, wine, spirits, granola, olive oil, coffee, spices, chocolate, and even dog treats. With a location well off the tourist track, Epicurean Traders is clearly a neighborhood shop, but it may soon become a destination.
Epicurean Traders
401 Cortland Avenue, San Francisco, 94110
415-872-9484
Off the Grid SF
At the bayside Fort Mason every Friday night, 30 food trucks power down, throw out their signage and chalkboard menus, and start the grills. It's hawker fare, San Francisco style. Kamikaze fries from KoJa Kitchen (fusion of Korean and Japanese), Nepalese vegetarian dumplings from Bini's Kitchen, and Senor Sisig's chicken tacos with Filipino prepared meats balance on the arms of eaters. They pair it all with live music and Magnolia beer. Bring a jacket.
Off the Grid
Fort Mason Parking Lot, 2 Marina Blvd, San Francisco, 94123
The Food Street: Valencia
The Mission Distric's edible heart is Valencia Street. Within the past four years, dozens of restaurants have opened, mostly concentrated between 16th and 19th. Standouts include Locanda (Roman-inspired dishes turned out by Delfina alum chef Anthony Strong) and Craftsman & Wolves (finely crafted baked goods from William Werner). Work your way from Orenchi Beyond, Burma Love, Gajalee, James Syhabout's Hawker Fare, and Mission Cheese to the outskirts of Beretta, St. Vincent Tavern, and Arizmendi.
Heath Ceramics
Mainly a showcase for Edith Heath's mid-century ceramics, the 60,000-square-foot building gets high praises for its cheery light-filled interior and its collaboration with other city stars: Cult coffee roaster Blue Bottle and florist La Fleuriste both have kiosks. Also moving in is Manufactory, a cafe by baker Chad Robertson that's scheduled to open late summer 2015. A viewing court overlooks the tile-making factory. To get inside, be sure to reserve a factory tour through Heath; they sell out quickly.
Heath Ceramics
2900 18th Street, San Francisco 94110
415 361 5552 x13