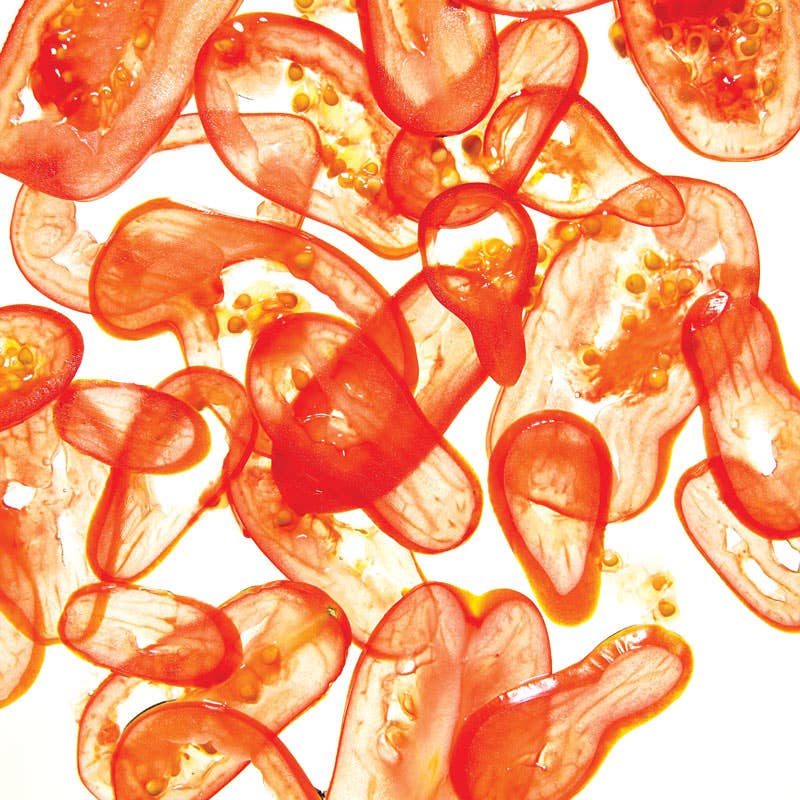 Culture
20 Years of SAVEUR: Summer in a Can
In honor of the 20th anniversary of SAVEUR, we asked some of the people who taught us the most to each peruse a year's worth of issues and to reflect on them. Here, Alice Waters on a story from our April 1998 issue.
More than a decade ago, while walking through a market on a late summer afternoon in Rome, I was captivated by a pallet of little oval tomatoes with pointed ends. I vaguely remembered seeing such tomatoes in an April 1998 SAVEUR article, "Summer in a Can," which pictured a sun-kissed Italian family in the fields of San Marzano, Italy, harvesting a similar plump red fruit off the vines. And so I bought some. While I didn't recall the beautiful recipe for red sauce that went along with the story—canned San Marzanos simmered with toasted garlic and finished with torn basil leaves—the idea of oven-roasting these fresh tomatoes came immediately to mind.
As it turned out, San Marzanos were particularly suited for cooking, their flavor intensifying in the heat. These days, I consider myself something of a tomato specialist in California, where I live, always searching for the best varietals to plant in the right places. Still, I feel humbled whenever I recall that trip to Italy, a country that has a centuries-old tradition of seed sorting. A few stalls over in that same market, I came upon some datterini tomatoes. Similar to the San Marzano in appearance, these didn't require any heat to bring out their sweetness. I enjoyed them sliced with a little fresh mozzarella, everything drizzled with green, fruity olive oil, and topped with a pinch of crispy sea salt. That's it.
Each tomato I saw that wonderful afternoon had a distinct constitution, a result of Italy's rich history of gastronomy, captured in the pages of Saveur by those photos of that family out in the field. It's such a labor of love, the tomato harvest. With each bite, you can almost feel the connection to this place, where tomatoes are grown not for transport or durability, but simply for taste.