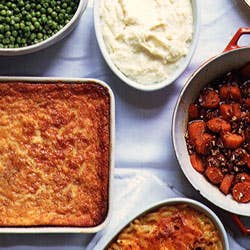 Culture
An Inspired Side
An aunt's signature dish sparks a lifetime love of cooking
Last July, an envelope arrived at my parents' house in Pennsylvania addressed to me in loopy cursive. Inside was a thin bracelet. It had belonged to my Aunt Diane, who had passed away a few weeks before. The bracelet, made of braided gold, barely clasped around my wrist. As I clicked the fastener closed, I thought of mashed potatoes.
My Aunt Diane was one of the few people in my family who could really cook. My mom didn't spend much time in the kitchen, and while my dad cooked often, his meals tended toward the hasty and utilitarian. Growing up, I only saw Diane twice a year, but each visit to the home in Florida that she shared with her partner, my Aunt Pam, who is my mom's sister, meant big family meals around the ornate dining room table that had once belonged to my grandmother. My mom is one of eight siblings, and dinners with Pam and Diane were always noisy occasions, with extra chairs squeezed in at the table's corners. We clamored over dishes like shark soup, potato salad layered like cake, and mushrooms soaked in sherry.
My brother, so picky he wouldn't touch tomato sauce, couldn't say no to third helpings of Diane's golden mashed potatoes. A nurse who always dreamed of opening a restaurant, she was a perfectionist in the kitchen, and when my dad tried to throw haphazardly peeled potatoes into the pot, she would scold him as she scooped them back out. I would stand with her at the stove, stirring gravy and sauces, cracking open cans of beer for boiling lobsters, curious about every movement she made and eager to imitate her. When I was just learning to cook, she and Aunt Pam bought me my first hand mixer.
It didn't seem like she'd be wonderful with children; 10 gold studs lined one ear, her blond hair cropped short, and she had a tendency to dig her heels in, a gruffness to her speech. But she was, for the simple reason that she listened to us like what we had to say was important. Many summer nights I sat with her under the porch light outside our kitchen door in Pennsylvania while she smoked a cigarette.
When I was in high school, Pam and Diane moved to South Dakota to be closer to Pam's grandchildren, and our visits became less frequent. I went west just once after she moved—I played with the babies, visited the grave of Calamity Jane, marveled at the stillness of the Black Hills. Diane made her famous mashed potatoes and served steak.
I've felt her presence every time I've wandered into the kitchen since: to mix another cake, to roll pie pastry across the counter, or to punch Christmas cookies from cold dough. The early fascination that I had for her cooking led me, at 16, to commit to teaching myself the basics, systematically working through a Better Homes and Gardens cookbook. Every page has a ring of stains on it now.
Diane was 60 when she passed away last summer after a stroke. She may not have been able to afford to come back to Philadelphia in the last years of her life, but I appreciate that the bracelet, one small piece of her, did. What I really want is copies of her recipes, none of which I have in writing. What I really treasure is the mixer, still stashed in the cabinet in my parents' house.
Recently, I was home in Pennsylvania for the weekend, back in the kitchen where I'd first watched Diane cook. I went to the farmers' market for potatoes, butter, and cream; I peeled and boiled the potatoes; I speared a hunk of potato with a fork to see if it slid off the tine. Then I stood at the same stove we'd once stood over together, mixer in hand. My brother appeared at my elbow within a few moments, asking for a bowl. The finished dish didn't taste exactly as I remembered—but it was close.