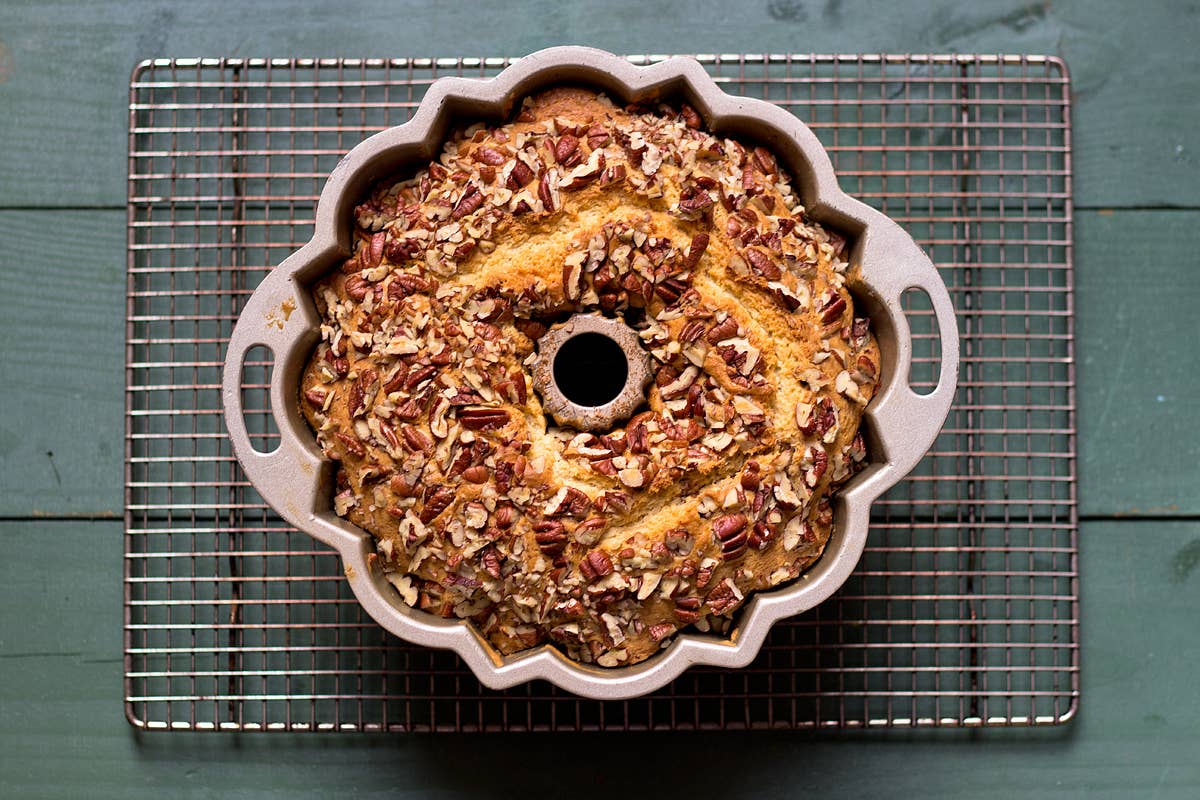 Culture
Arlene's Unattainable Coffee Cake
A bewitching, brown sugar-swirled, pecan-topped coffee cake is all the more beloved for being off-limits
Of all the recipes I carry from my mother's kitchen, the one that the means the most is the one I was never allowed to eat.
All through my childhood, my mother baked Arlene's coffee cake for other people's special occasions. The imposing creation stays moist for days, making it an ideal bake-ahead offering for baby showers and bat mitzvahs. Our house would swell with the intoxicating perfume of cinnamon and brown sugar for hours on end whenever mom got down to business, but the cakes were strictly off-limits to me and the rest of the family. "Out, out, out!" mom would holler, brandishing a kitchen knife like a samurai sword to keep us away from the cooling counter. It was torture.
I wasn't the only one who went gaga for the cake. It has a long history of driving people in my family crazy. Arlene was my grandparents' neighbor in Grand Rapids, Michigan, in the 1950s. After tasting her coffee cake at a neighborhood cocktail party my grandmother declared, "I must have that recipe!" and Arlene gamely obliged. In the generations since, the recipe has traveled down my family tree, bewitching everyone who's tasted it, the instructions landing eventually with my mother as a newlywed in a tiny apartment in Chicago in the '80s. There and then, she introduced the cake to my father, who loved the cake from first bite.
When my mother would say that everybody loved the cake, she wasn't exaggerating. She's responsible for taking Arlene's coffee cake public. After much urging from my father and friends, she began driving through the streets of Chicago with sample slices in tow, offering to sell the cake to any restaurant that would have it. One rinky-dink diner, Salt and Pepper Cafe, took her up on the offer, buying whole cakes for $20 each and selling them by the slice.
"I was just doing it for fun, but soon, I was baking six or seven cakes at a time in our little apartment," my mom explained, which just about killed my father, who was no longer allowed to pick at the finished product. His saving grace came a few years later, when I was born, and mom stopped selling the cakes. But she still made them for special events, and, because she's not entirely evil, would occasionally give in to our hounding and make one for the family, mainly, I assume, to shut us up.
Today, I have the recipe with me in New York on a frayed index card. But I've never attempted to make it. There's not enough challenge to cutting myself a slice of my own cake, no sweet taste of victory after hours of scheming. Arlene's coffee cake is a treat meant to be squabbled over, then savored—if I have a special occasion coming up, and if I have friends or family in town to torture, only then do I plan to uphold the tradition.