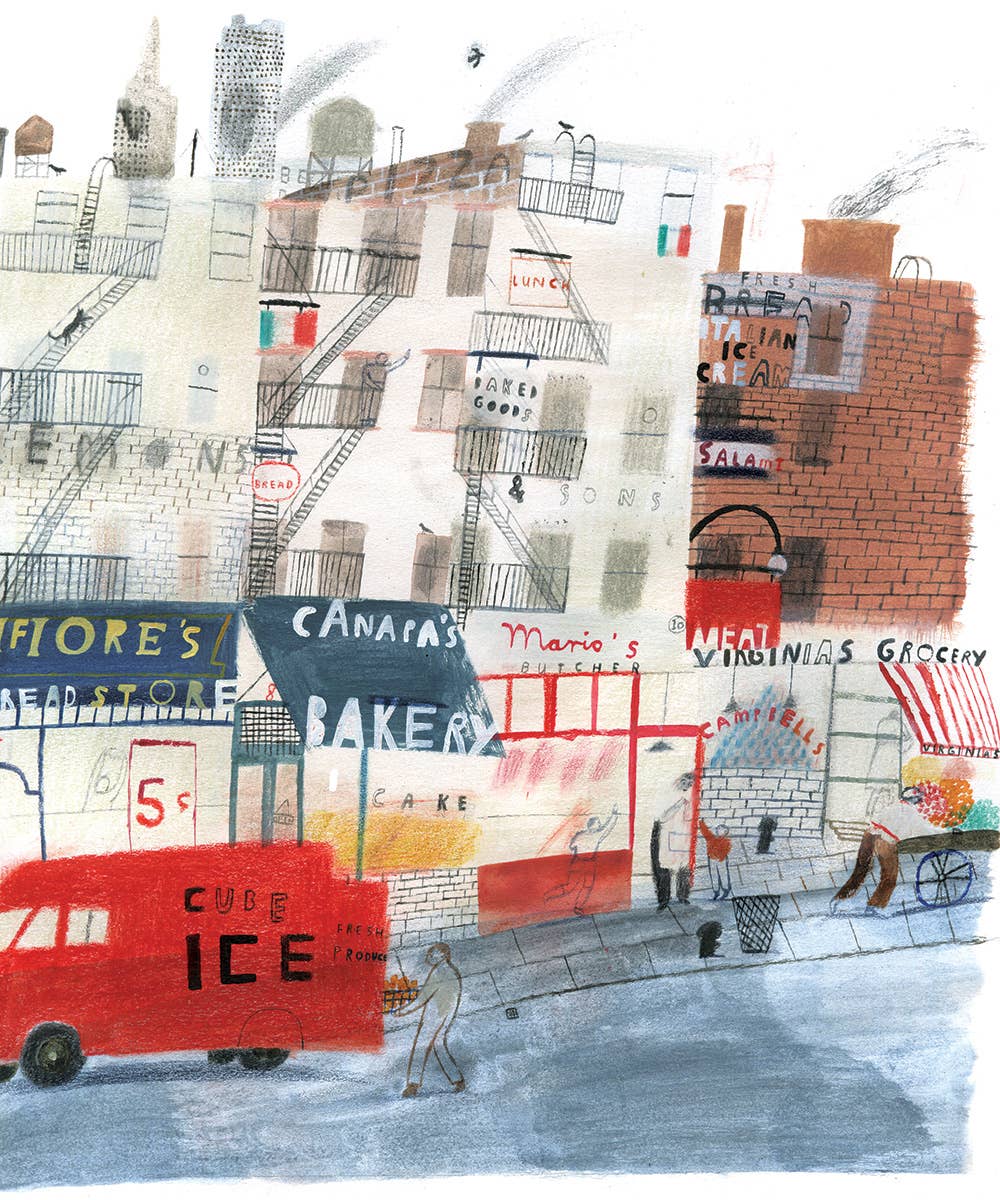 Culture
Growing Up Italian in New York's South Village
Learning to love—and trying to preserve—the disappearing foodways of a childhood home
I was raised in the neighborhood I live in, the "South Village," a heavily Italian area in downtown Manhattan, below Washington Square. Both of my parents grew up here. His family was from Genoa, hers from Naples. It was love at first sight. My father was good with numbers, which is what they say about the Genoesi. He became a bootlegger with a calling card that said "just in case," but moved on to fuel oil distribution with an office on Sullivan Street. In 1953 he bought a building on Prince Street for three thousand dollars that he borrowed from his mother, who had saved it in five bankbooks over 30 years. We moved into the first floor when I was eight.
Today, the neighborhood is SoHo, a fancy Manhattan address. I pass Jake Gyllenhaal on my way up MacDougal Street, and Louis CK is my neighbor a block down. People line up for cronuts outside the Dominique Ansel Bakery on Spring Street.
But back then, everyone in the neighborhood lived close together, three generations in one-bedroom apartments, sleeping in beds that by day were folded in half and propped in the corner, covered to look like upholstered furniture. In our building, owned by Mr. LaCapria, who shipped his Cadillac to Italy each summer so he could parade it around his hometown, our mothers went in and out of each other's kitchens. We ate wonderful food that we took for granted.
Mario the butcher gave us slices of salami as our mothers waited for their orders. At Di Fiore's, trays of pizza with tomato sauce, or focaccia with onions and olive oil, sat on the counter for five cents a square. We were always hoping for a middle piece, but we knew better than to ask. Lemon's candy store was where we got lemon ice, wax lips, and the Spalding balls we kept losing on rooftops. We bought fresh mozzarella and ricotta from Joe's Dairy.
We ate fish on Fridays from the fishmongers on Bleecker Street: baccalà with olives and celery, eels that my grandmother fried in pieces. We had parties for baptisms and communions and confirmations and graduations; we ate platters of cold cuts and olives and cheese, trays of lasagna and veal with peppers, and everyone was welcome, the doors to the apartments left open.
I can wax nostalgic; I can do it all day—about Sundays, after Mass, when we'd line up at Canapa's for coffee cakes; about June, when the Feast of St. Anthony meant zeppole fried in oil and dusted with powdered sugar. But the truth is that while I gloried in my childhood, I also wanted to get the hell out of that place.
I listened to my mother and the neighborhood ladies who sat in our kitchen or on park benches or on blankets when we took the subway to Coney Island, toting paper bags of eggplant parmigiana sandwiches and peppers and eggs, the bread wet with oil. I listened to them gossip. No one was spared. The stories were always about sex: Mr. LaCapria, the landlord, who went to Italy at 60 and came back with a teenaged bride; the woman on the fifth floor whose daughter got pregnant, and whose connected uncle sent messengers to beat the guy up, but the guy turned out to be married, so there was no way to really make it right; the wise guy who had his lover's husband thrown off the roof. They were endless stories, looped over and over.
I decided that my life was not going to be fodder for neighborhood talk. I knew I had to act early. My aunt's next-door neighbor's son knocked up his girlfriend in sixth grade; they got married, had the kid, and moved in with my aunt's neighbor. So I chose an unpopular high school, Holy Cross Academy, near the porn theaters in Times Square. I found myself a best friend from the East Village who was Ukrainian. I took to that culture like a duck to water. Pierogi? You bet. She had never seen an artichoke. The boys were tall and blond and thought I was exotic. I went away for college, a neighborhood no-no, and from there I left. I lived in Europe, India, Southeast Asia. I ate beef bourguignon and curry, and noodles dressed in peanut sauce instead of tomato gravy.
I traveled for five years, and then I hit a wall. I couldn't get settled anywhere. Except, it turned out, in the neighborhood. I came home. When my French boyfriend came through on his way to South America, hoping to bring me along, I turned him down. Then I married a man from one block away. We didn't know each other growing up, but our families went back generations. I knew his gossip. The cousin who was left at the altar, the aunt whose lover would visit in the afternoon for a "matinee." I amazed myself that I had gone so far and ended up back on Prince Street with an Italian-American neighborhood husband with a gaggle of relatives in one building. We moved in across the street from my mother, and we raised our children there.
But the neighborhood I'd left was changing. It was the 1970s. Artists were moving into the factory buildings where my aunts and uncles had worked. At first, the newcomers were just a source of amusement. There were still places I recognized, where people knew what part of Italy we came from, which funeral home we waked our dead in. At holidays, the "SoHo people" went home, and we jammed shoulder to shoulder in the local shops, clutching paper numbers, waiting to pick up our orders and get home to cook.
Joe's Dairy was still there, though it had been passed from Joe to his protégé, Anthony Campanelli. At the dawn of SoHo, Anthony started making smoked mozzarella that the newly minted residents thought was the Second Coming. No one from the neighborhood had ever even heard of smoked mozzarella.
The Vesuvio Bakery on Prince Street, opened in 1920, was still there, too, its lime-green storefront a source of endless fascination for camera-wielding tourists. That's where we bought our taralli, hard pepper biscuits, to dip in coffee. But with each passing year, the neighborhood receded. Vesuvio closed its doors for good in 2009, Joe's Dairy in 2013.
So I figured, in the end, I'd better embrace the old ways, because there weren't many of us left. I learned how to bake the Easter piena, loaded with cheese, eggs, and sausage. I make my grandmother's ravioli, stuffed with cream cheese and spinach that I mince with beef, veal, and pork. But I miss the old days of the St. Anthony Feast, with my mother's cronies sitting at a table selling church raffle tickets. I miss Joe's Dairy, with the curling photos of family and friends Scotch-taped onto the register.
I watch people wizen, pick up canes, disappear. Johnny "Eyes," who washed dishes at Arturo's pizzeria, still walks around. I always say hello. "Louisa," he says, "There's nobody left." Johnny "Eyes" has been saying this for years, and the truth of it has finally caught up with him.
They shoot movies here. It's crowded with boutiques. I go out to buy milk, and I come home with shoes. My mother would have said "benedeeg," a mishmash of American-tainted Neapolitan dialect that loosely means, "good for you." Still, I try to re-create a bit of what I once had hoped to escape. Last year, we baptized my grandson at St. Anthony's on Sullivan Street. He wore a white christening gown and took for his middle name Amedeo, after my father. The priest, in his sermon, admitted he'd finally scored a cronut. Then we threw a party in our place on Prince Street. We served eggplant and baked ziti and sausage. Everyone was invited. I sat with the other "ladies" and gossiped a little.
Louisa Ermelino is a novelist and the reviews director for_Publishers Weekly. This is her first article for_SAVEUR.