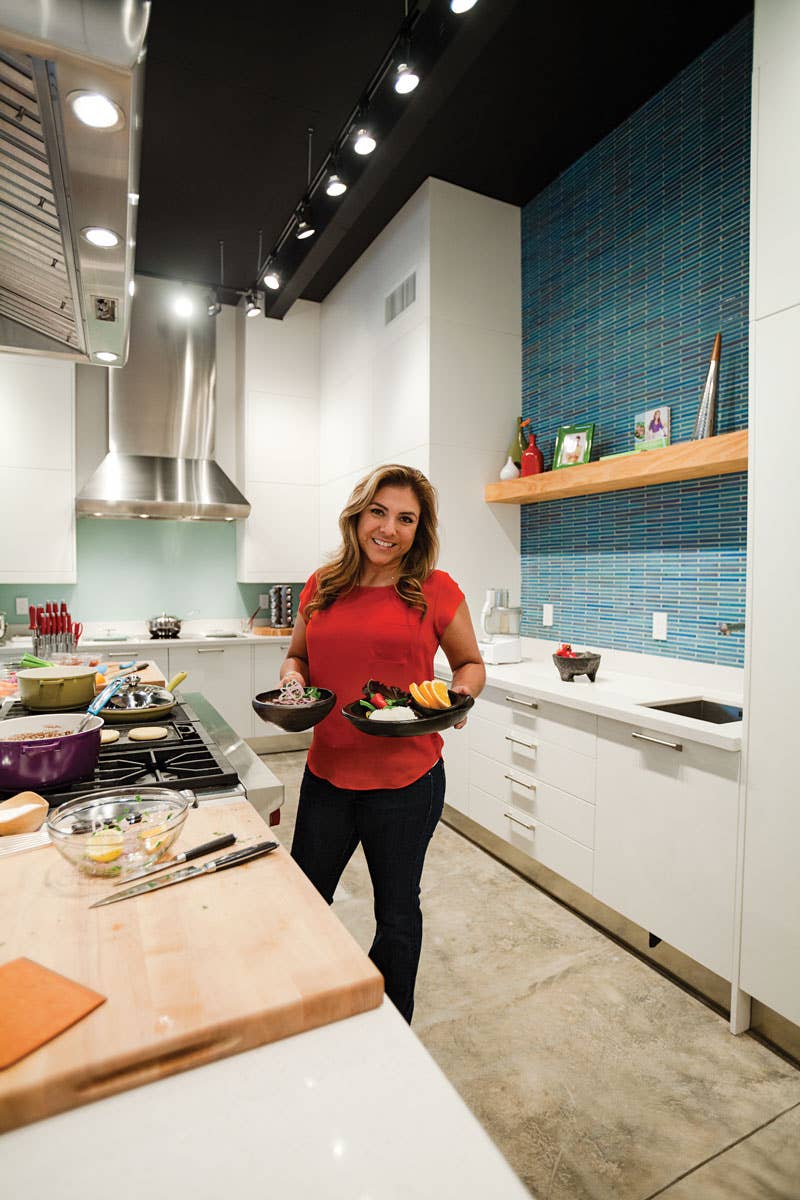 Culture
I Love My Kitchen Because: Lorena Garcia
Chef Lorena Garcia's kitchen is inspired by her Venezuelan roots
I grew up in the mountains of Caracas, Venezuela, and our kitchen was very big. I would spend a lot of time in that room with my mother, an amazing cook who loved to entertain guests there. I've never had a kitchen that lived up to my memories of the one from my childhood. So when, a few years ago, after decades of apartment living, I decided to have a house built in Miami Beach, I made the kitchen the centerpiece, with lots of room for guests. My architect asked how much space I needed for the kitchen, and I told him 1,000 square feet! Big, I know, but when I have visitors I cook a lot of food, and I wanted to be able to feed as many people as possible.
The kitchen at Lorena Garcia Cocina, the restaurant in Miami where I spend most of my time, is very industrial, so I wanted my home kitchen to be a more relaxed place to cook and write. I kept it light and clean: white countertops and cupboards, polished concrete floors. The Latin foods I make, like salsas and chiles and sofrito, are so colorful that the kitchen works sort of as a blank canvas that lets the vibrant dishes shine. Everything was designed for how I cook at home; the cabinets and counters were built according to my height, and there's a pizza oven, a flattop on the stove for toasting tortillas, an induction cooktop for long-simmered stews, and a huge island with a gas range built into it for preparing dishes that require quick, intense fire.
I travel so much these days that when I'm back in Miami, I almost always want to eat at home. Usually I invite my friends and family over. We gather around the huge kitchen island and make tacos, or I bake pizzas for everyone and do my take on bananas Foster, which I make with plantains instead of bananas.
When I'm cooking at home alone, I turn off most of the lights, except the one in the oven hood and a few of the track lights above, so they focus only on the parts of the kitchen where I'm cooking. I like to play music too, so there's a speaker system that I can plug my iPod into. I'll put on a little salsa, some merengue, even Jennifer Lopez—anything I can dance to while I cook.
I wanted the kitchen to be as well lit as possible, so I installed track lighting, which lets me turn a spotlight on the part of the kitchen where I'm working.
An induction cooktop keeps my kitchen cool—even when I'm making dishes that cook low and slow, like black bean guiso.
My grandmother cooked with heavy cast-iron pots called calderos. I just developed a line of cookware based on them, though mine are nonstick and far lighter.
People often associate me with the chopping I do on TV. Most of it's done with Japanese knives. I prefer them for their sturdiness and heft.
I put in one wall of cement tiles painted ocean blue to remind me of what's right outside my door: Miami Beach.
I grind herbs and spices for sauces and vinaigrettes using my mother's mortar and pestle, which helps retain the flavors better than a food processor can.
—Lorena Garcia, chef, cookbook author, and host of_Sazon con Lorena and_Lorena en Su Salsa