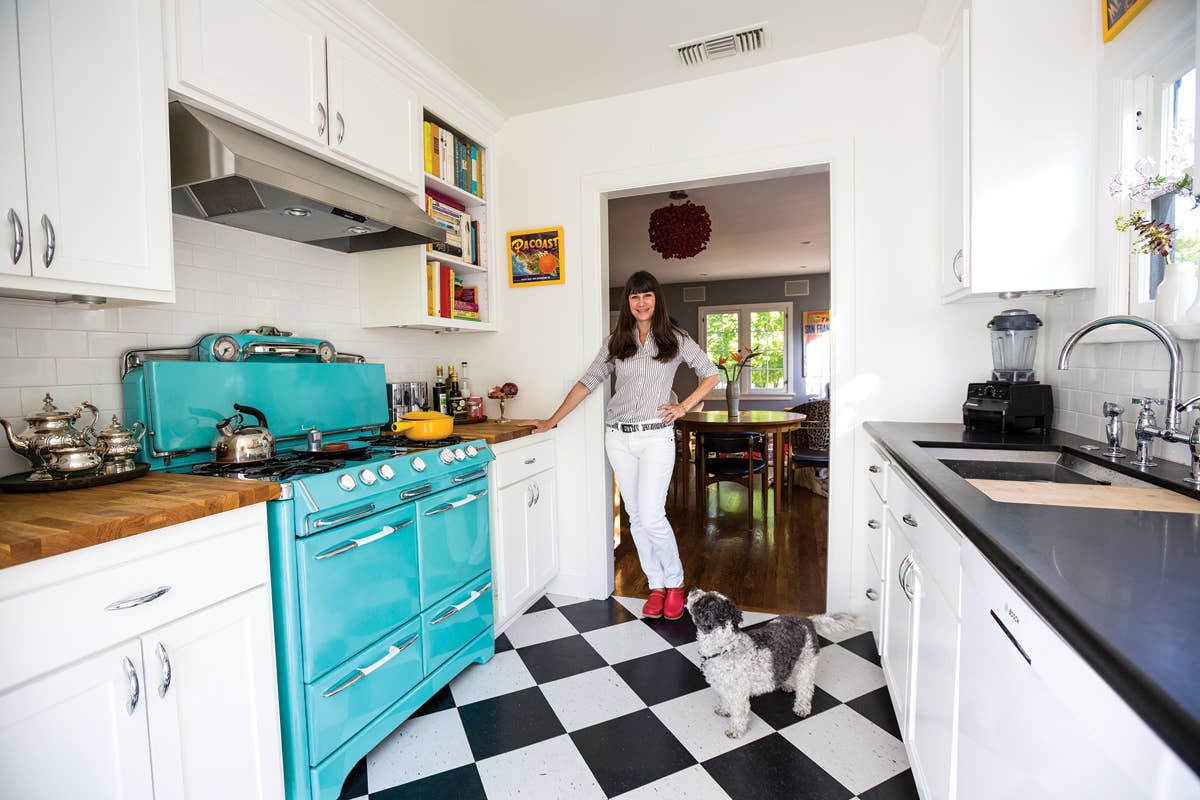 Culture
I Love My Kitchen Because: Big Blue
From a giant, retro, Tiffany-blue range to a friend's handmade pottery, Stacie Stukin has plenty of reasons to love her kitchen
When my husband and I decided to renovate the kitchen of our 1927 bungalow in Los Angeles' West Hollywood neighborhood, we knew there was one thing that would stay: my 1948 O'Keefe and Merritt stove, made right here in L.A. My dad and I found the vintage appliance at a junk store 20 years ago and bought it for a song. I had it reporcelained in a Tiffany blue. I still love it. It has a "grillevator" (a broiler that moves up and down like an elevator for better heat control), a griddle inset on top, and an oven that circulates heat superbly. We designed the rest of the kitchen around it. One of the major improvements we made was widening the doorway to the dining room—I wanted to make it easy for guests to join me in the kitchen (they're always in here anyway). We also installed lots of cabinets and drawers, where I stash most things away. I do keep out a few favorites that please both my eye and my heart. My mother's sterling silver tea set is one of those. She brought it out only on special occasions, but I use it every day. I figure, if you have it, enjoy it.
MORE REASONS STACIE LOVES HER KITCHEN
I allocate one space in the kitchen to cookbooks. My whole library doesn't fit, but I rotate volumes in and out based on the season or my current obsessions.
We installed these Ikea butcher-block counters right next to the stove so we can chop and toss right into the pan. They're still pretty new and pristine; I look forward to when the wood shows wear and tells the story of our past meals.
I wanted a deep countertop where I could roll out dough using the antique wooden rolling pin that belonged to my great- aunt Hattie. I selected black granite and had it honed so it has a subtle satiny surface.
My friend Mirena Kim is a potter, and I've collected lots of her pieces over the years. I keep a tall vase on my windowsill to hold fresh-cut sage, thyme, oregano, and chives from my garden.