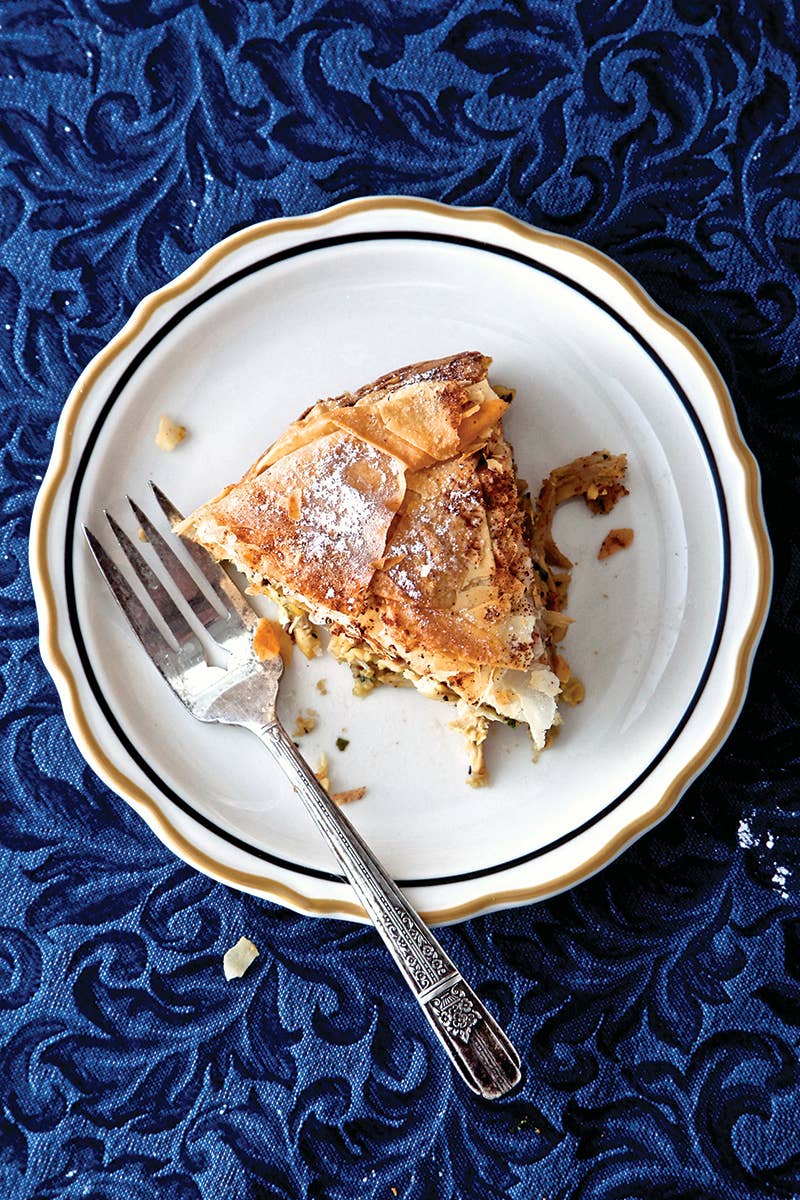 Culture
Not-So-Humble Pie
Morocco's festive b'stilla packs a whole lot of flavor into one magnificent dish
My first taste of b'stilla was on a visit to Marrakech in the 1970s. Our host had organized a lavish meal, and it kicked off with an extraordinary pigeon pie, enriched with scrambled eggs and ground almonds. He daintily broke through its thin pastry, which was dusted with cinnamon and sugar, and slipped out a tiny drumstick with his fingers. Handing it to me, he explained that I should suck the meat off the bone and then pinch off a little pastry with the rest of the filling to construct the perfect bite. The interplay of sweet and savory, along with the complex spicing, was completely different from the fresh flavors of my homeland, Lebanon. That first pie was a watershed, and on subsequent trips to Morocco, I endeavored to learn more about b'stilla.
The sumptuous starter, I discovered, is typically served at weddings and other festive occasions. Such a grand appetizer probably originated in the kitchens of the Arab caliphs, who founded Morocco in the seventh century a.d.; they brought Persian chefs with them. Like many Moroccan dishes, b'stilla exemplifies the sweet-savory combination characteristic of Persian cooking. The dish's traditional gossamer pastry, warqa—"leaf" in Arabic—shares roots with similar Arabian doughs found in Moorish Spain. Muslims expelled from Andalusia in the eighth century took refuge in the city of Fez, bringing their pastry traditions with them; the pie is a specialty there now.
In Morocco, warqa is made by eminently skilled personal cooks or specialized market vendors. An art form in itself, it is created by dabbing very wet dough against a scorching tobsil—a circular metal plate—in quick, successive motions, as if the dough were a yo-yo. Every time the dough touches the hot plate, it leaves a light coating of batter, eventually forming a gauzy disk of pastry.
At home in London, where I live now, I've adapted the recipe for the modern kitchen. Instead of warqa and pigeon, I use more easily procured phyllo dough and chicken or quail. I stew the poultry with fresh herbs like parsley and cilantro, as well as ras el hanout, a complex North African spice blend of cardamom, clove, fennel, chile, and more. Rather than building my pie in the traditional layers—bone-in stewed bird wedged between a top coat of ground almonds and a bed of eggs scrambled in the stew's sauce—I make one composite filling, pulling the meat off the bone and shredding it into the eggs and almonds.
B'stilla is typically cooked on the same type of tobsil used to make the warqa and then flipped midway like a pancake. But I bake my pie in the oven so it takes on a uniform golden crispness. My final flourish is faithful to the original: I dust the b'stilla with confectioners' sugar and decorate it in lines of ground cinnamon in the shape of diamonds or squares. Four decades after that initial exquisite mouthful, eating it—and cooking it—still feels like a celebration.